---
Record of Sold Lowry paintings
A record of work sold
This is an ongoing project to list and classify all Lowry's work that has been sold over many years from various sources.
We have the largest collection of signed, limited edition prints by ls lowry in the UK!
Visit the studio in Nottinghamshire, or arrange a private viewing of prints or original paintings in your home.
Arnold Street
Beach at Roker
LS Lowry painting 'Berwick'
Conversation Piece
Country road near Lytham
Cripples
Drawing People
Fair at Daisy Nook
Family Group
Four Girls
Fun at the Fair, Daisynook
four unknown paintings sold Dec. 2011
Garden Party
Girl in a red dress
Girl with Red Shoes
Group of figures with animals
LS Lowry "Home from the Pub" £600,000?
Industrial Landscape
The Lodging House
Lytham 1923
Man Walking
Man walking his Dog
Newcastle, Going home from school
Old Houses
Outside a Mill
Piccadilly Circus
Polling station
Post Office
Regent Street, Lytham
River Irwell
Royal Tech. College
Sandsend
Saturday Afternoon
Seascape
St. Augustine's Church
Steps at Wick
Steps, Peel Park
Stockport
Stow-on-the-Wold
Street in Clitheroe
St. Simon's Church
St. Simon's Church oil painting
St. Stephens Church
St. Stephens Church, Salford 2
Swinbury Station
Terrace, Peel Park
The Bridge
The dark side of the matchstick man
The Flat Iron Market
The Lake
The Lake, 1951
The Meeting Place
The Tower
Town Centre
Town Steps, Maryport
Trawler off Sunderland
Two Anglers
Two Boys
Two Sisters
View of Peel Park
View from the rtc
View from window, Broughton
View of steps, Peel Park
Wet Earth Colliery Dixon
Woman and Dog
Woman in Chair
The Football Match, 1949
May 25, 2011
Christie's London
Estimate$ 5,736,500 - $ 7,375,500 USD
Sold for $ 9,246,009 USD
Piccadilly Circus, London, 1960
November 15, 2011
Christie's London
Estimate $ 6,287,600 - $ 9,431,400 USD
Sold for $ 8,867,481 USD
Piccadilly Circus, London, 1960
March 24, 2014
Sotheby's London
Estimate $ 6,615,600 - $ 9,923,400 USD
sold for $ 8,472,103 USD
Good Friday, Daisy Nook, 1946
June 07, 2007
Christie's London
Estimate$ 1,965,600 - $ 2,948,400 USD
sold for $ 6,584,760 USD
Born in Salford in 1887, L S Lowry rarely left Manchester and Salford and indeed Great Britain, despite regularly exhibiting north of the border, in Europe and in France in particular.
Self-taught to some extent, Lowry maintained employment as a cashier at the Pall Mall Property Company in Salford and as a clerk for a firm of accountants throughout his life.
His role as a rent collector allowed him to roam Salford and Manchester exploring the urban landscape and its inhabitants.
The Hawker's Cart is typical of his paintings from the late 1920s and early 1930s when he had just finished attending Salford School of Art and had almost fully developed his unique
visual aesthetic and the sort of subject matter which was to remain of constant interest throughout his career. The year just before the Hawker's Cart was painted, 1928, was significant
because it saw the emergence of Flake White as his most important pigment.
It is most dominant in terms of the proportion of the canvas it occupies. Lowry eventually took to ageing the background colour of the canvas, applying the pigment and letting it sit for
several years so that the hue took on an off-white colour, the better to blend with the narrow palette used by the artist.
The Hawker's Cart contains all the components of a successful Lowry composition, from the whimsical foregrounded people and pets, through the jaunty tenements in the middle ground and
the vertical chimneys spewing out smoke towards the grey sky, albeit domestic and not industrial. It is often said that many of Lowry's compositions take on the quality of a stageset,
and that is particularly evident here, as the building on the right of the composition in particular has taken on a theatrical coulisses-like quality, framing our window onto this street scene.
This view was also recently propounded by the Northern-born actor Sir Ian McKellan who pointed out in a private debate on Lowry's work held in London in 2009 the popularity of theatre and
the proliferation of theatres, music halls and theatre houses in the Greater Manchester area, no less than 64 according to Sir Ian. Lowry was certainly an ardent theatre-goer and in particular
an admirer of the work of the Manchester School of dramatists such as Harold Brighouse and Stanley Houghton.
The present composition is strongly linked with a series of works, on a similar scale from the late 1920s and first half of 1930s which depict men and women sometimes going about their business,
more frequently engaged in a more dramatic scene, as depicted in The Arrest, 1927 (Castle Museum Nottingham), or The Fight 1935 (The Lowry).
These paintings and the present one happily portray the theatre of everyday life and the entertainment it provides. In this case, the viewer is focused on the relatively undramatic episode of
the Hawker's Cart arriving and enticing local residents with its produce, but the element of the community watching goings on is ever-present in the figures amongst the window curtains,
observing the street and the protagonists below, or indeed looking at the viewer who is in turn yet another observer of the scene.
Whilst Lowry did not venture north of the border until 1944 when he visited Edinburgh for an exhibition, returning to paint in Glasgow subsequently,
he frequently exhibited at the Royal Scottish Academy from 1930 to 1939.
The present painting was possibly exhibited in Rochdale in 1931 and was bought by the Royal Scottish Academy the year it was exhibited there in 1934,
the same year that he was elected a member of the Manchester Academy and the Royal Society of British Artists.
The RSA clearly recognised the contribution Lowry was to make to twentieth century painting at an early stage in his career,
more than twenty years before Lowry was elected as an Associate of the Royal Academy in London, let alone a full member which did not happen until 1962.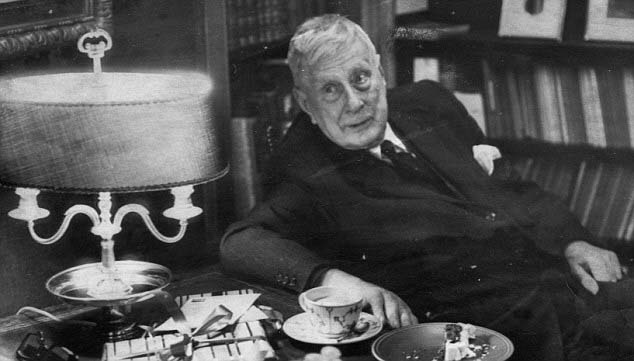 This photograph was taken in The Stone Gallery, Newcastle upon Tyne on the occasion of his 84th birthday, the Stone Gallery is now in Burford, Oxfordshire.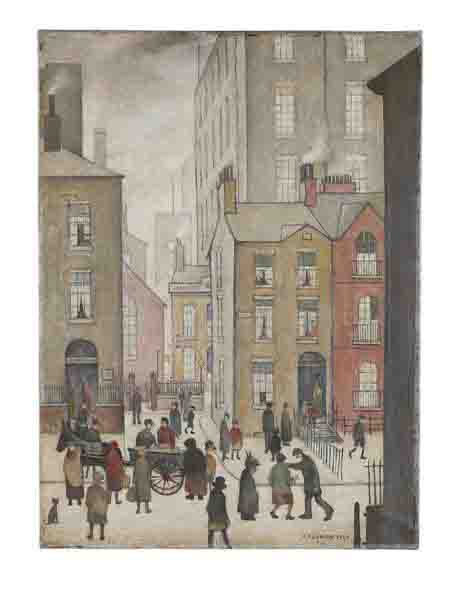 THE HAWKER'S CART
Signed and dated 1929, oil on canvas
53.5cm x 39.5cm (21in x 15.5in)
Sold for £689,000
Provenance
Exhibited:Royal Scottish Academy 1934, no.229 where purchased by the RSA
Royal Academy of Arts, L.S.Lowry, 1976, no.341
Salford Art Gallery, L.S.Lowry Centennary Exhibition, 1987
'The Hawker's Cart' £500,000 Lowry to be sold as RSA 'goes Scottish'
The Royal Scottish Academy, Scotland's historic artists' society, has sold an LS Lowry painting for £689,000
as part of an overhaul of its art collection to set up a fund to buy Scottish artists works.
The Hawker's Cart was bought from the popular artist for just £38 in 1934 when he showed it at an RSA exhibition in Edinburgh.
It was estimated to fetch between £300,000 and £500,000 at the Edinburgh auctioneers on 2nd June.
Founded nearly two centuries ago, with more than 100 members today, the RSA is selling or giving away about 20 works, including paintings
by the 20th century Welsh artist Augustus John and French, American naturalist and painter John James Audubon.
The RSA is "rationalising" its collection of thousands of paintings by its members, and raising a fund to buy key works by Scottish artists
that are missing from it. But the sales will also help the RSA financially, as it pursues a five-year plan to balance its books.
A target list of 59 artists ranges from an Indian-Scottish sculptor to the Glasgow Boys painter Arthur Melville.
The RSA collection was built up by artworks given by members, often with important archives. But a few did not donate a significant work
to the collection in their lifetime, some because they died young or unexpectedly, before winning full membership.
The RSA is an independent body of artists and architects founded as Scotland's earliest artists' collective, The Scottish Academy in 1826,
and incorporated by Royal Charter in 1838.
The Hawker's Cart has been in storage for ten years, said the RSA's collections curator, Joanna Soden.
The work by the English artist was judged outside the "core collection" focused on Scottish artists who are or were members.
The RSA's art collection was recently rated as of "national significance" by the Scottish Government.
The academy has gone through a "long and rigorous process" before disposing of the works, listing them publicly with the UK Museums
Association, Ms Soden said.
Wild Turkey Cock, Hen and Young, an oil painting by the French-American artist and naturalist John James Audubon,
is another work to be sold, and could draw strong interest from American collectors.
A copy of the famous book of Audubon's coloured etchings, Birds of America, sold at Sotheby's last year for
a stunning $11.5 million.
But the highest price for an Audubon oil painting is thought to be the $157,000 paid for Otter in a Trap, dating back to 1997.
By contrast, several paintings were handed to the RSA as "old masters" by Scottish collectors in the 19th century
but after expert examination have been downgraded as works by "unknown artists" in the same style.
The RSA is in talks to give four of these to a museum in Northern Ireland.
Lowry enquiries:-
administrator@lowry.co.uk
Visit the the studio in Nottinghamshire, the largest collection of LS Lowry artist signed, limited edition prints in the UK.
Please take a moment to browse and enjoy
here
the signed limited edition prints and paintings by wildlife artist David Shepherd,
Also the work see
here
of Sir William Russell Flint whose paintings and signed limited edition prints are in great demand.
Famous for his portraits of Cecilia, Flint's greastest works illustrate the architecture and landscape throughout rural France
View
this house near Brantome, in the area of Dordogne is ideally situated to enjoy the France.
The work of Mr L.S. Lowry has become of great artistic and financial importance of recent years. A selection of his
signed
prints and drawings can be viewed and bought here
Our aim is to offer our clients an excellent service at unbeatable prices.