The Bridge
---
---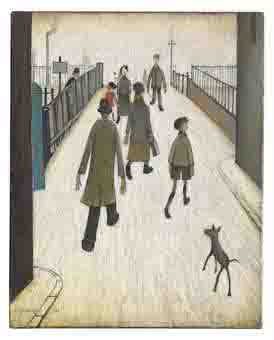 Price Realized
£301,250 ($478,988)
16th November, 2011
Laurence Stephen Lowry, R.A. (1887-1976)
The Bridge signed and dated 'L.S. LOWRY 1931' (lower left)
oil on canvas 20 x 16 in. (50.8 x 40.6 cm.)
Provenance with Lefevre Gallery, London.
Anonymous sale; Christie's, London, 1 March 1968, lot 178, where purchased by the present owner.
Ten years ago, this painting was sold for three hundred and one thousand pounds.
I would estimate in today's (2021) market itmay achieve easily one and half million in the same auction house.
Such is the strength of the Lowry market in the present climate.
It is difficult to knoww exactly where the location of this painting is,
It could simply be, one of Lowry's dreamscapes, with the bridge taking and returning people to a different location.
A bridge has always been seen psychologically as an instrument for transporting people from one stae of mind to another.
There are many reasons for crossing the bridge, and indeed for coming back.
It is however the most important that the traveller has their own particular reasons for making this journey.