Girl with red shoes
---
---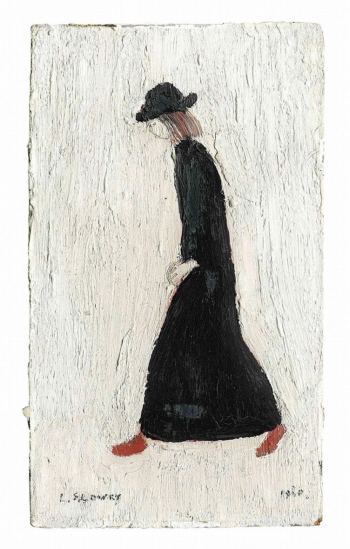 Price Realized
£85,250 ($134,354)
Estimate
£40,000 - £60,000 ($63,040 - $94,560)
Laurence Stephen Lowry, R.A. (1887-1976)
Girl with red shoes
signed 'L.S. LOWRY' (lower left) and dated '1960.' (lower right)
oil on board
8.75 x 5 in. (22.2 x 12.7 cm.)
and an ink drawing of two standing figures by the same artist,
signed and dated 'L.S. Lowry 1961' (lower left), 8 x 5.5 in. (20.3 x 13.9 cm.)
Provenance
Purchased directly from the artist, August 1962.
Property of the late Robert Robinson
This painting has changed hands more than once over the last ten years.
A solitary figure, the girl with red shoes, is a typical quirky image painted by Lowry.
Lowry is not particularly trying to make a statement with this painting,
he is simply painting a scene that he saw.