Outside a mill
---
---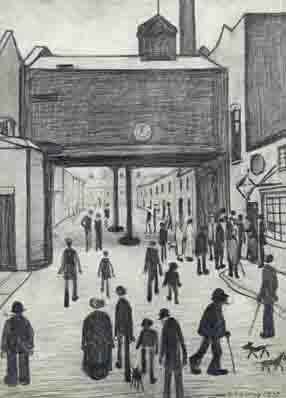 Laurence Stephen Lowry R.A. (British, 1887-1976)
Outside a Mill
signed and dated 'L. S. Lowry 1937' (lower right)
pencil
33 x 25 cm. (13 x 9 3/4 in.)
Sold for £49,250
PROVENANCE
With The Lefevre Gallery, London
In this charming sketch Lowry returns to an industrial scene that he painted two years earlier.
May Day (1935) sold in these rooms on 17 November 1998 (lot 73 for £270,000), and the current pencil drawing bears
striking similarities not only in the architectural structure of the composition but also in the staging of the figures.
The gentleman in profile with a bowler hat and cane in the bottom right corner is captured in an almost identical position in both works.,br /> Likewise the group surrounding the right hand side door to what could possibly be a shop, is recreated in this pencil sketch,
with the children of the oil painting, replaced with adult figures draped in overcoats.
Lowry creates an excellent effect of receding perspective that funnels the viewer beneath the intersecting edifice,
and onwards towards the street behind. Central to the composition the clock displays one o'clock. The men, women and children loiter,
appearing in no rush, creating a similar relaxed weekend atmosphere, set in the familiar industrial scene, as is seen in the earlier oil.