Polling Station
---
---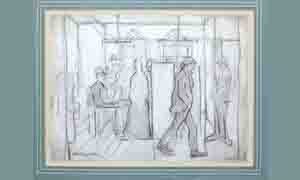 "Two rare works by renowned British artist LS Lowry have been discovered at a family home in Huddersfield.
The pair of drawings are expected to sell for £50,000."
Both pencil drawings are two important works which illustrate the breadth and depth of Lowry's talent as an artist.
They are also both something of a collector's item, having not seen the light of day for over four decades or been for sale recently.
Measuring 36.5cm by 27cm, the first of the pieces is thought to have been drawn in 1942 and depicts a scene from a polling station, with faceless figures casting their vote, whilst others wait to do the same in the background.
The second pencil drawing was created by Lowry in 1960 during his retirement and depicts a beach scene at Sandsend, near Whitby, peopled with his signature 'matchstick men' with the former railway bridge looming large in the background.
Measuring 34.5cm by 24.5cm, the picture once adorned the walls of the famous Lefevre Gallery in London which closed in 2002. The hallmark gallery sticker was still attached to the back of the drawing.
Both works have remained with the same Huddersfield family for a number of generations. They were thought to have been bought from an art gallery.