Two Boys
---
---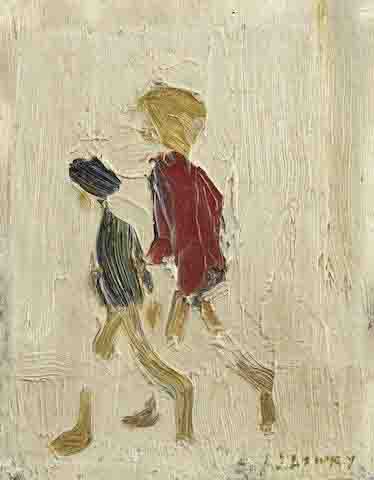 "Two Boys"
Two boys 14 x 10.5 cm. (5 1/2 x 4 1/8 in.)
Original painting on panel,
sold for £125,000 inc. premium (Total £134,000 inc. premium, vat, and ARR) 23/11/16
A small paiinting, five by four inches;
Simply, yet very cleverly painted, using only a few of Lowry's basic colours.
We can see the texture and thickness of the paint which is so characteristic of Lowry's work.
Undoubtedly, there is a story behind this painting, but maybe it is left for the viewer to interpret the painting using their own ideas.
It has to be noted the price that was achieved in two thousand and sixteen; one hundred and thirty four thousand pounds.
An enormous amount of money, even by today's standards, which shows the power of Lowry's artworks.