River Irwell
---
---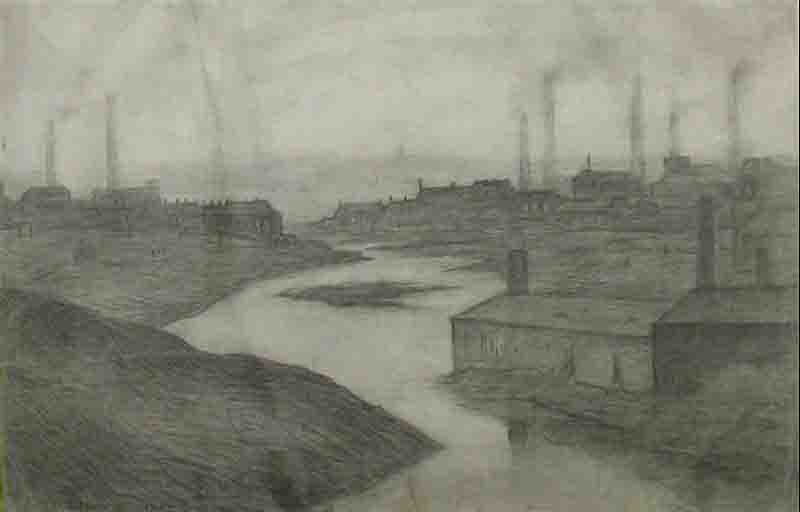 "River Irwell"
Image size
Original Drawing
The River Irwell (/'??rw?l/ UR-wel) is a tributary of the River Mersey in north west England.,br /> It rises at Irwell Springs on Deerplay Moor, approximately 1+1/2 miles (2.5 kilometres) north of Bacup and flows southwards for 39 mi (63 km) to meet the Mersey near Irlam.
The Irwell marks the boundary between Manchester and Salford, and its lower reaches have been canalised and now form part of the Manchester Ship Canal.
In the 17th and 18th centuries, the Irwell's lower reaches were a trading route that became part of the Mersey and Irwell Navigation.
In the 19th century, the river's course downstream of Manchester was permanently altered by the construction of the Manchester Ship Canal which opened in 1896.
The canal turned Manchester and Salford into a major inland seaport and led to the development of Trafford Park which became the largest industrial estate in Europe.
Further changes were made in the 20th and 21st centuries to prevent flooding in Manchester and Salford, including the construction of the Anaconda Cut in 1970 and the River Irwell Flood Defence Scheme in 2014.
David
Shepherd
prints and paintings Sir William Russell
Flint
Holiday house to let in Dordogne
France
Lowry
signed prints for sale.