Fait at Daisy Nook
---
---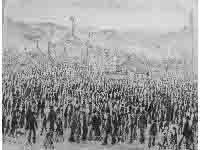 "Fair at Daisy Nook"
Image size 6 1/4" x 8 1/4" (16cm x 21cm)
Original Drawing
Signed and dated '46
Sold for £81,444 14/4/15
Why is it called Crime Lake Daisy Nook?
In 1855 the famous Lancashire poet and writer Ben Brierley published 'A Day Out', featuring a ramble to a fictional beauty spot called Daisy Nook.
The new name stuck. Crime Lake was formed in 1795 as a result of the blockage of a canal culvert which flooded the Crime Valley.
Fun Fair at Daisy Nook (1953) is a marvellous and life-enhancing record of the world at play;
a festival or bank holiday, perhaps, and quite probably the Easter Fair celebrated in a pair of similar paintings from 1946, both entitled Good Friday, Daisy Nook.
This popular Lancashire fair was evidently a favourite subject for Lowry.
Daisy Nook is between Droylsden and Failsworth, near Manchester, and the annual Good Friday fair is still run by the Silcock family,
whose name is blazoned over the castellated tent end above the eye-catching word 'Thriller'.
This was evidently an advertisement for some kind of Wall of Death entertainment.
The foreground frieze of people includes balloon and whirligig sellers, kids in pointed hats, dogs, prams: the slice of urban life on holiday that Lowry loved to depict.