Original Berwick-on-Tweed, original painting
---
---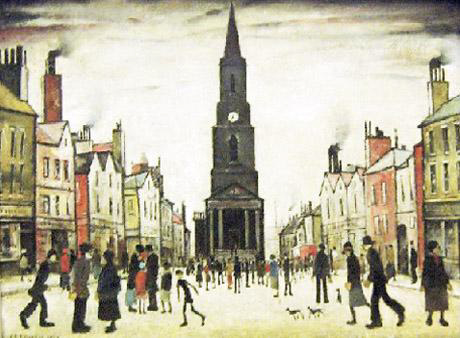 Laurence Stephen Lowry, R.A. (1887-1976)
A Market Place, Berwick-upon-Tweed
signed and dated 'L.S. LOWRY 1935' (lower left)
oil on panel
15 x 19.75 in. (38 x 50.2 cm.)
Provenance
with Lefevre Gallery, London, where purchased by Henry Morris on behalf of the present owners on 10 February 1945 (for 30 gns).
PROPERTY FROM CAMBRIDGESHIRE SCHOOLS' ART COLLECTION
Literature
S. Rohde, L.S. Lowry A Life, London, 2007, pp. 54-55, and illustrated on the back cover.
Exhibited
Cambridge, Magdalene Street Gallery, Lowry Loan Exhibition, April - May 1967, no. 3.
Salford Quays, The Lowry, Lowry's Travels, January - July 2003: this exhibition travelled to Sunderland, Museum and Winter Gardens, July - October 2003.
Salford Quays, The Lowry, on loan, January 2003 - March 2009.
Purchased 1945 £31.50p
Valued 2009 £300,000-500,000
Sold 2009 £541,250
The individuals represented by Lowry's famous stick men and women may have vanished forever, but the view of the town's market place remains otherwise remarkably similar.
The painting was valued at between £300,000 to £500,000. The vendor was Cambridgeshire County Council, They were hoping to raise money for an arts programme, It was sold in 2009 and achieved £541,250.
'A Market Place, Berwick-upon-Tweed' has never been on the open market for many years. It was bought in 1945 by Henry Morris, the county council's chief education officer, from the Lefevre Gallery in London for 30 guineas.
A specialist in Lowry's works was quoted as saying,
"This is a wonderful example of a top quality work by one of the 20th century's most popular artists. "The painting is a classic street scene by L S Lowry, painted during the golden, middle years of his career, and depicts the town of Berwick-upon-Tweed, just before the Second World War." "The picture has a joyful appeal, showing a bright and bustling street with Lowry figures going about their daily business." She added: "With its unbroken primary source provenance, and excellent original condition, this is a highly desirable work of art."
Lowry loved Berwick-upon-Tweed, which lies on the border of Northumberland and Scotland, and painted this picture when he was ordered by his doctor to the coastal town to get some fresh air and take a breather from looking after his unwell mother.
Cambridgeshire County Council took the decision to sell a number of valuable works from its collection in 2006. The Lowry is the last from that batch to be sold.
Councillor David Harty, its member for learning, said: "The painting was a shrewd investment by Henry Morris on behalf of Cambridgeshire County Council more than 60 years ago, and we believe the time is now right to sell it."
the signed
limited
edition prints and paintings by wildlife artist David Shepherd,
Sir William Russell Flint whose
paintings
and signed limited edition prints are in great demand.
A selection of his signed prints and original
drawings
can be viewed and bought here
Our aim is to offer our clients an excellent service at unbeatable prices.