---
Old Houses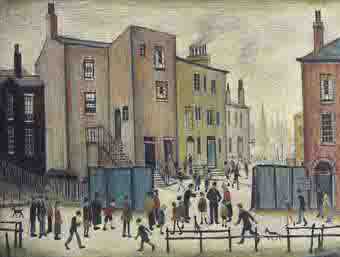 Laurence Stephen Lowry, R.A. (1887-1976)

Old Houses

signed and dated 'L.S. LOWRY 1948' (lower left)

oil on canvas

19 x 25 in. (48 x 63.4 cm.)

Sold 26th May, 2011 £758,050

Provenance
Crane Kalman Gallery, London, where purchased by Sir Richard Attenborough in 1963.
The Collection of Lord and Lady Attenborough; Sotheby's, London, 11 November 2009, lot 40, where purchased by the present owner.
Property from the Collection of Max Palevsky.


Like the protagonists of many "great American success" stories of the 20th century, Max Palevsky grew from humble beginnings into one of the foremost visionaries of his generation.
Born in 1924 to Jewish parents who had recently emigrated from Eastern Europe, Palevsky was raised the youngest of three children in a gritty working-class neighbourhood of Chicago.
After graduating from public high school with a strong interest in science and mathematics, he enlisted as an electronics officer and meteorologist in the United States Army Air Corps
during World War II, which afforded him both the opportunity to travel the world and finish his education.

While in the Army, Palevsky visited the Museum of Modern Art during a stop in New York, where he saw an influential exhibition "What is Modern Architecture?", that would broaden his
understanding of the relationship between art, architecture, design and science. Palevsky was profoundly moved by this exhibition. In 1948, after the war, the GI Bill enabled him to
earn degrees in mathematics and philosophy from the University of Chicago, later described by Palevsky as "the crucial experience of my life"1 and one that "gave me a notion of, and enthusiasm for, all that was out there in the world [and] of the limitless horizons of discovery."

Armed with a graduate education and a strong understanding of symbolic logic, Palevsky accepted a teaching position at UCLA. In an event Palevsky described as a "happenstance,"
he attended a lecture at the California Institute of Technology about the future possibility of "self-correcting" computers by the prescient mathematician John von Neumann.3 Palevsky
was so inspired that he promptly looked up "Computers" in a local telephone directory, quit his teaching job and joined what would become Bendix Corporation as one of the world's
first computer designers. Later, Palevsky and a group of associates founded Scientific Data Systems (SDS), which introduced a variety of computers, among them a groundbreaking machine
capable of processing data for both business and science. SDS was eventually sold to Xerox; the media at the time described Palevsky as a "founding genius."
He retired as a director of Xerox in May 1972.

In the following years, Palevsky turned his attention to his other passions: venture capitalism, politics, philanthropy and the arts. In 1970, he became a director and board chairman
of Rolling Stone magazine, which he rescued from financial ruin. Palevsky also supported a number of political candidates and became a strong supporter of campaign finance reform.

Palevsky spent much of his time and energy creating three remarkable houses in California: a "stark yet grand" Palm Springs retreat designed by Craig Ellwood in 1968;
a Spanish-Mediterranean villa on the bluffs of Malibu, configured by architect Joe Wieser in 1972 and renovated by renowned Italian designer Ettore Sotsass in 1984; and the 1985 remodel
by architectural designer Coy Howard of a 1928 Spanish-Italian style residence in Beverly Hills.

For Palevsky, whose first art purchase in 1960 was a sexually charged gouache entitled Junger Knabe by German artist George Grosz, collecting was largely autodidactic and approached
with equal measures of intellect and discipline.

Eventually, Palevsky amassed one of the world's foremost collections of the Arts and Crafts movement, solidifying relationships over the years with museum curators, most notably
eslie Greene Bowman, former curator of decorative arts at the Los Angeles County Museum of Art (LACMA) and now president and chief executive of Monticello, Charlottesville, VA; Wendy Kaplan,
the current head of the decorative arts department at LACMA, and Robert Singer, the museum's curator of Japanese art.

Between 1990-1993, Palevsky gave 74 Arts and Crafts pieces to LACMA. He supplied about a third of the 300 objects displayed in a 2004-05 LACMA exhibit, "The Arts and Crafts Movement in Europe
and America: 1880-1920." In 2009, the museum presented The Arts and Crafts Movement: Masterworks From the Max Palevsky and Jodie Evans Collection.

Palevsky often likened the difficult relationship between Arts and Crafts and modernization to his feelings about what computers have come to symbolize in the 21st century,
"Computers were originally intended to expedite work and solve serious problems, from space travel to record keeping. Unfortunately, they have also become passive entertainment devices,
substitutes for interactions with the real world.

Just as the Arts and Crafts movement took issue with the alienation of people from 'pleasure in labour' and the resulting loss of human creativity, I, too, oppose the depersonalization
that comes from the hypnotic quality of computer games, the substitution of a Google search for genuine inquiry, the instant messaging that has replaced social discourse."
Palevsky's regard for fine and decorative arts that share a clean, organized and geometric style have led him to acquire a variety of Modern and contemporary art and Japanese prints.
Works by French Modernist Fernand Leger and American Pop artist Roy Lichtenstein hung in each of his houses, and he described himself as one of the most prolific collectors of paintings
by Richard Lindner, a German artist who idolized Leger and who was known for "boldly mechanistic, highly sexual images of women."
In addition, Palevsky installed two monumental stabiles by Alexander Calder in Malibu and Palm Springs.

Overall, Palevsky exercised great restraint in his collecting, preferring to use or see what he owned, and sell or donate works that did not have a proper place in one of his homes or offices.
He explained, "When you buy art, as opposed to looking at it, there's a discipline. You have to really look at a bunch of things to decide, "Is this worth that much money to me?"
People who collect seriously look seriously."

When asked in recent years how he would like to be remembered, Palevsky simply answered: "Just as somebody who contributed to the community. We all have a responsibility."

"I always will treasure him as one of the rare breed of collectors whose passions were equally divided between aesthetics and ideas, and he always was committed to
sharing both with the widest possible audience." Wendy Kaplan, Department Head and Curator, Decorative Arts and Design, Los Angeles County Museum of Art.

"Max's greatest gift to me was his authenticity and generosity. He suffered no artifice ... lives unabashedly, and gave deeply and generously to help his friends and causes.
He cared about inconsequential people even as he dined with celebrities and statesmen. I work for Thomas Jefferson now; they would have been great friends."
Leslie Greene Bowman, President and Chief Curator, Monticello, Charlottesville, VA.

1 Jennifer Leovy, "Pledge of $20 million from Max Palevsky to enhance residential life," The University of Chicago Chronicle, 13 July 2000.
2 "Palevskys donate another $5 million to University," The University of Chicago Chronicle, 14 March 1996.
3 Suzanne Muchnic, "Max Palevsky meticulously assembles a design trove to be given to LACMA," The Los Angeles Times, 14 December 2008.
4 Aaron Betsky, Three California Houses: The Homes of Max Palevsky, p. 6.
5 S. Muchnic, op. cit. 6 Susan Freudenheim, "Former computer tycoon Max Palevsky brings a steely eye to his diverse collection," The Los Angeles Times, 28 June 2001.
7 Suzanne Muchnic, op. cit.

Exhibited
London, Crane Kalman Gallery, 4 Literary Painters, March - April 1965, no. 5, dated 1945.
London, Crane Kalman Gallery, A Tribute to L.S. Lowry, November - January 1967, no. 13, pl. X.
London, Crane Kalman Gallery, Conversation Pieces, October 2003.