Piccadilly Circus
---
---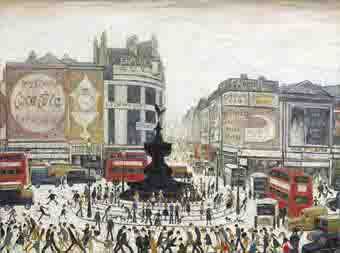 Piccadilly Circus, London.

Price guide £4,000,000-6,000,000

Part of the Lord Rocco Forte Collection.

Sold for £5,641,250

Piccadilly Circus, London
signed and dated 'L.S. LOWRY 1960' (lower right)
oil on canvas
30 x 40 in. (76.2 x 101.6 cm.)
Provenance
Alastair Roger.
Mrs Richard Beecham.
with Roy Miles Fine Paintings, London, where purchased by the present owner in April 1983.
Literature
Exhibition catalogue, L.S. Lowry, Sunderland, Art Gallery, Arts Council of Great Britain,
1966, pp. 17, 33, no. 88, pl. 23.
D. McLean, L.S. Lowry, London, 1978, p. 20, illustrated.
T. Rosenthal, L.S. Lowry the Art and the Artist, Norwich, 2010, p. 86-87, illustrated.


Exhibited
London, Lefevre Gallery, New Paintings by L.S. Lowry, October 1961, no. 34.
Sunderland, Art Gallery, Arts Council of Great Britain, L.S. Lowry R.A. Retrospective Exhibition, August - September 1966, no. 88:
this exhibition travelled to Manchester, Whitworth Art Gallery, September - October 1966;
Bristol, City Art Gallery, October - November 1966;
London, Tate Gallery, November 1966 - January 1967.
Cardiff, National Gallery of Wales, on loan.
London, Royal Academy, L.S. Lowry, September - November 1976, no. 255.

Lowry's paintings in general have seen an enormous increase in price over the last 10 years..
(recent sales have achieved 20 x the record for a modern British artist).. Due to the fact that relatively little of his work has been published , the signed, limited edition prints have become sought after investments,
and have seen increases far beyond any typical financial/banking investment.
A lonely and quite solitary character, Lowry views the world with sad and critical eyes.
'Piccadilly Circus' is a major piece of work by the artist, and typically illustrates all that he has become renowned for; masses of people endlessly going about there daily lives. He manages to capture the 'feel' of the era, a record of past times'.

Lowry liked to think of himself as an uncomplicated man with simple tastes, during his life, he managed to create a unique style of art that has become instantly recognisable worldwide, the painting of 'Piccadilly Circus' perfectly illustrates this.
Six years ago 'Going to the Match' was sold to the PFA for £1.9 million... the price guide was £500,000 (now estimated at £6-10 million)
'Daisy Nook Fair' achieved £3.8 million in 2007, another record
'The Football Match' sold a few months ago for £5,641,250
'A River Bank' was bought by Bury Council for £150 in 1951. Controversially sold by the borough in 2006 for £1.25 million
In 1945 by Henry Morris, the Cambridge county council's chief education officer, for 30 guineas. Sold in 2009 for £541,250 (price guide was £300-500 thousand)
The Royal Scottish Academy, recently sold an LS Lowry painting, 'The Hawker's Cart' as part of an overhaul of its art collection to set up a fund to buy Scottish artists works. 'The Hawker's Cart' was bought for £38 in 1934 when Lowry exhibited it at an RSA exhibition in Edinburgh. It was estimated to fetch between £300,000 and £500,00. It achieved £689,000. Lowry signed prints for sale.