Stockport (original pencil)
---
---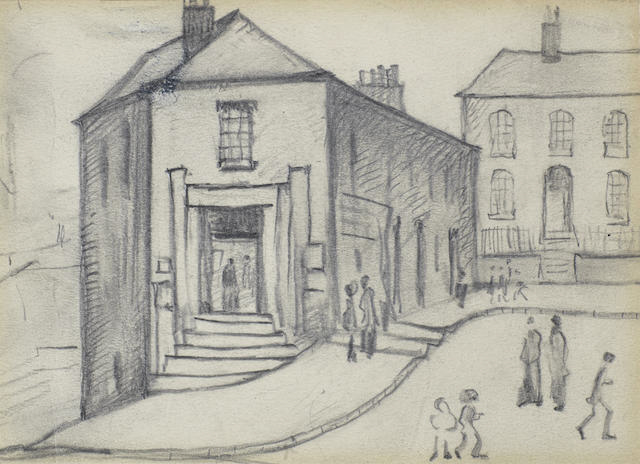 "Stockport"
Stockport 12.7 x 17.8 cm. (5 x 7 in.)
Original pencil drawing,
sold for £16,250 inc. premium (Total £17,420 inc. premium, vat, and ARR) 23/11/16

Stockport was one of the prototype textile towns.[26] In the early 18th century, England was not capable of producing silk of sufficient quality to be used as the warp in woven fabrics.
Suitable thread had to be imported from Italy, where it was spun on water-powered machinery.
In about 1717 John Lombe travelled to Italy and copied the design of the machinery. On his return he obtained a patent on the design, and went into production in Derby.
When Lombe tried to renew his patent in 1732, silk spinners from towns including Manchester, Macclesfield, Leek, and Stockport successfully petitioned parliament to not renew the patent.
Lombe was paid off, and in 1732 Stockport's first silk mill (the first water-powered textile mill in the north-west of England) was opened on a bend in the Mersey.
Further mills were opened on local brooks.

The work of Mr L.S. Lowry has become of great artistic and financial importance of recent years. A selection of his signed prints and drawings can be viewed and bought here
Our aim is to offer our clients an excellent service at unbeatable prices.