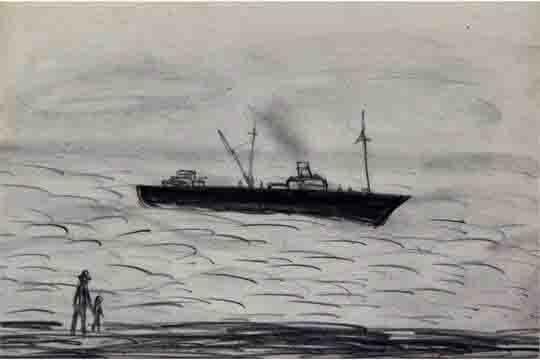 "trawler off Sunderland"
Image size 11.5" x 8" (28cm x 20cm)
Original Drawing
Signed and dated 1960
Sold for £15,750 13/5/15
At the beginning of the war Sunderland had a small fleet of nine steam trawlers.
Five were owned by two small companies, The Wear Steam Fishing Company Limited and the Vedra Steaming Fishing Company Limited. Three Sunderland businessmen were the principle shareholders,
W. S. Dawson of Dawson and Usher, rope makers; Paul Wayman, a coal merchant; and James Hall, a fish salesman.
Hall owned the other four trawlers and a motor fishing boat.
signed
limited
edition prints and paintings by wildlife artist David Shepherd,
Sir William Russell Flint whose
paintings
and signed limited edition prints are in great demand.
Mr L.S. Lowry
Our aim is to offer our clients an excellent service at unbeatable prices.