Original pencil drawings
---
---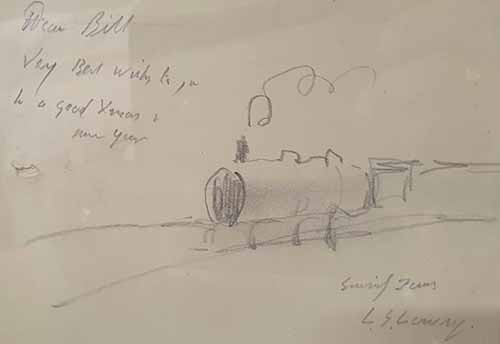 The Train
We are very particular when purchasing any original work.
Since Lowry's work has come to the forefront of British art, and the prices for his work have greatly escalated.
The market is awash with pencil drawings and 'doodles' ; 'Apparently' by the artist's own hand.
In the first instance, an original, whether a pencil drawing or an oil painting,
must be 'in the style of' the artist to attract a good price.
Anything that is not easily recognizable as the artist's work will always be a fraction of the value of 'An Industrial scene with figures' for example.
That being said, the most important is proof that the work is by L.S. Lowry.
His style is such that he is today one of the most copied artists.
Minimalist, simple figures and animals were his forté
If looking to purchase an original, one must satisfy themselves that it has been executed by the artist.
In the early years, 1960s, 1970s; he was not as popular as he is today,
and an untouched original in its original frame is always a good sign.
It may come with a letter, or receipt, or via a highly reputable gallery that has been dealing with Lowry's work for many years.
All reassuring signs.