Conversation Piece
---
---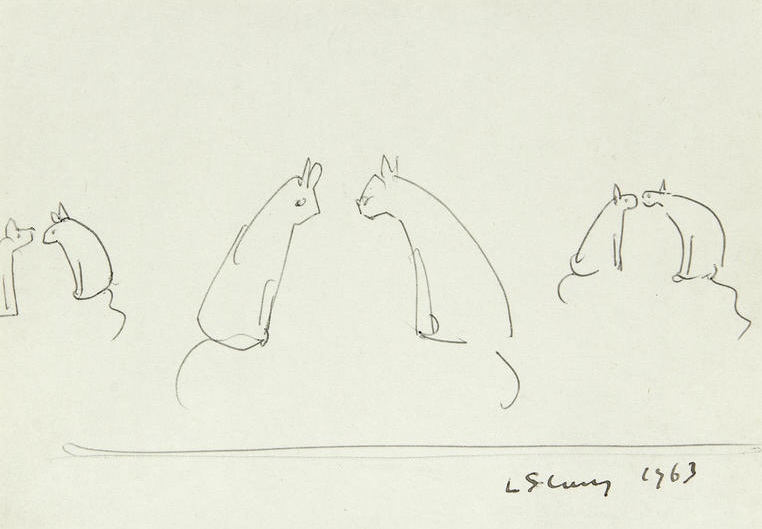 Conversation Piece
Conversation Piece
signed and dated 'L.S. Lowry 1963' (lower right)
ball-point pen on paper laid card
13.7 x 18.2 cm. (5 3/8 x 7 1/8 in.)
PROVENANCE:
Gifted by the artist to Frank Mullineux in the 1960s or early 1970s
Thence by family descent to the present owner
Accompanied by a copy of The Paintings and of L.S. Lowry; Oils and Watercolours by Mervyn Levy, signed 'L.S. Lowry' (on the title page)
and annotated throughout.
Frank Mullineux, a writer on local history and long standing friend of Lowry throughout his later years, took to the habit of hosting the artist each New Year's Day
at his Worsley home for a number of years.
On one occasion the pair where passing Eccles town hall, Lowry desired to make a number of quick sketches but found himself without the necessary
paper or pencils.
Mullineux kindly made a quick trip to W.H. Smith and bought for him the materials, the present lot was given to him in gratitude.
(Shelley Rohde, L.S. Lowry, a Biography, The Lowry Press, 1999, p.329)
Lowry's paintings in general have seen an enormous increase in price over the last 10 years..
(recent sales have achieved 20 x the record for a modern British artist)..
Due to the fact that relatively little of his work has been published , the signed, limited edition prints have become sought after investments,
and have seen increases far beyond any typical financial/banking investment.
A lonely and quite solitary character, Lowry views the world with sad and critical eyes.
'Piccadilly Circus' is a major piece of work by the artist, and typically illustrates all that he has become renowned for; masses of people endlessly
going about there daily lives. He manages to capture the 'feel' of the era, a record of past times'.
Lowry liked to think of himself as an uncomplicated man with simple tastes, during his life, he managed to create a unique style of art that has become
instantly recognisable worldwide, the painting of 'Piccadilly Circus' perfectly illustrates this.
Six years ago 'Going to the Match' was sold to the PFA for £1.9 million... the price guide was £500,000 (now estimated at £6-10 million)
'Daisy Nook Fair' achieved £3.8 million in 2007, another record
'The Football Match' sold a few months ago for £5,641,250
'A River Bank' was bought by Bury Council for £150 in 1951. Controversially sold by the borough in 2006 for £1.25 million
In 1945 by Henry Morris, the Cambridge county council's chief education officer, for 30 guineas. Sold in 2009 for £541,250 (price guide was
£300-500 thousand)
The Royal Scottish Academy, recently sold an LS Lowry painting, 'The Hawker's Cart'
as part of an overhaul of its art collection to set up a fund to buy Scottish artists works.
'The Hawker's Cart' was bought for £38 in 1934 when Lowry exhibited it at an RSA exhibition in Edinburgh.
It was estimated to fetch between £300,000 and £500,00. It achieved £689,000.
Visit the the studio in Nottinghamshire, the largest collection of LS Lowry artist signed, limited edition prints in the UK.
David
Shepherd
prints and paintings Sir William Russell
Flint
Holiday house to let in Dordogne
France
Lowry
signed prints for sale.
29 regiment RLC
antelope
arcticfoxes
Ardoyne
arnhembridge
aviation
bengaltigercameo
bfbuffalo
big five, lion
bigcats
biscuits
Books
british-wildlife
buffalo1