Lowry Biography
---
---
In 1964, the art world celebrated Lowry's 77th birthday with an exhibition of his work and that of 25 contemporary artists who had submitted tributes at Monk's Hall Museum, Eccles.
The Halle orchestra performed a concert in his honour and Prime Minister Harold Wilson used Lowry's painting The Pond as his official Christmas card.
Lowry's painting Coming Out of School was depicted on a postage stamp of highest denomination in a series issued by the Post Office depicting great British artists in 1968.
Lowry twice declined appointment to the Order of the British Empire, as an Officer (OBE) in 1955, and as a Commander (CBE) in 1961.
He was given the freedom of the city of Salford in 1965.
He turned down a knighthood in 1968, and appointments to the Order of the Companions of Honour (CH) in 1972 and 1976.
In 1975 he was awarded honorary Doctor of Letters degrees by the Universities of Salford and Liverpool.
Lowry holds the record for the most honours declined.
---
Specialist dealers to the trade and retail.
---
Lowry Prints and Lithographs
.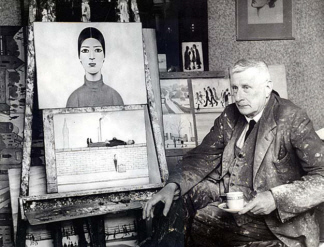 L.S.Lowry RBA RA


Born in Manchester in 1887 Laurence Stephen Lowry was the only child of Robert and Elizabeth Lowry. He started drawing at the age of eight;
and in 1903,
he began private painting classes which marked the start of a part-time education in art that was to continue for twenty years.
In 1904, aged 16, Lowry left school and secured a job as a clerk in a chartered accountants firm, he remained in full time employment
until his retirement at the age of 65.

His desire to be considered a serious artist led Lowry to keep his professional and artistic life completely separate and it was not
disclosed until after his death that he had worked for most of his life.In his preface to the 1976 Royal Academy Memorial exhibition,
Sir Hugh Casson referred to L S Lowry as one of the great English painters of this century.

An individual artist with a unique style,the work of Lowry spans the first half of the twentieth century recording with sensitivity
and wit his own personal view of the people and architecture of the industrial north.His early training was at the Municipal College
of Art, Manchester, where he was taught by the French artist Adolphe Valette who introduced him to Impressionism and of whom Lowry
said I owe so much to him for it was he who first showed me good drawings by the great masters, he gave me the feeling that life
drawing was a very wonderful thing.

Lowry was, however, unaffected by impressionist technique of Valette and continued to develop a more realistic approach to his art.
In 1909 Lowry and his parents moved to Pendlebury, where initially he was not happy, and for some years ignored his surroundings.
In 1916, whilst waiting for a train, Lowry became fascinated by the workers leaving the Acme Spinning Company Mill; the combination
of the people and the surroundings were a revelation to him and marked the turning point in his artistic career.
Lowry now began to explore the industrial areas of South Lancashire and discovered a wealth of inspiration, remarking "My subjects
were all around me, in those days there were mills and collieries all around Pendlebury. The people who work there were passing morning
and night. All my material was on my doorstep."

By 1920, Lowry had developed his own unique style in his paintings.Street scenes, populated with workers, housewives and children
set against a backdrop of industrial buildings and terraced houses had become central to
his highly personal style. From now on he painted entirely from experience and believed that you should paint the place you know.
Lowry would spend his leisure time walking the streets of Manchester and Salford making pencil sketches on scraps of paper and the
backs of used envelopes recording anything that could be used in his work.
In his early factory scenes the emphasis is placed on the buildings and the atmosphere was often dark and sombre, however, as Lowry
developed this theme the figures became more prominent and eventually he arrived at a marriage between the two where the figures and
surrounding from a whole.

Lowry had established his own particular style by 1930, he was encouraged by his teacher Bernard Taylor to try to make his figures
and buildings stand out more and he began to experiment with setting them against a white background.
He chose flake white building up layer after layer on the canvas before painting the subject matter straight on top.
He used only four other colours: vermillion, prussian blue, ivory black and ochre which he applied straight from the tube.

With the onset of the modernisation of the industrial north in mid 1950 Lowry lost interest in his surroundings and now concentrated
almost entirely on figures silhouetted against a white background, occasionally standing on a hint of a pavement or near a ghost
of a wall, but frequently suspended in time and space.
Lowry continued to sketch and closely observe his subjects and his works form this period capture the essence and nature of the
Northern people; he frequently mixes young and old and he imparts to each figures an individual character.
Shelly Rhode in her book A private view of L S Lowry wrote he had a new obsession, his single figures, his grotesques.
The struggling, surging, misshapen homuculi who used to live for so long in the shadow of the mills emerging at last from
their background to stand alone, as he stood alone.

Lowry visited Wales in the 1960s with his friend and patron Monty Bloom which briefly revived his interest in industrial scenes.
Lowry was impressed by the contrast between the industrial towns and the surrounding countryside, consequently his paintings from this
period are brighter than his Lancashire paintings.
However, towards the end of the 1960s Lowry began to lose his creative urge and, with the exception of the occasional moment of artistic
inspiration he ceased painting almost completely.

At the age of 88, Laurence Stephen Lowry died of pneumonia in 1976. Although he had received critical acclaim for his work
during the second half of his life, he never forgot the lack of recognition that he had received initially and he carried with him
the feeling of isolation and rejection throughout his career.
He refused the offer of a knighthood, as well as numerous other honours, and remained disillusioned with the art world despite the
praise that was often heaped upon him.

Lowry is always remembered as a man of remarkable resilience and sensitivity; he stood alone, unaffected by the influences of other
artist and his inspiration came entirely from his own experience.Lowry's unique works continue to receive the critical acclaim the is
so richly deserved.
The most important private and public collections in the United Kingdom and abroad now hold Lowry paintings and drawings.

At the mere age of 15, L.S. Lowry was sent to art school by his aunt.
Many thought his work was amateur, but he was determined to prove them wrong.
At both Manchester Academy of Fine Art and Salford Royal Technical College, Lowry mainly studied French Impressionism.
Inspired by artists such as Ford Madox Brown and Rosetti, he set out to develop a style of his own.

Very poor, Lowry could afford only to live on Station Rd in Pendlebury, surrounded by factories and industrial sites.
At first he hated the atmosphere, but as seen in his pieces, he eventually became enamored with them.
Most of his paintings are characterized by what Lowry himself calls the "Industrial Scene."
Furthermore, Lowry worked as a rent collector for Pall Mall Property Company.
As he traveled throughout the city on foot to collect rent he was able to see the entire industrial area as a whole.

Lowry's work is usually characterized by a white background and basic colors, though he did use numerous tools to make textures,
such as nails or toothpicks. He said of his creations, "I am a simple man, and I use simple materials: ivory, black, vermilion (red),
Prussian blue, yellow ochre, flake white and no medium (e.g. linseed oil). That's all I've ever used in my paintings.
I like oils... I like a medium you can work into over a period of time."

In 1932, his father died and Lowry was responsible to take care of his bedridden, 73 year old mother.
He was her caretaker for seven years, and only painted while his mother was sleeping.
This was a time described by Lowry as depressing and lonely.
During this period he mainly painting indrustrial landscapes with no people in them to display his feeling of solitude.
However, these were the paintings that would later make him famous.
His mother died in 1939, and Lowry painted "The Bedroom Pendlebury" in reaction to this event.

Throughout his lifetime, Lowry produced thousands of pencil drawings, these have become very collectable and the most detailed ones are very professionally drawn.
Lowry was not registered with any doctor; in 1976 he died at hospital from pneumonia.

He had little time for the financial sharks that would 'hound' him on a daily basis, and the galleries hoping to inherit a number of works in Lowry's will, they kept in close
contact with him throughout his old age, only to learn that Lowry had left all his paintings to a lady, with the same surname (Carol Ann), who had written him a letter when
she was a young girl, asking how she may learn to be an artist.

His standing as one of the foremost British artists of the 20th Century was strengthened when the painting "Going To The Match" was sold for a record
£1.9 million to the Manchester based 'Professional Footballers Association'.
Manchester's newly built museum gallery, The Centre in Salford Quays, now holds a major collection of his work.

A major exhibition of paintings and drawings by L.S Lowry was held in The Tate Gallery 2013. It attracted record attendances.


There are relatively few signed prints now available. Many artists such as David Shepherd
signed hundreds of titles, and each edition can sometimes be in excess of a thousand.
But Lowry agreed to only fifty four signed prints, and each title ranged from 95 to 850 in the edition. (75 in the case of the lithograph signed prints)
Once the signed prints had been published, the work was copyrighted and the original printing plates were destroyed so that apart from the original painting
only the agreed number of signed prints were produced.
Needless to say that after 50 or so years , from an edition of 850, there are a mere fraction of the edition that still exists in good condition.
Many will have been lost damaged (often by the glass breaking), being stored in damp conditions or the case of several titles,
fading, due to the printers who have not used the lightfast inks and acid free paper.

Our gallery in the East Midlands
diplays over 100 limited edition prints, personally signed by Mr L.S. Lowry, undoubtedly the largest collection in the UK.

Some interesting facts regarding L.S.Lowry's paintings;
Paintings, drawings and signed prints by L S Lowry have become some of the most sought after art work in the country today.
Through the use of paint, canvas and pencil, this artist from the Manchester area in Lancashire, has managed to capture with
remarkable accuracy and with direct, honest and a truthful vision, the spirit of a moment in time that has long since disapperared.
Lowry shows the profound sadness and hardship endured by Lancashire's inhabitants on a daily basis, in a way that we can understand
and have a greater insight to this strange and almost toturous way of life.
We can see from a few examples how the price of L.S. Lowry paintings and signed prints have dramatically increased over the years.
" A painting recently sold for ten times the original price"
The Thames from Whitehall Court (22" x 26" oil on canvas), sold for £520,000
Although less sought after than Lowry's views of the northern industrial areas,
this work made a large return for the vendor when purchased in 1987 for £22,000.
An increase of x 23.5 over the 22 year period indicates that it has been a superb investment
and the returns were far in excess of both the FTSE 100 and the property market.

'My ambition was to put the industrial scene on the map' - A guide to L.S. Lowry
For more than 40 years, Britain's most famous Modernist painter worked full-time as a rent collector.

L.S. Lowry spent almost his entire working life as a rent collector
Born in 1887 and raised in the leafy outskirts of Manchester, Laurence Stephen Lowry (1887-1976) was an only child.
His father was an estate agent and his mother was an aspiring pianist.
Although the family was middle class, financial difficulties meant they had to move to the insalubrious industrial area of Pendlebury.
To help make ends meet, Lowry left school at 16 and clerked at an accountancy firm.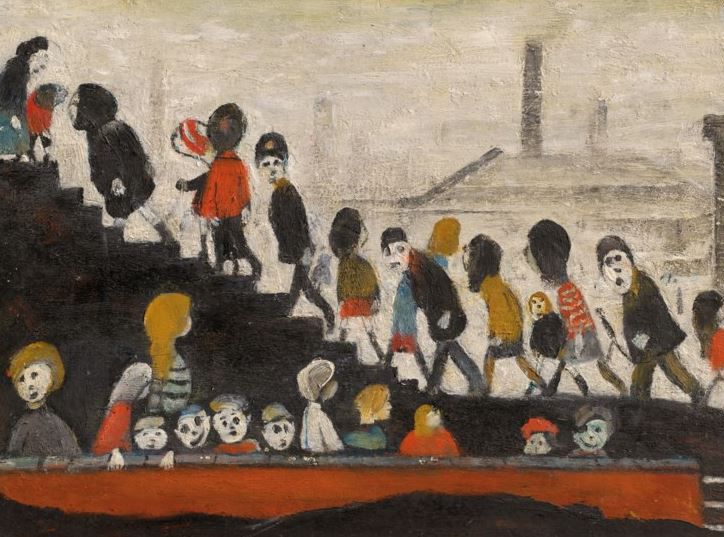 Laurence Stephen Lowry, R.A. (1887-1976), Children Walking up Steps, 1960s. Oil on board. 10 x 14 in (25.4 x 35.6 cm). Estimate £150,000-250,000. Offered in Modern British Art Evening Sale on 1 March 2021 at Christies in London
Lowry was never a full-time artist: in his early twenties, he took a job as a rent collector, and this would be his primary trade for the next four decades.
But he painted most days after work, late into the night - and firmly rejected the label of 'Sunday painter', remarking, 'I'm a Sunday painter who paints every day of the week!'
Lowry trained under an Impressionist master
Given his day job and the seemingly naive style of his paintings, it was long assumed that Lowry was self-taught.
This is far from true: he took evening classes in painting and drawing at the Salford School of Art and Municipal College of Art, where he studied under the French Impressionist Adolphe Valette.
'I cannot overestimate his effect on me,' Lowry later said of him.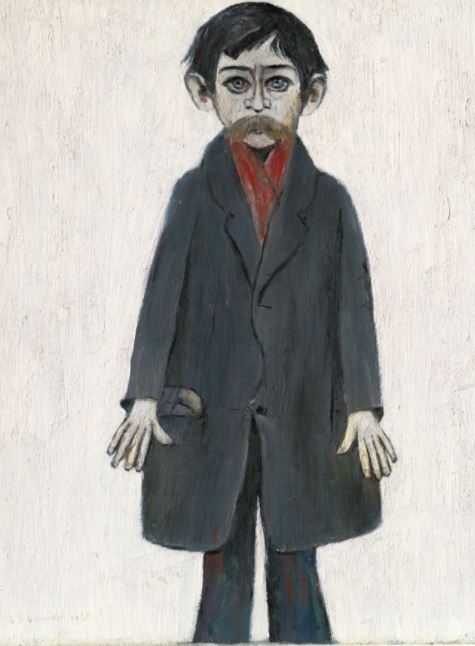 Laurence Stephen Lowry, R.A. (1887-1976), Man with Red Scarf, 1963. Oil on canvas. 24 x 20 in (61 x 50.8 cm). Estimate £150,000 - 250,000. Offered in Modern British Art Evening Sale on 1 March 2021 at Christies in London
Lowry never adopted an Impressionist technique or colour range - he often claimed to use just five colours: vermilion, ivory black, Prussian blue, yellow ochre and flake white.
What he did share with the Impressionists, however, was a fondness for capturing modern life in an urban landscape.
A missed train changed his career
Today, Lowry is best remembered for his busy scenes of England's industrial north, complete with looming mills, imposing factories, smoking chimneys and massed ranks of workers.
'My ambition was to put the industrial scene on the map because nobody (before) had seriously done it,' he said.
Lowry more than achieved that, says Rachel Hidderley, senior director of Modern British & Irish Art at Christie's in London.
'It's hard to think of many artists who dared take on the great industrial progress of the 20th century, let alone paint it so compellingly.'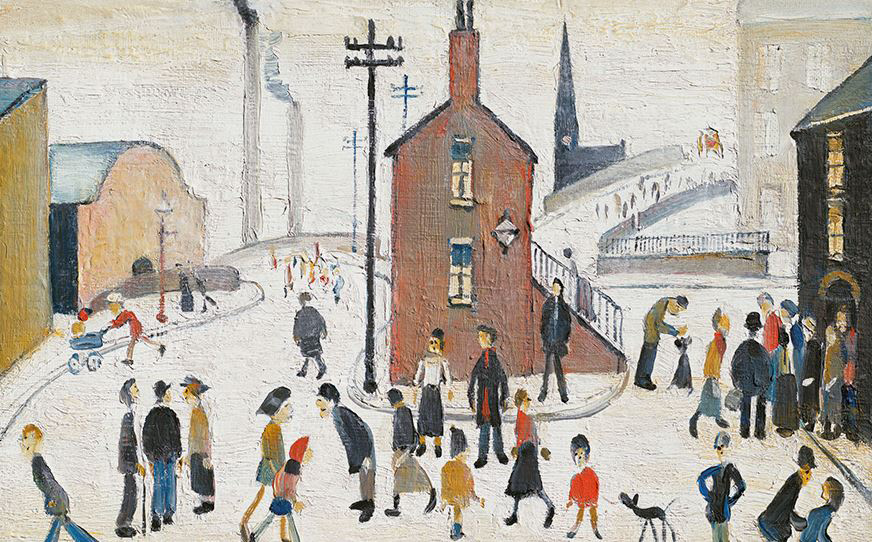 Laurence Stephen Lowry, R.A. (1887-1976), Street Scene, 1957. Oil on canvas-board. 10 x 14 in (25.4 x 35.6 cm). Estimate £300,000-500,000. Offered in Modern British Art Evening Sale on 1 March 2021 at Christies in London.
Lowry admitted that his inspiration had come from an unlikely source: a eureka moment following a missed train at Pendlebury station.
'I saw the Acme Company's spinning mill: the huge, black framework of rows of yellow-lit windows... against the sad, damp-charged, afternoon sky,'
Lowry wrote later in life. 'The mill was turning out hundreds of little, pinched figures, heads bent down... I watched this scene - which I'd looked at many times without seeing - with rapture.'
Lowry was a highly underrated portraitist
Lowry's cityscapes are populated by tiny, stylised figures often referred to as 'matchstick men', but in the mid to-late 1930s, he took to painting people in a very different way, producing a series of haunting portraits.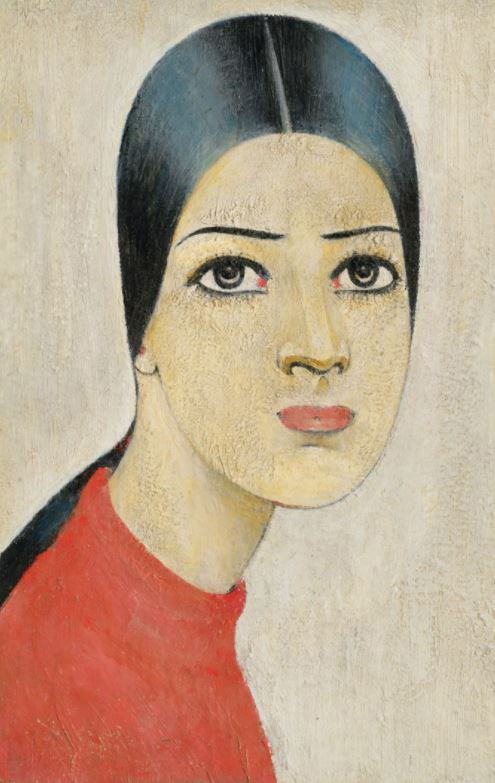 Laurence Stephen Lowry, R.A. (1887-1976), Ann in a Red Jumper, 1957. Oil on canvas laid on board. 14 x 10 in (35.5 x 25.4 cm). Estimate &pounds;150,000-250,000. Offered in Modern British Art Evening Sale on 1 March 2021 at Christies in London
It's unclear whether his subjects were real people: Lowry seems to have mixed his own features with those of men and women he passed on the street.
The rather dark mood of these pictures, it has been said, was influenced by the death of Lowry's father in 1932, and the long-term illness of his bedridden mother, with whom Lowry still lived.
He served as a 'firewatcher' in Manchester during the Second World War
During the Blitz, Lowry volunteered two or three nights a week as a firewatcher on the roof of Manchester department stores such as Debenhams and Lewis's.
The destruction wreaked by the Luftwaffe transformed the cityscape, and this was duly reflected in Lowry's paintings.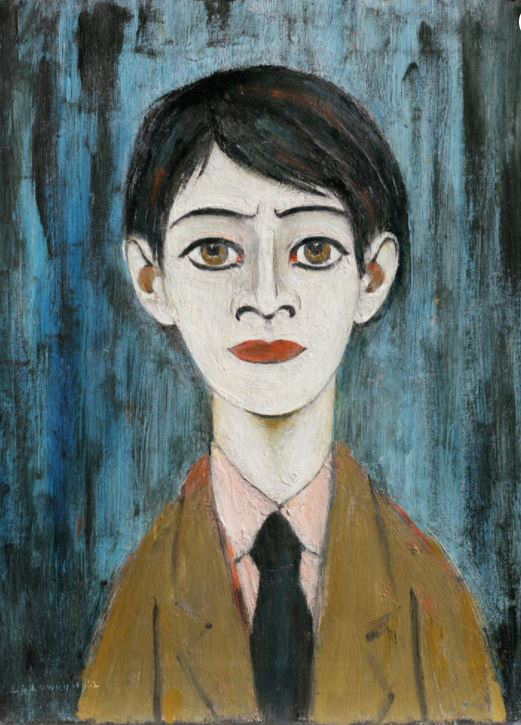 Laurence Stephen Lowry, R.A. (1887-1976), Head of a Boy, 1962. Oil on canvas. 20 x 16 in (50.8 x 40.6 cm). Estimate £300,000-500,000. Offered in Modern British Art Evening Sale on 1 March 2021 at Christies in London
In Saturday Afternoon (1941), a group of local children play a game of pickup football on a spot of land that - until its recent demolition by bombs - had accommodated four streets of terraced houses.
After the Second World War, Lowry's art became more upbeat
While never grim or gritty, Lowry's scenes of high-density, working-class urban life weren't particularly light-hearted, either.
There's a certain uniformity to his figures and a monotony to their daily grind.
As Lowry said, 'I only deal with poverty; always with gloom.
You'll never see a joyous picture of mine.'
But following the Second World War, the mood of his paintings began to shift.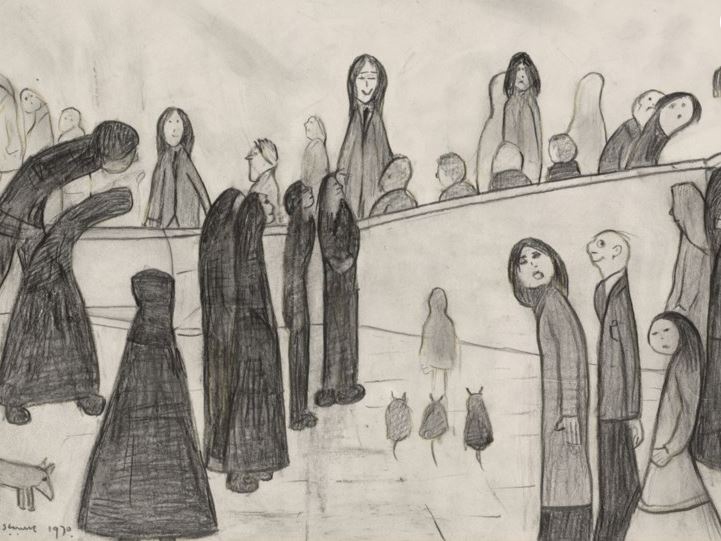 Laurence Stephen Lowry, R.A. (1887-1976), Street Scene with Figures, 1970. Pencil on paper. 11.75 x 16.5 in (29.8 x 41.9 cm). Estimate £40,000-60,000. Offered in Modern British Art Day Sale on 2 March 2021 at Christies in London
Fun Fair at Daisy Nook (1953), for example, captures a sunny afternoon at the annual Lancashire Easter Fair.
With his typical powers of observation and eye for detail, Lowry depicts balloon and whirligig sellers, children in pointed hats, dogs and prams; a slice of urban life on holiday.
In Procession in South Wales, Whit Monday, he takes as his subject an annual walk marking the Christian holiday of Pentecost Monday.
'There are still the incredible crowds,' says Hidderley of Lowry's post-war production, 'but now these people are increasingly at play, not work.'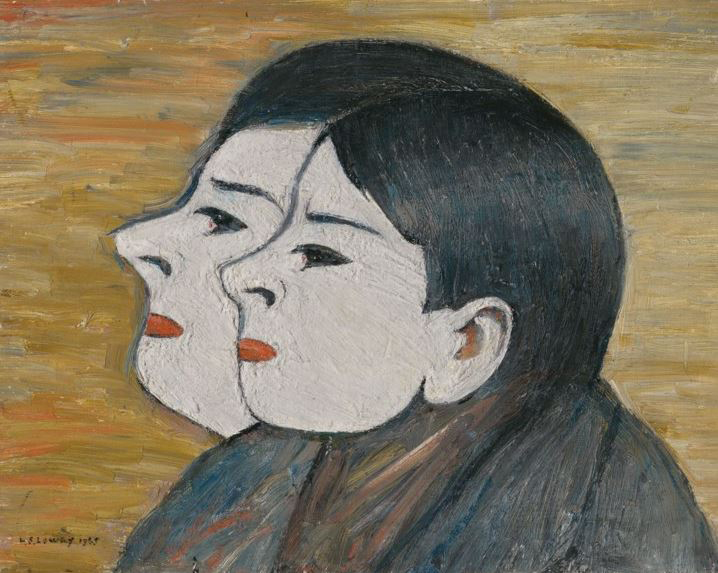 Laurence Stephen Lowry, R.A. (1887-1976), Two Heads, 1965. Oil on canvas. 12 x 16 in (30.5 x 40.6 cm). Estimate: £80,000-120,000. Offered in Modern British Art Day Sale on 2 March 2021 at Christie's in London
Lowry loved football
Lowry supported the Manchester City football team, and regularly attended home matches.
He also painted several canvases of fans on their way to, or at games.
In his famous 1949 work, The Football Match, which sold for £5,641,250 in May 2011 at Christie's London, the viewer is offered a panoramic,
bird's-eye view of not just the pitch and supporters, but also the houses and factories beyond.
Lowry's ties to the football club have not been forgotten: in 2016, Manchester City's owners gifted an (unspecified) artwork by the artist to outgoing manager Manuel Pellegrini.
Lowry had a lifelong fascination with the sea Lowry began visiting the seaside as a boy, on family holidays to spots such as Rhyl in North Wales.
'I've always been fond of the sea,' he observed later in life. 'How wonderful it is, yet also how terrible. I often think... what if it suddenly changed its mind and didn't turn the tide - and came straight on?
If it didn't stop and came on and on and on and on... That would be the end of it all.'
Lowry painted a number of seascapes in the 1940s, 1950s and 1960s.
In many cases, says Hidderley, these expanses of water and sky, separated only by the horizon line, are 'so empty they border on abstraction'.
Free of human beings, they are testament to the immeasurable power and presence of nature.
He turned down a knighthood
Despite working full-time as a rent collector, Lowry enjoyed much recognition for his art in his lifetime.
He had his first solo show in London in 1939 at the Lefevre Gallery in Mayfair; he was elected a Royal Academician in 1962; and he served as a visiting tutor at the prestigious Slade School of Fine Art.
In 1968, Lowry was even offered a knighthood, but he turned it down. 'All my life I have felt most strongly against social distinction of any kind,' he told the Prime Minister at the time, Harold Wilson.
His favourite artist was Dante Gabriel Rossetti
In 1948, as he started to earn good money as a painter, Lowry moved to the affluent village of Mottram in Longdendale, near Manchester.
He also began collecting work by artists he admired, particularly the Pre-Raphaelite Dante Gabriel Rossetti. Lowry even started a 'Rossetti Society', of which he became the first president.
'There is no one quite like Rossetti,' Lowry claimed. 'His (pictures of) women are very wonderful.'
L.S. Lowry died in 1976, at the age of 88. Unmarried and childless, he left behind a host of paintings and drawings by Rossetti.
The highest price for one painting was £1.9 million when 'Going To The Match' was sold in 1999.
Later in 2007, the sale of the Lowry's painting "Daisy Nook Fair" achieved £3.8m.
May, 2011 "The Football Match" painting (not 'Going to the match') by Lowry was sold for £5,641,250.
November, 2011 The 1960 painting of 'Piccadilly Circus' by L.S.Lowry was sold for £5,641,250
Recently the 'Going to the Match' painting has been valued at £6,000,000-10,000,000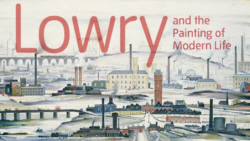 Major Lowry Exibition at the Tate Gallery, London 26th June - 20th October, 2013

Coming out of school
the bridge
conversation piece
Lowry and Mr Keane
1956
articles
Art as an investment
the importance of art
hippos young kudu blog Lowry
Our aim is to offer our clients an excellent service at unbeatable prices.

Here are some links to work by the world acclaimed wildlife artist, David Shepherd
african babies
Koalas
Scottish scenes
Miltary
Willesden sheds
Muffin the dog
Africa
Lambs
Bongoe antelope
Lions
Highland cattle
A donation
Day at the cricket
Trains
Bromton square, London
Terminal 2, Heathrow
mountain gorilla
big cats page
the meeting place
woman in a chair
Giraffes
arcticfoxes
hens, farming
masaigiraffeandyoung
highland cattle
01623 799 309