African Waterhole (signed limited edition print)
David Shepherd
---
---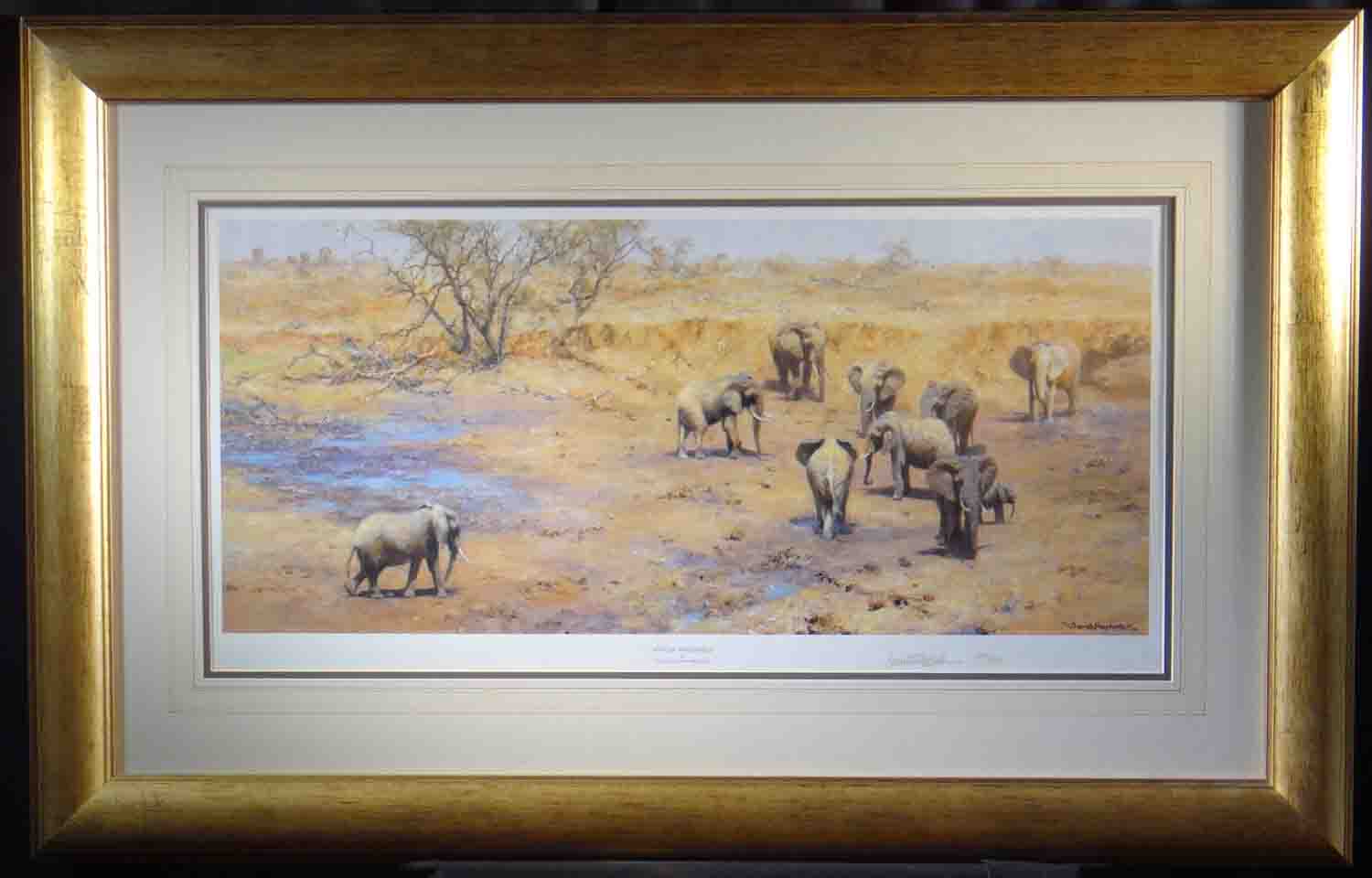 African Waterhole
Signed Limited Edition print of 650
Published August 2002
Image Size:- 68cm x 30cm (26.8" x 11.8")
The waterhole is where the magic happens. Both in the cities and the wilder corners of the world.
On safari, in the plains and savannahs of Africa, it is to the waterhole that the birds and wildlife flock.
The waterhole is their oasis, breaking up the day's journey.
During the rainy season, animals find water sources more easily, as rivulets, streams and lush plant life spread across their prideland.
But during the dry season, after the rains have passed, the call of the waterhole and its promise of refreshment lures them out.
Elephants cannot help themselves around water.
They are the Labradors of the African bush.
And they love water not merely for drinking, which they do a lot of, but also for playing, keeping cool and swimming.
They may be the only mammals to not be able to jump but they sure can swim, and unlike us humans, they don't need to be taught to do it.
Price; please call:- 01623 799 309
Studio open, 7 days a week!
Viewing by appointment
A wide selection of his signed published work can be viewed and purchased here.
africanbullelephant
africanwaterhole
countrycousins
manandhispaintings
rhinobeware
berwick
exhibitioncatalogue
groupofchildren
harbour
hisfamily
industrialpanorama
industrialscene
industrialscenepencil
industrialtown
landscapewithfarmbuildings
lonelyhouse
manholdingchild
marketsceneinanortherntown
meetingpoint
millscene
noticeboard
onthesands
ourtown
punchandjudy
referencelibrary
sailingboats
beach
britainatplay
burford
countycourtsalford
deal
fevervan
figuresinthepark
goingtothematch
huddersfield
manlyingonawall
peelpark
ferryboats
footballmatch
Gt. Ancoats street
thefamily
stationapproach
stmarysbeswick
stphilipschurchsalford
streetscene
stsimonschurch
threemenandacat
twobrothers
womanwithbeard
29 regiment RLC
ahmed
antelope
arabianoryx
bigcats
buffalo1
clock mender
cheetahs
cottagecompanions
donkeytalk
ducks
egretsandfriends
elephantcameo
elephant-drawing475
elephant-pencil1998
elephantsattsavo
highlandmist
rhinoceros
Gorillas
ivoryistheirssketch
justelephants
koalas
leopardcubcameo
lionhead
lionsigned
luangwa
orang-utans
muscovyducks
oilmucksunlight
oldforge
oldmenofetosha
hippos
original-landscape
original-lions-sold
original-painting-tiger
pandas
horses
polarbears
reversethrust
shelties
africanafternoon rhinoslaststand
tigerandcubs
waterhole
workingsketchtiger
cart
history
streetscene2
studio4
studio5
womanwithbeardsketch

Back to
David Shepherd
prints for sale.