Station Approach
L.S. Lowry
R.B.A., R.A.

---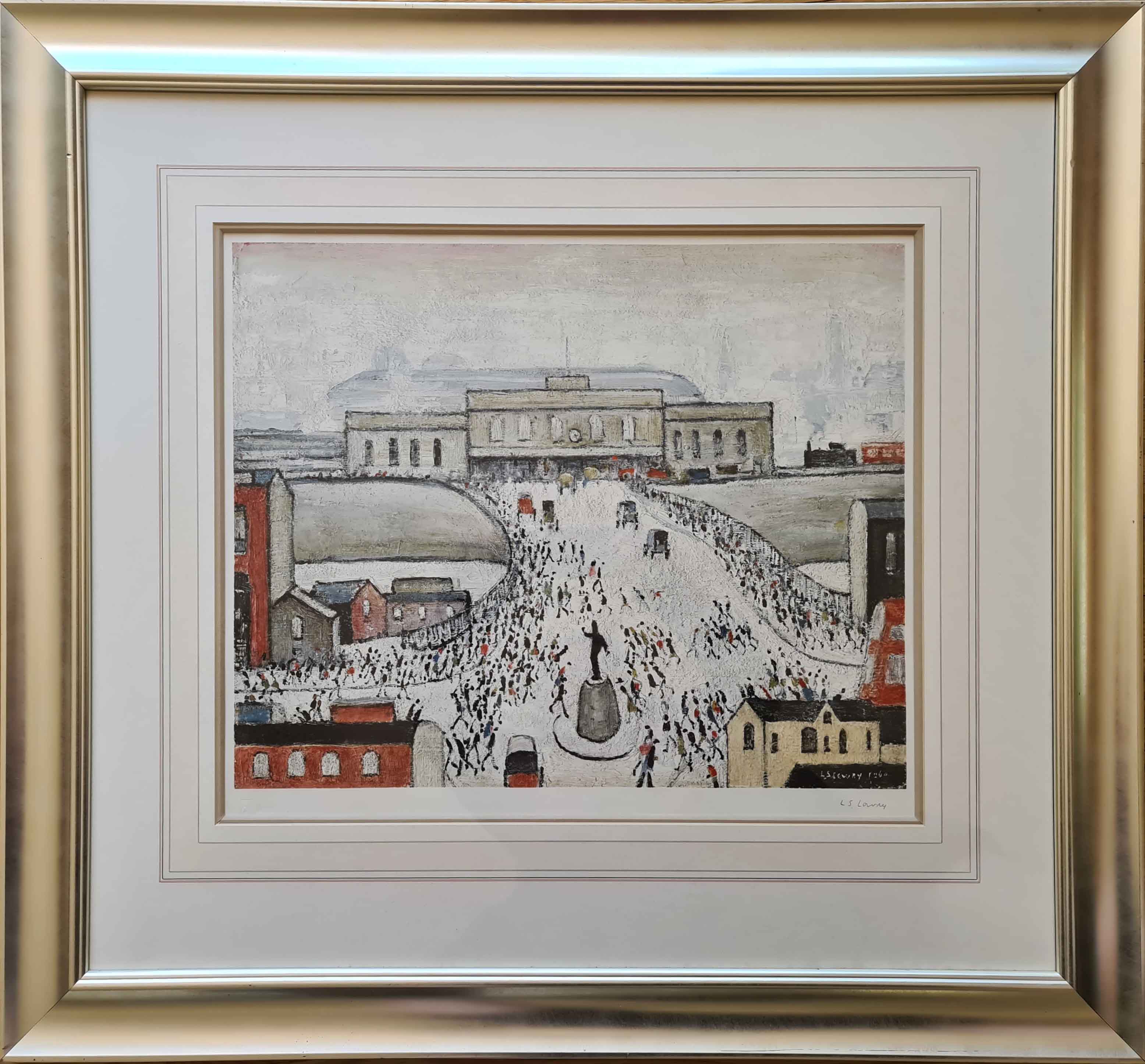 "Station Approach"
Signed, Limited edition print of 850
Image size 16"x 20"
Published by the Adam collection
Courtesy of The Royal academy
Printed in Austria by Max Jaffe
Copyright in all countries inc.USA

LS Lowry RA, 'Station Approach', 1962. Oil on canvas.
© Royal Academy of Arts, London

Laurence Stephen Lowry (1887 to 1976) is remembered for his highly individual portrayals of industrial Manchester and Salford.
His considerable output, which also included landscapes, coastal scenes and figure studies, is particularly remarkable given that he held down a full-time
job as a rent collector for over 40 years. Lowry kept this occupation secret to avoid being known as a 'Sunday painter',
often painting his canvases late into the night. Unsurprisingly, he described this pursuit as 'damned hard work'.

Born in Stretford, Manchester in 1887, Lowry showed an interest in drawing from an early age.
In 1904 he joined an accountancy firm but attended evening classes at Manchester Municipal School of Art and later Salford School of Art.
Nevertheless, Lowry claimed to be self-taught and his work is famous for its deliberate naivety. Though his work eventually had great popular appeal,
public recognition came late in life for Lowry, and it was not until he was the advanced age of 74 that he was elected a Royal Academician.

This painting shows the approach to Exchange Station in Manchester, and combines several characteristic elements of his work. Lowry chose to depict the city
centre rather than the factories and terraced houses of an industrial area, but the somewhat detached view of a frenetic, bustling crowd is a common feature
of his work. He portrayed the scene in typically simple black outlines, contrasted against expanses of white and buildings painted in red, grey and ochre.
The heavy sky is tinged with grey, partially obscuring the background landmarks, including the tower of Strangeways Prison on the right.

Fond of saying 'I only paint what I see, you know', Lowry nevertheless habitually painted in his studio from memory or imagination. He first depicted the
approach to Exchange Station in 1960, repeating the same view for this work. His interpretation of the architecture of the station facade varies in each
case and he took particular liberties with the statue of Oliver Cromwell that stood at the junction, transforming it into a light-hearted figure directing
the traffic. Exchange Station was built in 1884 but closed in 1969 and has since been demolished.

This painting is on display at Compton Verney as part of the exhibition, Opulence and Anxiety: Landscapes from the RoyalAcademy of Arts.

Salford station served the city from 1884 until 1969, and continued to deliver newspapers until the 1980s.
After 1926 its platform 3 met platform 11 at nearby Victoria station, creating Europe's longest platform at 2,238 feet (682 m); it could accommodate three trains at once.

L.S.Lowry
Laurence Stephen Lowry did not like to think about himself as an novice artist.
Individuals would occasionally accuse him of being self-taught and untutored. he commented,
"Started at fifteen years old. Don't know why?" My aunt stated "You seem to be no good for anything,
so you may as well go to Art School."
LSLowry started evening courses in antique art and free hand art drawing during 1905.
Later becoming a student in each the Manchester Academy of Fantastic Art and The Salford Royal Technical College at Peel Park.
College records present that Lowry attended art classes through the 1920's. Lowry had learnt from academics,
individuals such as the Frenchman Adolphe Valette.

This French Impressionist artist had made a huge impact on the artwork world.
He noticed from exhibitions in Manchester how the present developments in fashionable art were altering,
and had an affection for Pre-Raphaelite art, by artists similar to Rossetti and Ford Madox Brown.
A naive Sunday artist LS Lowry actually was not. Lowry strove for a particular method of painting and drawing, and for a topic Lowry might make unique.
Lowry ultimately selected the view from the Technical College window. Industrial scenes of Salford and Manchester, as opposed to that of a mannequin posing.
Throughout the early years L.S.Lowry lived in Victoria Park, the suburbs of Manchester.
As a result of lack of cash the household moved to Station Highway, Pendlebury.
There, the tree lined streets changed to manufacturing facility chimneys. Lowry recalled "At first I detested it, and then, after years,
turned pretty fascinated by it, ultimately obsessed by it".
He saw the topics for his work throughout him. In Lowry's later life, L.S.L. recalled a particular event. "One day after missing a train from Pendlebury
(a nearby town) I had ignored for seven years, and on leaving the station, noticed the Acme Spinning Firm's mill.
The large black framework of rows of yellow lit windows standing up against the unhappy, damp charged afternoon sky.
The mill was turning out. "Gazing at this scene, which I had looked at many occasions with out seeing, with rapture."







Lowry felt that drawings were as labour intensive to do as paintings. Working the surface of the drawings by smudging, erasing and rubbing
the pencil lines on the paper to build the ambiance of the drawing.
This artist would typically make fast sketches on the spot on no matter what paper he had in his pockets.
L.S.Lowry carefully composed his drawings in a painting room at home and took nice care over placing each figure.
Late in life he would sit before a canvas or board on his easel and never know what was going to be in the painting until he started working.
He would call them them "dreamscapes".

Bernard Taylor made the suggestion that helped Lowry achieve the stark figures and the pallor of the industrial sky
that he desired.
Taylor prompt Lowry painted on a pure white background. He experimented with layers of white paint on boards, leaving them for a time until
the surface became creamy.
EMAIL:-administrator@lowry.co.uk
Our aim is to offer our clients an excellent service at unbeatable prices.
d@art.info
01623 799 309