Arabian Oryx
David Shepherd
---
---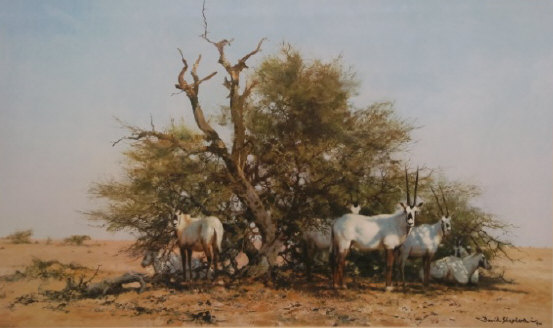 'Arabian Oryx'
Signed Limited Edition of 950
Date of publication 1990
Image Size 18" x 30"
In stock_; price please call 01623 799 309
The myth of the one-horned unicorn may be based on oryxes that have lost one horn.
Aristotle and Pliny the Elder held that the oryx was the unicorn's "prototype".
From certain angles, the oryx may seem to have one horn rather than two, and given that its horns are made from hollow bone that cannot be regrown,
if an Arabian oryx were to lose one of its horns, for the rest of its life, it would have only one.
Another source for the concept may have originated from the translation of the Hebrew word re'em into Greek, monokeros, in the Septuagint.
In Psalm 22:21, the word karen, meaning horn, is written in singular.
The Roman Catholic Vulgata and the Douay-Rheims Bible translated re'em as rhinoceros; other translations are names for a wild bull, wild oxen, buffalo, or gaur, but in some languages a word for unicorn is maintained.
The Arabic translation alrim is the most correct choice etymologically, meaning 'white oryx'.
Signed, limited edition, prints and original paintings, drawings for sale.
30 years experience and a collection of hundreds of David Shepherd signed, limited edition prints in the UK!
Studio open, 7 days a week!
Viewing by appointment
EMAIL:-
administrator@davidshepherd.com
Hedgehog
hot potami
icewilderness
immortalhero
spitfire
index-images
lastleavesofautumn
lastleavesofautumn
lazyhazydays
On Shed
Oosterbeek
oosterbeek
evening light
stmichaelsmountcornwall
stmichaelsmountcornwall
studiesofmasai
Wherwell
Wherwell
original-zebra
Paintings
pandas-pencil
pandas-pencil
Pigs
portraits
prices
waterbuck
Amboseli
Amboseli