Highland Mist
David Shepherd
---
---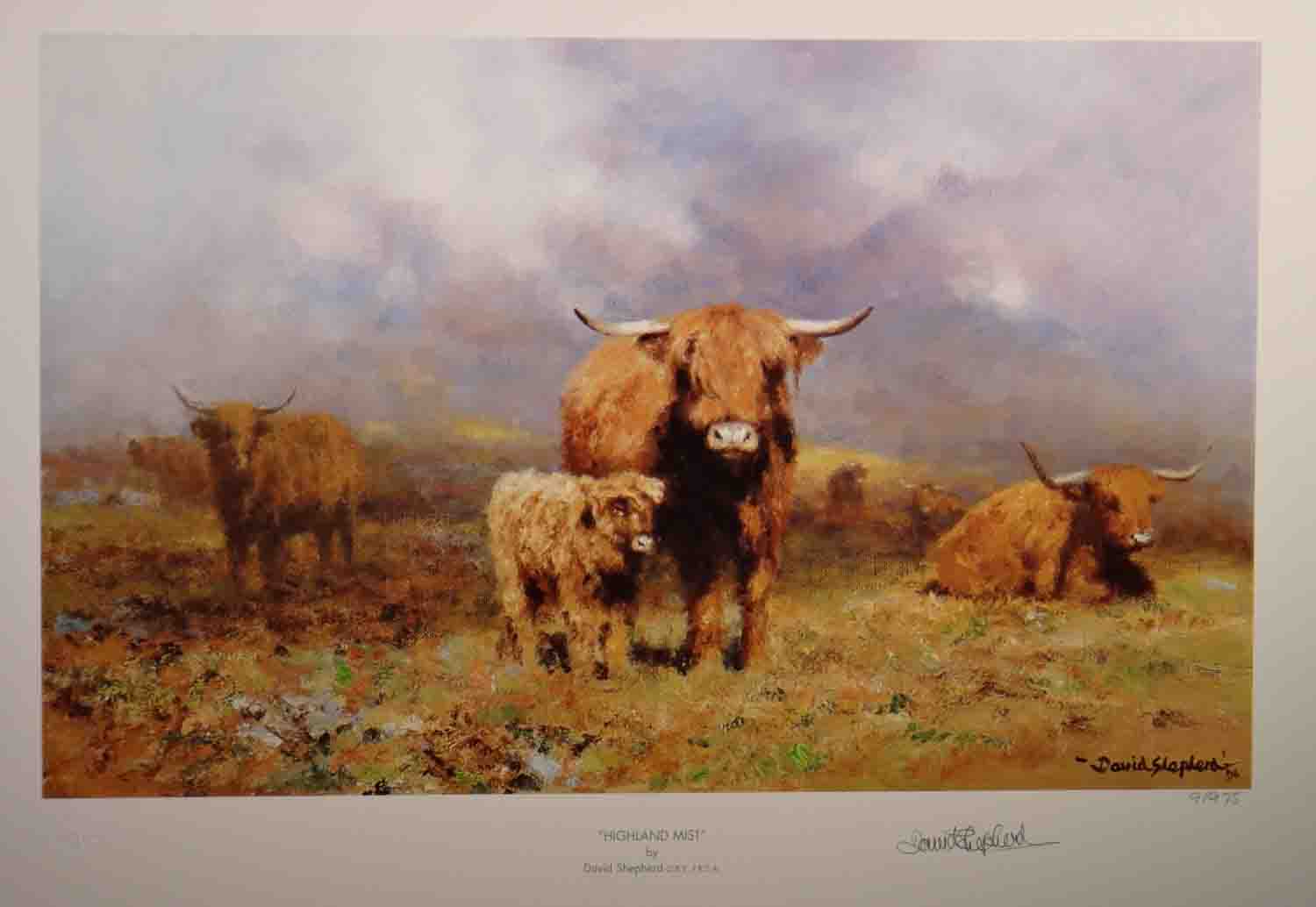 'Highland Mist.'
Signed Limited Edition of 975
Image Size 9.75" x 15.75"
Date of publication October 1996
In traditional Scottish geography, the Highlands refers to that part of Scotland north-west of the Highland Boundary Fault, which crosses mainland Scotland in a near, straight line from Helensburgh to Stonehaven.
However the flat coastal lands that occupy parts of the counties of Nairnshire, Morayshire, Banffshire and Aberdeenshire are often excluded as they do not share the distinctive geographical and cultural
features of the rest of the Highlands.
The north-east of Caithness, as well as Orkney and Shetland, are also often excluded from the Highlands, although the Hebrides are usually included.
The Highland area, as so defined, differed from the Lowlands in language and tradition, having preserved Gaelic speech and customs centuries after the anglicisation of the latter;
this led to a growing perception of a divide, with the cultural distinction between Highlander and Lowlander first noted towards the end of the 14th century.
In Aberdeenshire, the boundary between the Highlands and the Lowlands is not well defined.
There is a stone beside the A93 road near the village of Dinnet on Royal Deeside which states 'You are now in the Highlands', although there are areas of Highland character to the east of this point.
A much wider definition of the Highlands is that used by the Scotch whisky industry.
Highland Single Malts are produced at distilleries north of an imaginary line between Dundee and Greenock, thus including all of Aberdeenshire and Angus.
30 years experience and a collection of hundreds of David Shepherd signed, limited edition prints
Studio open, 7 days a week!
Viewing by appointment
lowry
russell flint
Back to
David Shepherd
prints for sale.