The Football Match
L.S. Lowry
---
---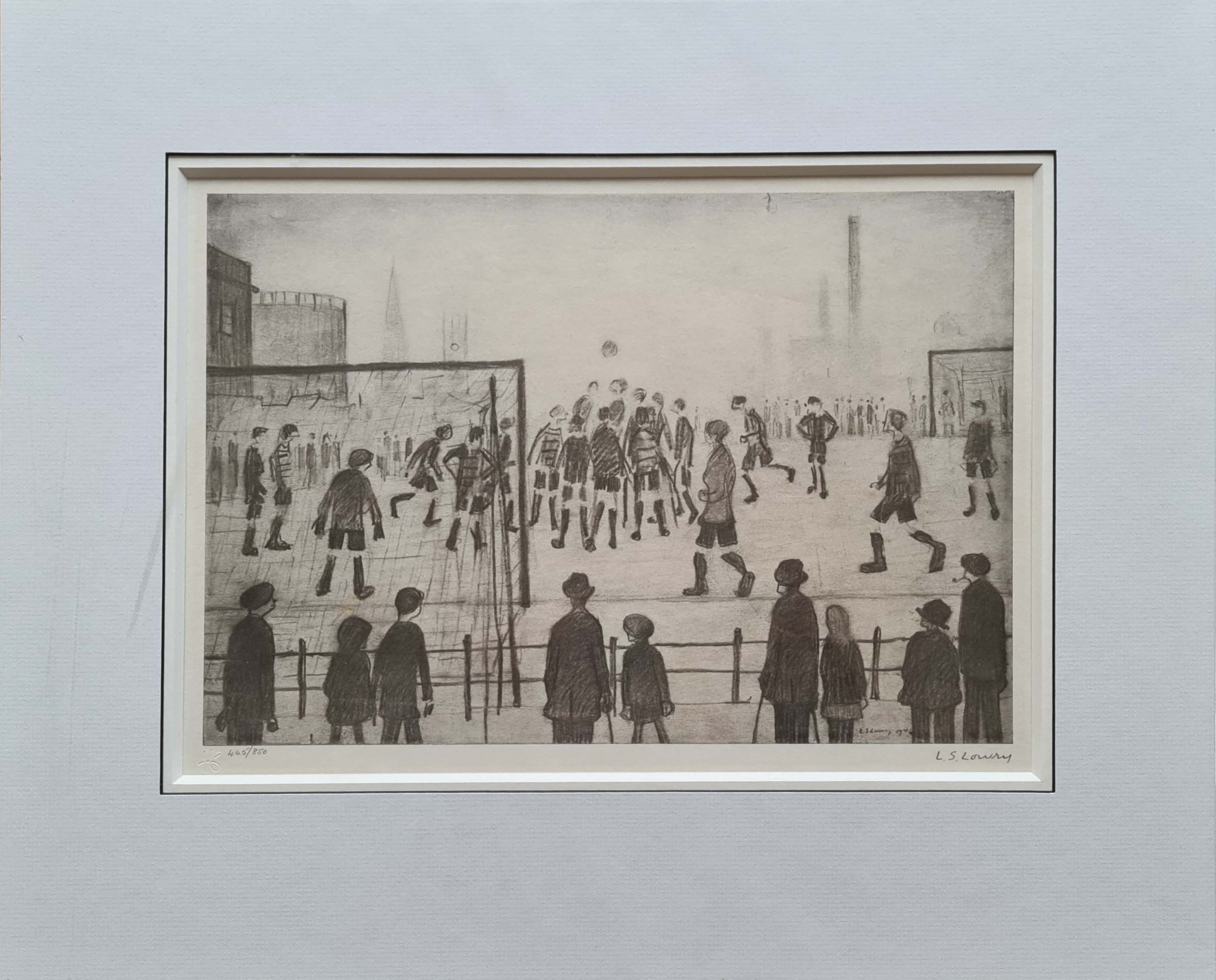 limited edition of 850
Numbered and stamped by the publisher
Grove Galleries in 1973
Signed personally by L.S. Lowry
Image size 9.75"x 14"

Lowry always explained to curious clients why he felt a drawing was as important, if not more important than a painting.
He felt it could be more effective and dramatic; also it was more difficult to achieve a satisfactory result in black and white,
as there were no colours that could be used to cover up and hide mistakes.

Lowry was a lifelong fan of Manchester City Football Club.
He had a particular fondness for rival team Bolton Wanderers Football Club, as his home in Pendlebury was within walking distance of their former stadium at Burnden Park.

Lowry was known to sketch on whatever he had in his pocket at the time, including scraps of paper, note cards and even the back of his bank statements.
He has made a pencil drawing of a football match from behind the goal net, which later became made into a limited lithograph titled A Football Match.
Lowry also made a sketch of figures walking to see a Bolton Wanderers match at Burden Park, which he later turned into Going To The Match, 1953, now considered one of his most famous football paintings.

EMAIL:-administrator@lowry.co.uk

We hope that you will browse and enjoy Paintings and signed prints by wildlife artist,David Shepherd
Russell Flint
Famous for his portraits of Cecilia, Flint's greastest works illustrate the architecture and landscape throughout rural France
This holiday house near Brantome, France is ideally situated to enjoy the Dordogne Readmore
The work of Mr L.S. Lowry has become of great artistic and financial importance of recent years.
We have a large collection of his signed limited edition prints
Our aim is to offer our clients an excellent service at unbeatable prices.