The Clockmender's cat
David Shepherd
---
---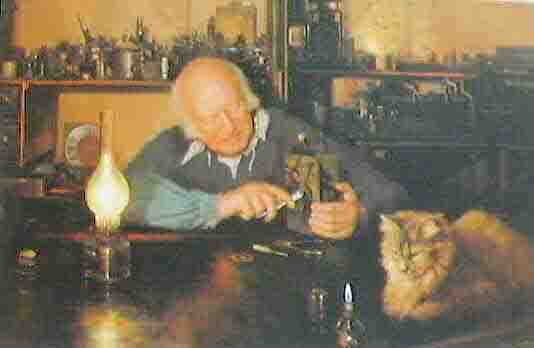 "The Clock Mender's Cat"
Signed Limited Edition
Date of publication 1999
Image Size 15.5" x 24"
© S & W © David Shepherd
The light flickering from the lamp, casts a warmth in the room that electric lights cannot produce.
The cat appears to be mesmorized by the small lamp, whilst the clockmender carefully makes adjustments to a clock he is working on.
There is a most intricate array of tools and other items on the shelf behind the man, each one showing perfectly the texture of the the material.

There are also a number of signed limited edition prints of paintings from Britanny, The Loire, Ardeche, Provence.
We have for sale several original paintings from the south west France, near to the beautiful towns of Brantome and Perigueux and also Languedoc
His work has now become regarded as some of the finest watercolour paintings in the world.