Original paintings sold (various sources)
---
---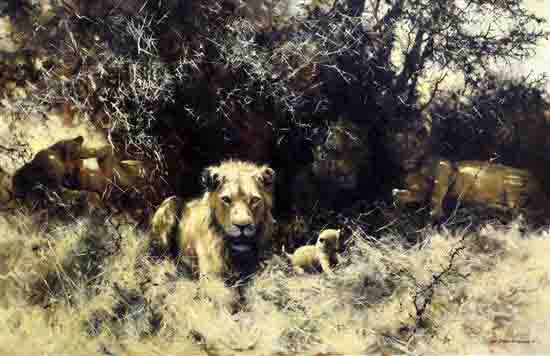 Lions
Original painting
28" x 44"
Sold £64,600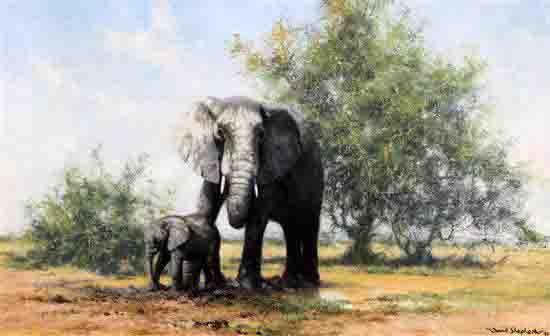 Elephants and Acacia
15" x 24"
£ 18,088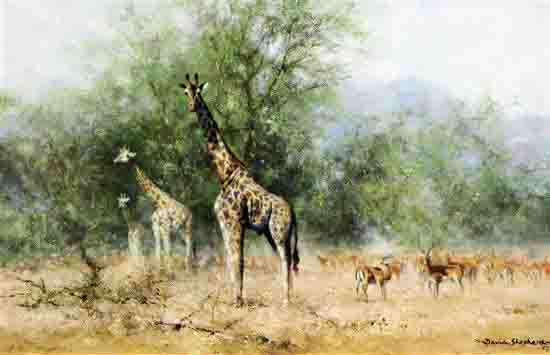 Curiosity
13" x 19.5"
£ 18,088
Extinction of lions in southern Europe, North Africa and the Middle East interrupted gene flow between lion populations in Asia and Africa.
Genetic evidence revealed numerous mutations in lion samples from East and Southern Africa,
which indicates that this group has a longer evolutionary history than genetically less diverse lion samples from Asia and West and Central Africa.
A whole genome-wide sequence of lion samples showed that samples from West Africa shared alleles with samples from Southern Africa, and samples from Central Africa shared alleles with samples from Asia.
This phenomenon indicates that Central Africa was a melting pot of lion populations after they had become isolated, possibly migrating through corridors in the Nile Basin during the early Holocene.
Signed, limited edition, prints and original paintings, drawings for sale.
30 years experience and a collection of hundreds of David Shepherd signed, limited edition prints in the UK!
Studio open, 7 days a week!
Viewing by appointment
EMAIL:-
administrator@davidshepherd.com
signed prints
and original paintings and drawings by the world acclaimed
L.S.Lowry
.
Sir William Russell
Flint
.
David
Shepherd
prints for sale