Antelope
David Shepherd
---
---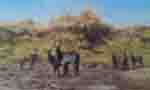 Water Buck
signed limited edition print
The antelope's horn is prized for supposed medicinal and magical powers in many places.
The horn of the male saiga, in Eastern practice, is ground as an aphrodisiac, for which it has been hunted nearly to extinction.
In the Congo, it is thought to confine spirits.
Christian iconography sometimes uses the antelope's two horns as a symbol of the two spiritual weapons Christians possess; the Old Testament and the New Testament.
The antelope's ability to run swiftly has also led to their association with the wind, such as in the Rig Veda, as the steeds of the Maruts and the wind god Vayu.
There is, however, no scientific evidence that the horns of any antelope have any change on a human's physiology or characteristics.
In Mali, antelope were believed to have brought the skills of agriculture to mankind.
Humans have also used the term 'Antelope' to refer to a tradition usually found in the sport of track and field.
Signed, limited edition, prints and original paintings, drawings for sale.
30 years experience and a collection of hundreds of David Shepherd signed, limited edition prints in the UK!
Studio open, 7 days a week!
Viewing by appointment
administrator@davidshepherd.com
dustyevening
resupplyatsarfait
subnigelmine
cattle
Orphans
VC10
Ziggy
berwick-visits
Facts about fine art
HowToMarketYourArt
Investing in British Art
man lying on a wall
oldstepsstockport
fairatdaisynook
groupoffigureswithanimals
headfromtheantique
stockport
staugustineschurch
stepsatwick
streetscene1957
two anglers
two boys
wetearthcollierydixon
photos
pond
contraption
peoplestandingabout
station road
Sunday Afternoon
battleimjin
FH70
royalhorseartillery