Cirencester
Cowland
---
---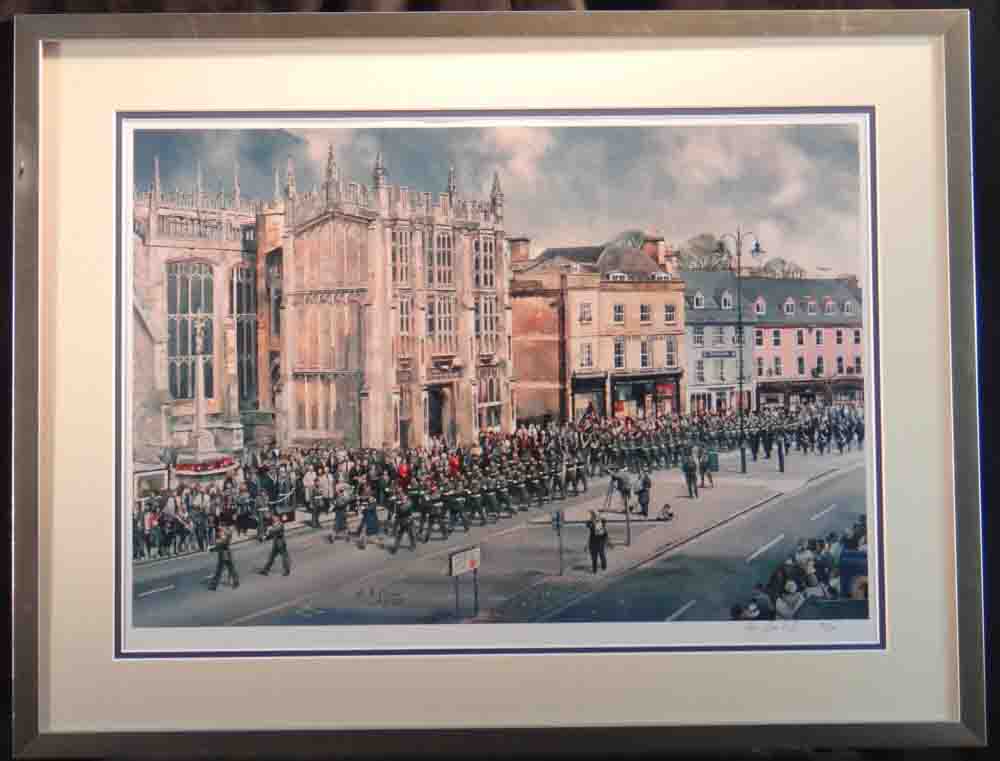 "Freedom of the Cotswolds" parade
March, 2005
Cirencester, St. John the Baptist church
Market Place as seen from Barclays bank
Complete with framing
Signed, limited edition of 104
Image size 54 x 37cm
Overall size 71 x 54.5cm.
Price £195
Cirencester, occasionally; see below for more variations) is a market town in Gloucestershire, England, 80 miles (130 km) west of London.
Cirencester lies on the River Churn, a tributary of the River Thames, and is the largest town in the Cotswolds.
It is the home of the Royal Agricultural University, the oldest agricultural college in the English-speaking world, founded in 1840.
The Roman name for the town was Corinium, which is thought to have been associated with the ancient British tribe of the Dobunni, having the same root word as the River Churn.
The earliest known reference to the town was by Ptolemy in AD 150. The town's Corinium Museum has an extensive Roman collection.
Cirencester is known to have been an important early Roman area, along with St. Albans and Colchester, and the town includes evidence of significant area roadworks.
The Romans built a fort where the Fosse Way crossed the Churn, to hold two quingenary alae tasked with helping to defend the provincial frontier around AD 49,
and native Dobunni were drawn from Bagendon, a settlement 3 miles (5 km) to the north, to create a civil settlement near the fort.
When the frontier moved to the north after the conquest of Wales, this fort was closed and its fortifications levelled around the year 70, but the town persisted and flourished under the name Corinium.