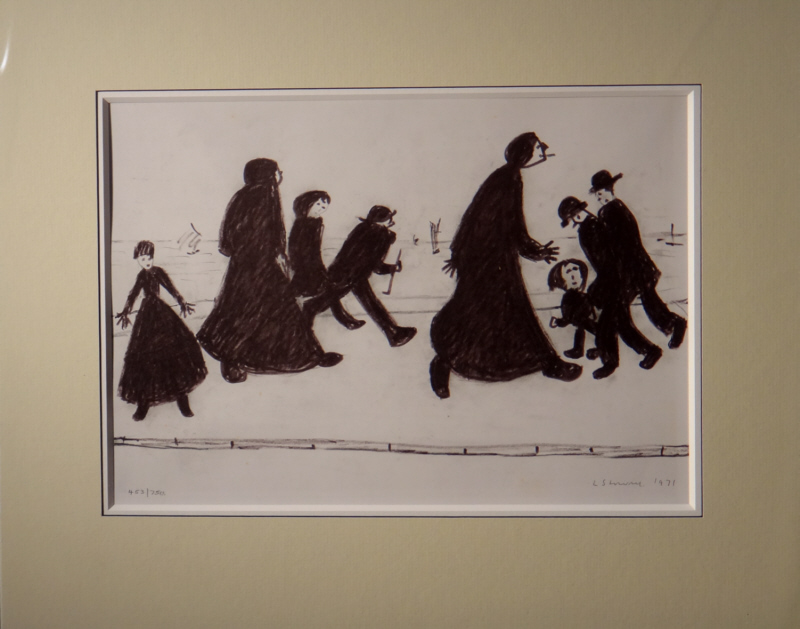 "On A Promenade"
Limted edition of 750
Image size 11.25"x15.75"
Lowry would often visit the coast, usually the north east, from Sunderland all the way up to Berwick-on-Tweed.
He very much enjoyed stying at the Seaburn Hotel.
He painted and sketched the North Sea in many forms, with and without boats, as backdrops to portraits - even in self-portraits.
And the Seaburn Hotel (now the Marriott), on Sunderland's seafront, made the perfect base.
From 1960, Room 104 became a home-from-home for the observer in the trilby and the three-piece suit.
Lowry enquiries:-
administrator@lowry.co.uk
Telephone:- England 01623 799 309
The work of Mr L.S. Lowry has become of great artistic and financial importance of recent years. A selection of his
signed
prints and drawings can be viewed and bought here
Our aim is to offer our clients an excellent service at unbeatable prices.
collotype
signed prints
elephants, signed, limited edition, prints
privacy
originalframe lowry
Staugustineschurch, drawing
the family, signed print
urllist
Reference library
Steps peel park
arnold street
d@art.info
01623 799 309