The Hawker's Cart
---
---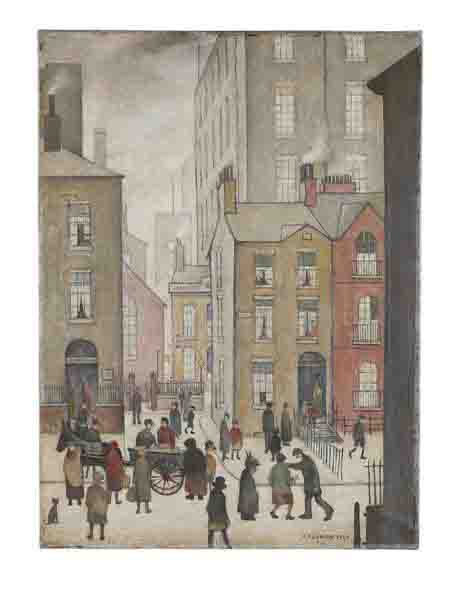 THE HAWKER'S CART
Signed and dated 1929, oil on canvas
53.5cm x 39.5cm (21in x 15.5in)
Sold for £689,000

Provenance
Exhibited:Royal Scottish Academy 1934, no.229 where purchased by the RSA
Royal Academy of Arts, L.S.Lowry, 1976, no.341
Salford Art Gallery, L.S.Lowry Centennary Exhibition, 1987
'The Hawker's Cart' £500,000 Lowry to be sold as RSA 'goes Scottish'
The Royal Scottish Academy, Scotland's historic artists' society, has sold an LS Lowry painting for £689,000
as part of an overhaul of its art collection to set up a fund to buy Scottish artists works.
The Hawker's Cart was bought from the popular artist for just £38 in 1934 when he showed it at an RSA exhibition in Edinburgh.
It was estimated to fetch between £300,000 and £500,000 at the Edinburgh auctioneers on 2nd June.
Founded nearly two centuries ago, with more than 100 members today, the RSA is selling or giving away about 20 works, including paintings
by the 20th century Welsh artist Augustus John and French, American naturalist and painter John James Audubon.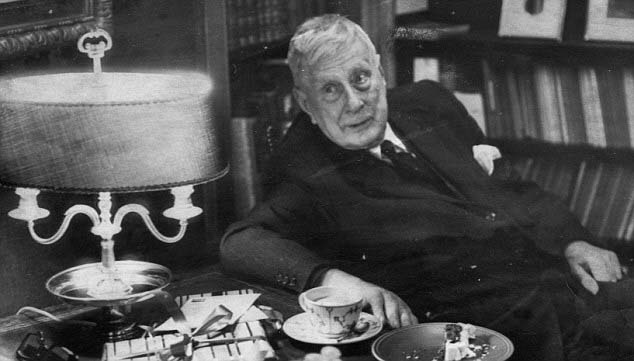 The RSA is "rationalising" its collection of thousands of paintings by its members, and raising a fund to buy key works by Scottish artists
that are missing from it. But the sales will also help the RSA financially, as it pursues a five-year plan to balance its books.
A target list of 59 artists ranges from an Indian-Scottish sculptor to the Glasgow Boys painter Arthur Melville.
The RSA collection was built up by artworks given by members, often with important archives. But a few did not donate a significant work
to the collection in their lifetime, some because they died young or unexpectedly, before winning full membership.
The RSA is an independent body of artists and architects founded as Scotland's earliest artists' collective, The Scottish Academy in 1826,
and incorporated by Royal Charter in 1838.
The Hawker's Cart has been in storage for ten years, said the RSA's collections curator, Joanna Soden.
The work by the English artist was judged outside the "core collection" focused on Scottish artists who are or were members.
The RSA's art collection was recently rated as of "national significance" by the Scottish Government.
The academy has gone through a "long and rigorous process" before disposing of the works, listing them publicly with the UK Museums
Association, Ms Soden said.
Wild Turkey Cock, Hen and Young, an oil painting by the French-American artist and naturalist John James Audubon,
is another work to be sold, and could draw strong interest from American collectors.
A copy of the famous book of Audubon's coloured etchings, Birds of America, sold at Sotheby's last year for
a stunning $11.5 million.
But the highest price for an Audubon oil painting is thought to be the $157,000 paid for Otter in a Trap, dating back to 1997.
By contrast, several paintings were handed to the RSA as "old masters" by Scottish collectors in the 19th century
but after expert examination have been downgraded as works by "unknown artists" in the same style.
The RSA is in talks to give four of these to a museum in Northern Ireland.
Lowry enquiries:-
administrator@lowry.co.uk
A short biography of L.S.Lowry
signed prints by wildlife artist David Shepherd
William Russell Flint whose paintings and signed prints are regarded as some of the finest watercolours in the world.
Famous for his portraits of Cecilia, Flint's greatest works illustrate the architecture and landscape throughout rural France
This holiday house near Brantome, France is ideally situated to enjoy the Dordogne
The work of Mr L.S. Lowry has become of great artistic and financial importance of recent years.
A selection of his prints and paintingscan be viewed here L.S. Lowry
Our aim is to offer our clients an excellent service at unbeatable prices.
Back to the Lowry home page
Our aim is to offer our clients an excellent service at unbeatable prices.