VC10 Lift-Off, El-Adem
David Shepherd
---
---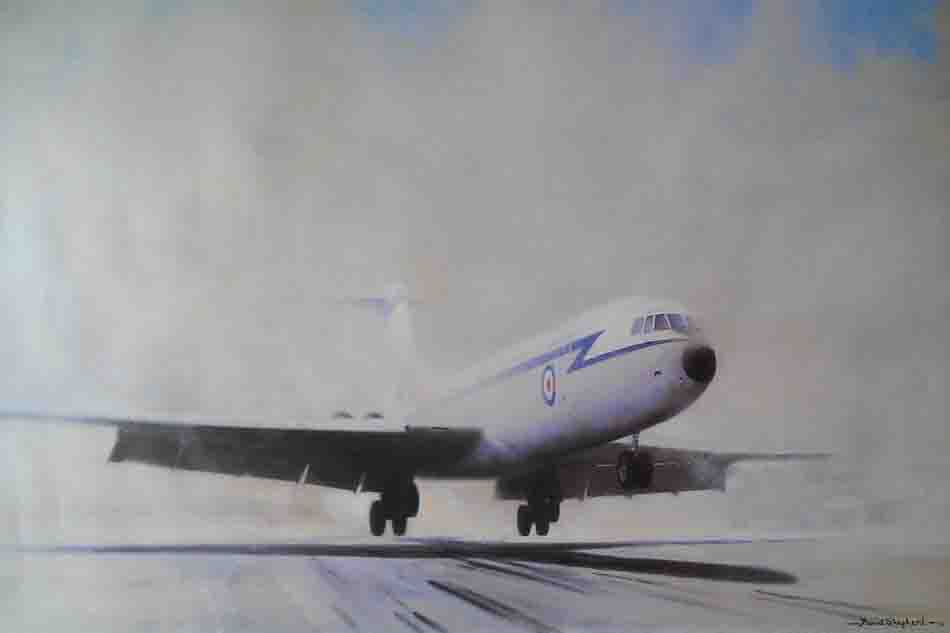 VC10 Lift-Off, El-Adem
Signed Limited Edition print of 850
Complete with wash/line mount
Image Size 22" x 14.5"
The prototype Standard, G-ARTA, rolled out of the Weybridge factory on 15 April 1962.
On 29 June, after two months of ground, engine and taxi tests, it was first flown by Vickers' Chief Test Pilot< br /> G.R. 'Jock' Bryce, Co-Pilot Brian Trubshaw and Flight Engineer Bill Cairns from Brooklands to Wisley for further testing.
By the end of the year, two more aircraft had been flown. Flight tests revealed a serious drag problem,
which was addressed via the adoption of Küchemann wingtips and 'beaver tail' engine nacelle fairings, as well as a redesigned basal rudder segment for greater control effectiveness;
these aerodynamic refinements considerably elongated the testing process.
The certification programme included visits to Nairobi, Khartoum, Rome, Kano, Aden, Salisbury and Beirut.
A VC10 flew across the Atlantic to Montreal on 8 February 1964.
If you would like to visit the studio in Nottinghamshire, (Saturdays and Sundays are fine too) Please call 01623 799 309
We have a collection of over 500 David Shepherd signed limited edition prints and original paintings for sale.
David Shepherd prints and paintings
d@art.info
01623 799 309