St. Augustine's Church (original)
---
---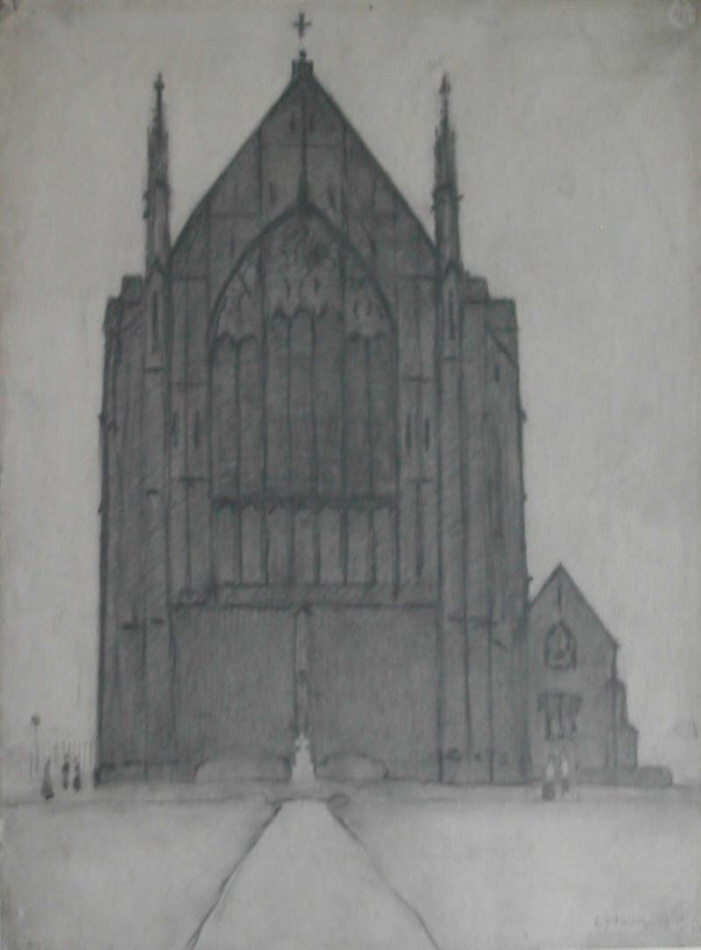 "St. Augustine's Church"
Image size
Original Drawing

Lowry laboured as rent collector for the Pall Mall Property Company, preferring to maintain his other work secret.
Lowry did not need the public to think about him as an amateur artist.
The job led to Lowry walking everywhere in the city offering L.S.Lowry with many sights and experiences.
Kids enjoying within the streets, people returning from work, going off to work, gossip on the entrance steps,
incidents, market places and Whit - processions.
But all this changed, the blitz and rebuilding, slum clearances and new housing, modified the face of town Lowry had observed so well.
"I saw the industrial scene and was affected by it.
Attempting to draw it all the time and trying to express the industrial scene as well as possible.
It wasn't easy, effectively, a camera may have performed the scene straight off".
Lowry felt that drawings were as labour intensive to do as paintings. Working the surface of the drawings by smudging, erasing and rubbing
the pencil lines on the paper to build the ambiance of the drawing.
This artist would typically make fast sketches on the spot on no matter what paper he had in his pockets.
L.S.Lowry carefully composed his drawings in a painting room at home and took nice care over placing each figure.
Late in life he would sit before a canvas or board on his easel and never know what was going to be in the painting until he started working.
He would call them them "dreamscapes".
Signed, limited edition, prints and original paintings, drawings for sale.
David Shepherd prints and paintings
Sir William Russell Flint
Holiday house to let in Dordogne France
Lowry signed prints for sale