Resupply at Sarfait
David Shepherd
---
---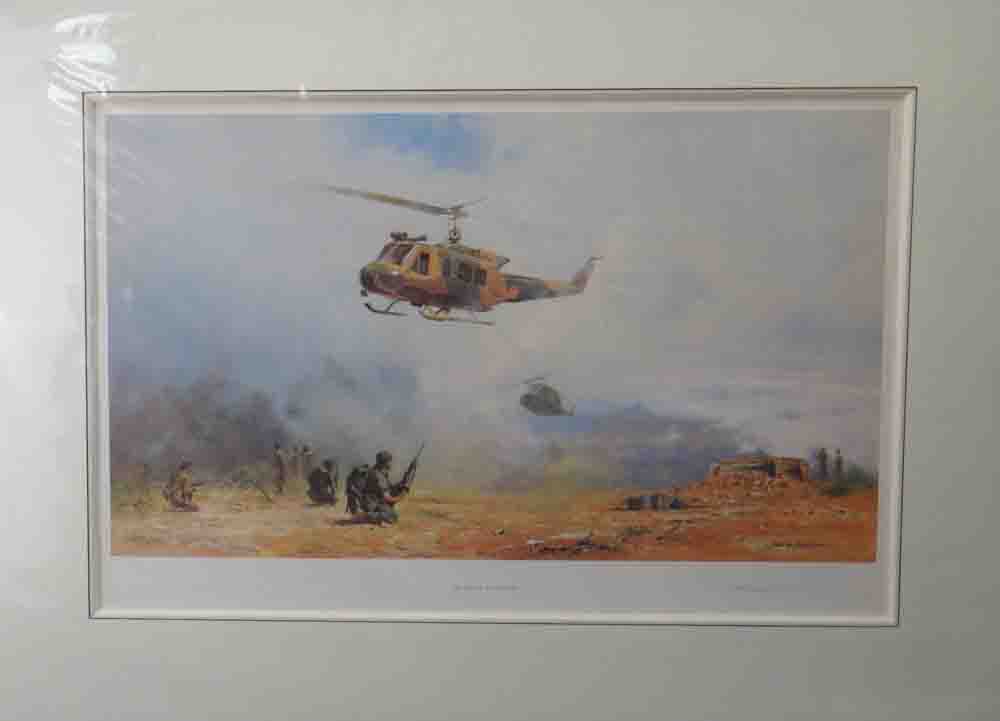 Re-supply at Sarfait
Signed personally by David Shepherd
Image Size approx 26" x 15"
Overall size with french bound mounting 35" x 26"
There was much conflict in the area between the Omani government and communist-inspired armed guerrillas during the Dhofar Rebellion in the 1960s and 1970s.
On 9 June 1975, an aggressive mortar and missile attack was launched on Sarfait.
In September 1975, the government forces responded and took formal military action against the PFLO.
Led by John Akehurst, a diversionary attack was launched by the Dhofar Brigade of the Sultan of Oman's Armed Forces from the government's mountaintop garrison in Sarfait.
Operation Simba, and the subsequent fighting around high ground near Sarfait, was the longest running conflict of the Dhofar Rebellion.
On 17 April 1972, a battalion of the Sultan of Oman's Armed Forces (SAF) landed by helicopter to establish a position on a dominating ridge at Sarfait, near the border with the People's Democratic Republic of Yemen (PDRY).
The aim was to interdict the supply lines used by the guerillas of the PFLOAG from the PDRY to the interior of Dhofar, which ran along the narrow coastal plain beneath the foot of the escarpment at the southern end of the ridge.
Signed, limited edition, prints and original paintings, drawings for sale.
Cornwater Fine Art specialises in David Shepherd paintings and limited edition prints.
30 years experience and a collection of hundreds of David Shepherd signed, limited edition prints
Studio open, 7 days a week!
Viewing by appointment