Africa; silkscreen
David Shepherd
---
---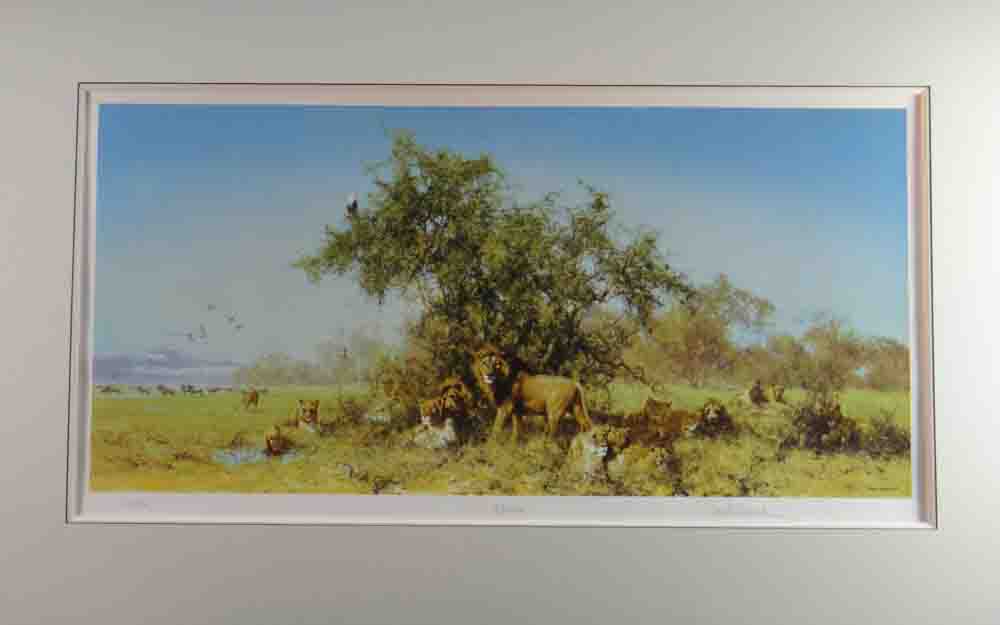 "Africa" (Silkscreen)
Signed, limited edition Silkscreen of 350
Date of publication 1993
Image Size 16" x 33.5"
mint condition
This is one of David Shepherd's 'Gold Collection'; Started in 1992 with 'Cheetah'
A silkscreen was produced once a year, the edition size was always kept to a minimum, and
due to the 'hands-on' process of printing, no two copies are exactly the same.
The silkscreens can perhaps be regarded as being somewhere between a signed,
limited edition print and an original painting.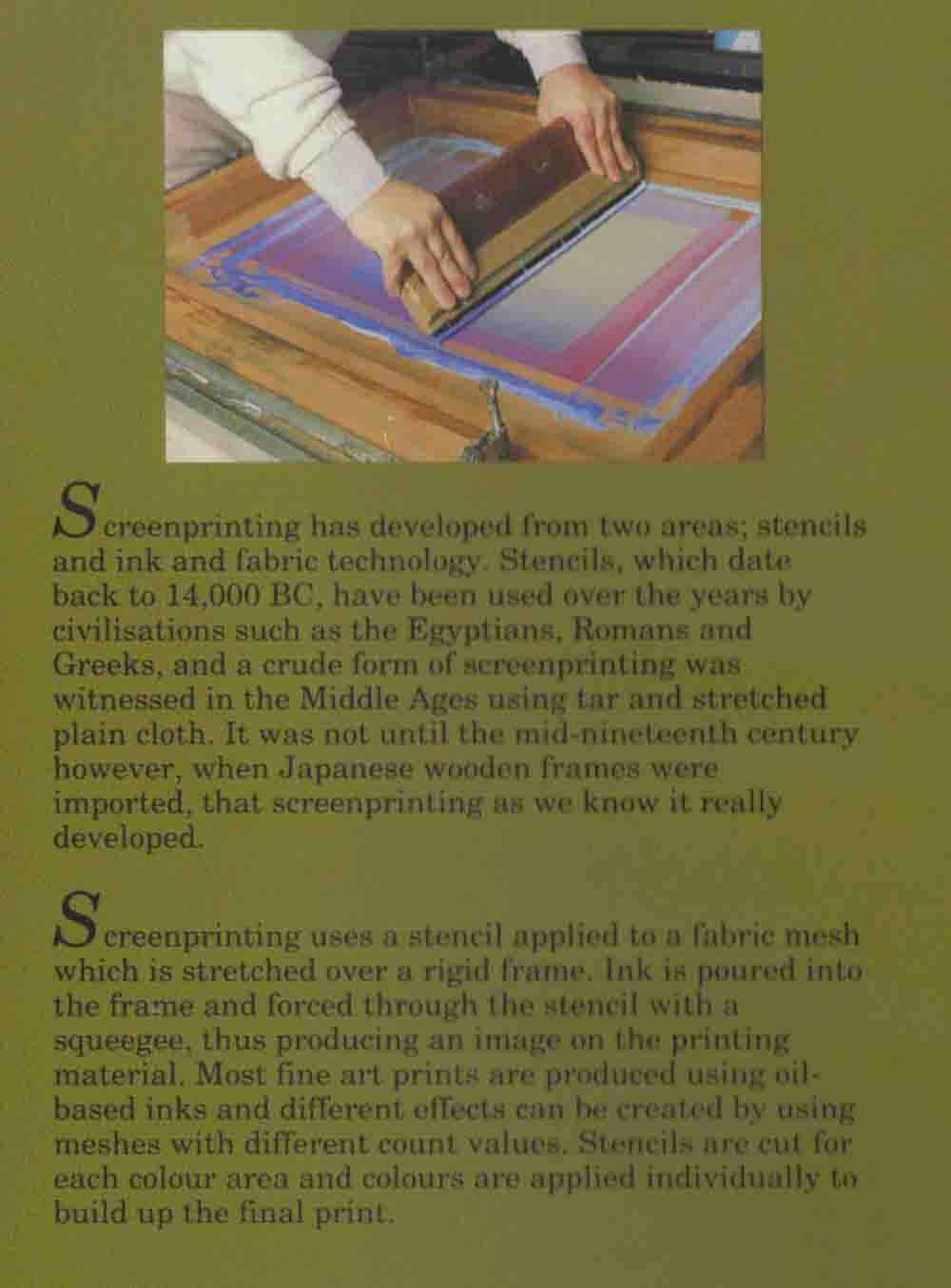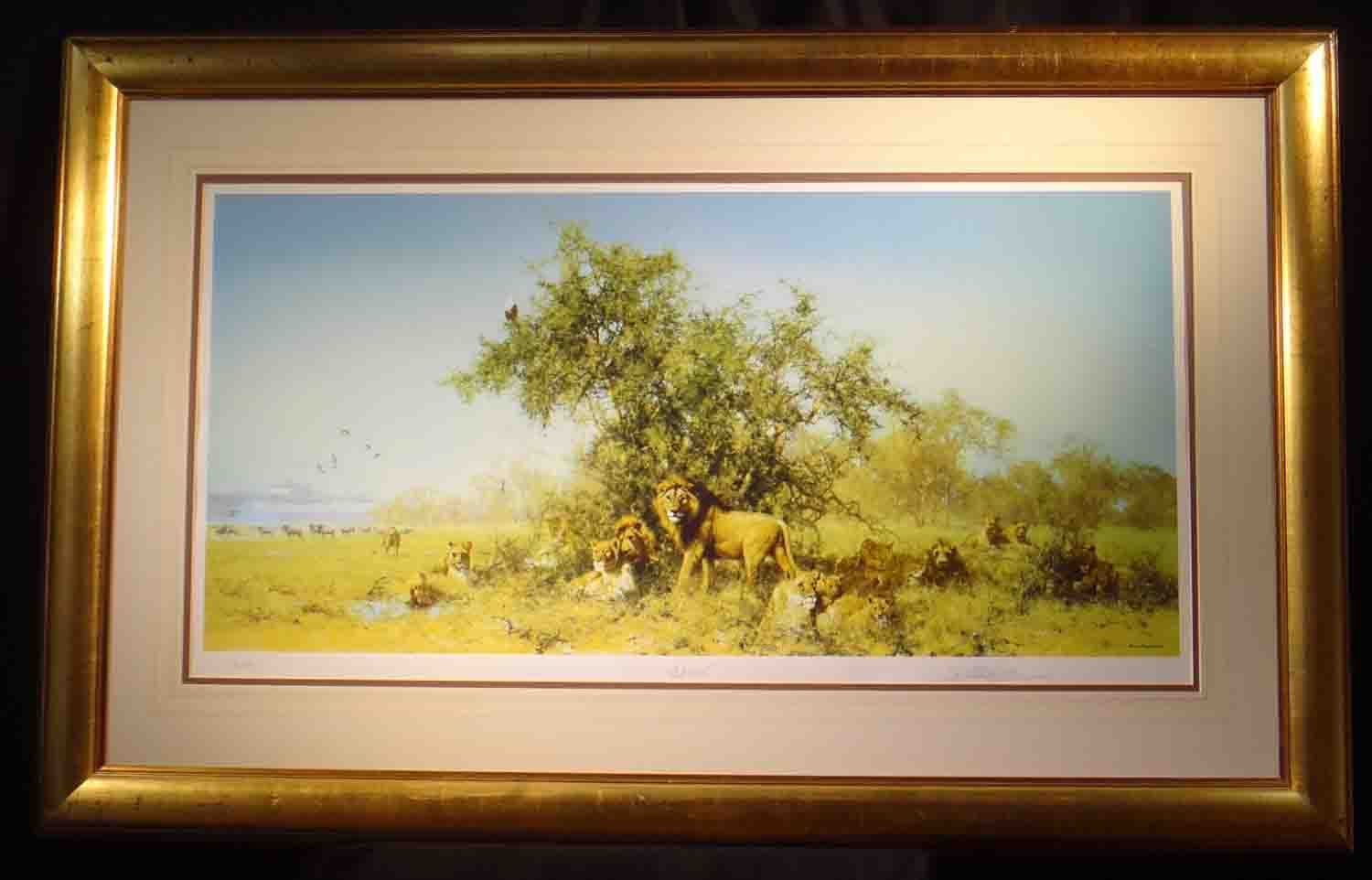 The lion is a species in the family Felidae and a member of the genus Panthera.
It has a muscular, deep-chested body, short, rounded head, round ears, and a hairy tuft at the end of its tail.
It is sexually dimorphic; adult male lions have a prominent mane.
Typically, the lion inhabits grasslands and savannas, but is absent in dense forests.
It is usually more diurnal than other big cats, but when persecuted it adapts to being active at night and at twilight.
In the Pleistocene, the lion ranged throughout Eurasia, Africa and North America, but today it has been reduced to fragmented populations in sub-Saharan Africa a
nd one critically endangered population in western India.
It has been listed as Vulnerable on the IUCN Red List since 1996 because populations in African countries have declined by about 43% since the early 1990s.
Lion populations are untenable outside designated protected areas. Although the cause of the decline is not fully understood, habitat loss and conflicts with humans are the greatest causes for concern.
David Shepherd Prints
Most of the published works of David Shepherd are photo lithographs; when printed (by a photographic process), these prints are absolutely identical
and there is no added value in any particular number; This misconception arises from the 'old' days when original etchings and lithographs were produced
using a metal or stone plate, where the ink is spread onto the etched plate and a print produced by pressing the paper or canvas against it.
Even with silkscreen prints, the technology is sufficiently advanced that it would be virtually impossible to tell a difference between the first
and the last number of the edition.
In 1992, David began a series called the 'Gold Editions' which were high quality produced silkscreen prints, giving much deeper and richer colours
than a usual photo lithograph print. Published on high quality water colour paper and a low edition run of between 200 to 495 prints.
One silkscreen was published each year from 1992 begining with 'Cheetah'
Africa 1993
Amboseli 1994
The Last Refuge 1995
Mountain Lion 1996
Leopards 1997
The Bandipur Tiger 1998
Storm over Africa 1999
Indian Summer 2000
Portrait of a Tiger (for the millenium)2000
The White Tiger of Rewa 2001
In the cool of Evening 2002
The silkscreen prints have always been in great demand, and are regarded as between signed limited edition prints and an original paintings.
There are also a number of signed limited edition prints of paintings from Britanny, The Loire, Ardeche, Provence.
We have for sale several original paintings from the south west France, near to the beautiful towns of Brantome and Perigueux and also Languedoc
His work has now become regarded as some of the finest watercolour paintings in the world.
© S & W signed, limited edition print publishers ©
David Shepherd prints
If you would like to visit the studio in Nottinghamshire, (Saturdays and Sundays are fine too) Please call 01623 799 309 We have a collection of over 500 David Shepherd signed limited edition prints and original paintings for sale.
30 years experience and a collection of hundreds of David Shepherd, limited editions!
Studio open, 7 days a week!
Viewing by appointment
Original paintings sold from various sources
africanbullelephant
africanwaterhole
countrycousins
manandhispaintings
rhinobeware
berwick
exhibitioncatalogue
groupofchildren
harbour
hisfamily
industrialpanorama
industrialscene
industrialscenepencil
industrialtown
landscapewithfarmbuildings
lonelyhouse
manholdingchild
marketsceneinanortherntown
meetingpoint
millscene
noticeboard
onthesands
ourtown
punchandjudy
Back to
David Shepherd prints
for sale.