Arctic Foxes
David Shepherd
---
---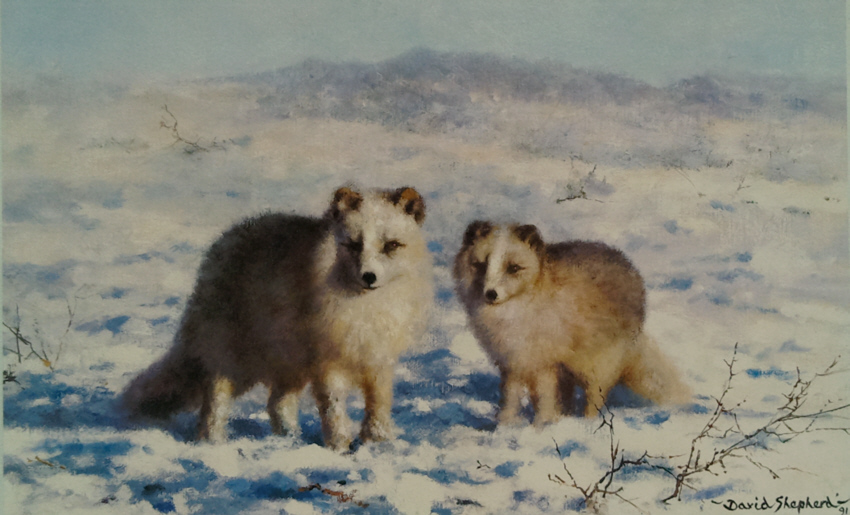 'Arctic Foxes'
Signed Limited Edition
Date of publication 1992
Image Size:- 8.75" x 14"
In stock:- Price £98 (carriage at cost)
The Arctic fox, also known as the white fox, polar fox, or snow fox, is a small fox native to the Arctic regions of the Northern Hemisphere and common throughout the Arctic tundra biome.
Remote Arctic tundra is a place where polar bears are often the star of the show.
Arctic fox, often solitary animals, are also known for their cheeky behavior, often called the 'clowns of the tundra.'
It isn't often that people get to see them this up close.
The arctic fox is an incredibly hardy animal that can survive frigid Arctic temperatures as low as minus 58 degrees farenheit in the treeless lands where it makes its home.
30 years experience and a collection of hundreds of David Shepherd signed, limited edition prints in the UK!
Studio open, 7 days a week!
Viewing by appointment.
resupplyatsarfait
subnigelmine
cattle
Orphans
VC10
Ziggy
berwick-visits
Facts about fine art
HowToMarketYourArt
Investing in British Art
man lying on a wall
oldstepsstockport
fairatdaisynook
groupoffigureswithanimals
headfromtheantique
stockport
staugustineschurch
stepsatwick
streetscene1957
two anglers
two boys
wetearthcollierydixon
photos
pond
contraption
peoplestandingabout
station road
Sunday Afternoon
battleimjin
FH70
royalhorseartillery