---
Lowry and Keane; The Rent Collectors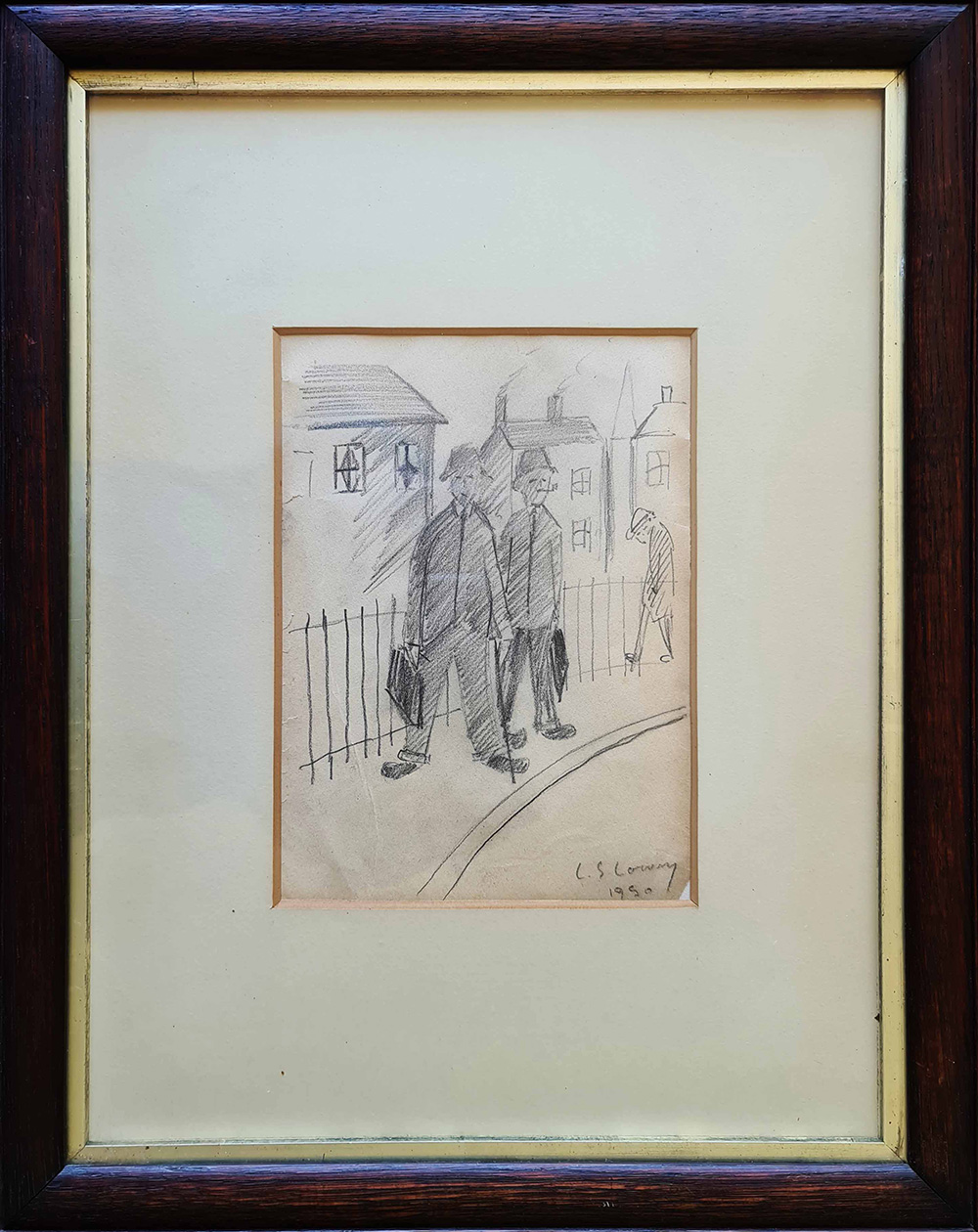 "Mr Lowry and Mr Keane"
An original drawing
Image size 23 x 16cm.
Dated 1950
Signed by l.s. Lowry
Price:- Please call 01623 799 309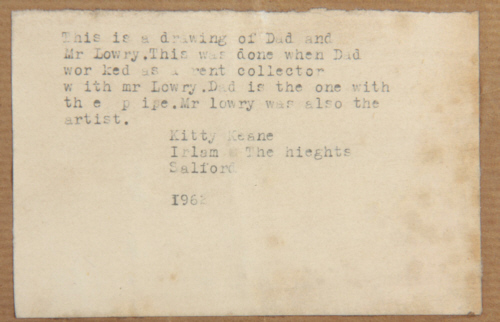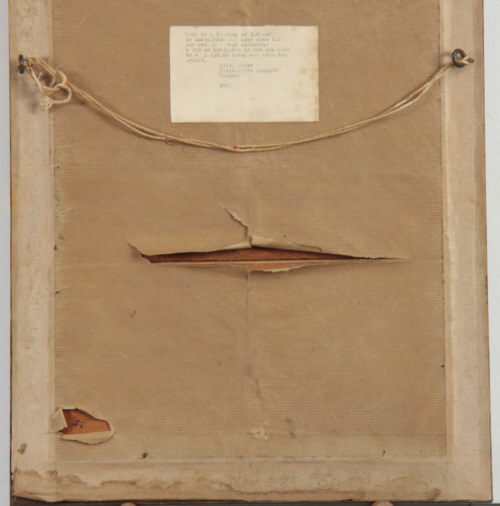 Lowry's leading position amongst 20th century British artists has now been well established, not least by the
opening of the Lowry museum.
In 1964 when he was less known, the leading critic Sir Herbert Read wrote the following tribute at the time
of an exhibition at Eccles:
'L.S.Lowry is a unique artist for a number of reasons. Other painters of our time are independent, belonging to
no school or movement, but they are usually traditionalists of some kind. Lowry is original,
and even revolutionary, in his vision. No one else to my knowledge has been so sensitively aware of the
poetry of the English industrial landscape. Usually condemned as ugly - and it is ugly if we look at it from
a conventional point of view - it can nevertheless be transformed if seen objectively, as a subtle harmony of
lines, against which the industrial marionettes move in a danse macabre.'

Testimonials
15 June 2015
Excellent sevice
I thoroughly recommend his services, and a visit to the delightful Cornwater Fine Art.
Abbi Duncombe-Shafto
London
A thoroughly proffessional service, David's knowledge of Lowry, Shepherd, and other artists is second to none, I will definately use his company again.....
M H Lincs.
Specialist dealers to the trade and retail.
---
Lowry Prints and Lithographs
.
Signed, limited edition, prints and original paintings, drawings for sale.
We hope that you will browse and enjoy Paintings and signed prints by wildlife artist David Shepherd,
here
Also the work of William Russell Flint whose paintings and signed prints are regarded as some of the finest watercolours in the world. Click
here
Famous for his portraits of Cecilia, Flint's greatest works illustrate the architecture and landscape throughout rural France
This holiday house near Brantome, France is ideally situated to enjoy the Dordogne Read
more
The work of Mr L.S. Lowry has become of great artistic and financial importance of recent years. A selection of his prints and paintings can be viewed
here
Our aim is to offer our clients an excellent service at unbeatable prices.
Back to the Lowry home page