Donation
David Shepherd
---
---
David Shepherd, one of the country´s most renowned living artists, has given the Bomber Command memorial appeal a huge boost
by donating a painting which has raised thousands of pounds through a nationwide raffle.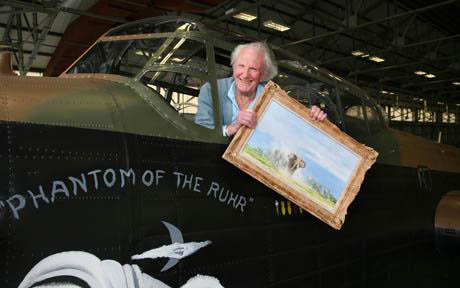 Artist David Shepherd with his painting of Elephants in front of Mount Kilimanjaro.
Elephants at Amboseli was raffled in aid of the appeal.
The newly-completed work, titled Elephants at Amboseli, represented a unique chance for one lucky winner to own an original work by a man who has brought pleasure to millions with his paintings of wildlife, aircraft and locomotives.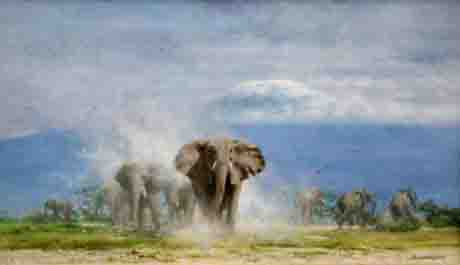 Tickets for the raffle went to the £2m Forgotten Heroes appeal for a long-overdue national memorial to the 55,000 aircrew
who died serving with Bomber Command during the Second World War.
Fight to save WW2 bomber base for the nation,
Mr Shepherd, who was made a CBE in 2008 for his services to charity and wildlife conservation, exhibited a rare exhibition of 50 of his paintings, at RAF Coningsby in Lincolnshire, headquarters of the Battle of Britain Memorial Flight, to raise more funds for the appeal. The appeal total currently stands at £1.1million,
Mr Shepherd said: ¨I´m delighted to be able to help the appeal because I owe so much to the RAF. They commissioned my very first painting of wildlife in 1960 and if it wasn´t for them, I might never have turned my hand to painting animals.¨
¨At the time I was known for painting aircraft and did a lot of work for the RAF, and they flew me to Nairobi, where the staff had clubbed together for a painting to hang in the mess. They said they didn´t want a picture of an aircraft, because they looked at aircraft all day long, and so I painted a rhinoceros chasing a Twin Pioneer aeroplane.¨ ¨A picture of it appeared in the local papers and people started clamouring for others, so that´s when my wildlife painting began.¨
Mr Shepherd, 77, offered to help the Forgotten Heroes appeal during a visit to RAF Coningsby last year, and after being asked if he might consider putting on an exhibition, generously offered to paint a new picture which could be raffled.
He said: ¨I feel very strongly about the campaign to build a memorial. I´m ashamed that in this country we don´t recognise heroes like these brave airmen, and it´s high time we did something about it.¨
As well as the original painting, which depicts elephants in front of a snow-capped Kilimanjaro, Mr Shepherd has donated 100 limited edition signed prints of another painting, F for Freddie Did Not Return, showing a squadron of bombers under attack.
The exhibition of his work, which included paintings from his private collection and covered subjects ranging from wildlife to aircraft, at RAF Coningsby in 2009, with the paintings was set amongst the BBMF´s Lancaster, Spitfire and Hurricanes.
Squadron Leader Al Pinner, Officer Commanding, BBMF, said;
¨We are deeply grateful to David for this absolutely fantastic contribution, and also for agreeing to stage an exhibition here.¨
Signed, limited edition, prints and original paintings, drawings for sale.
30 years experience and a collection of hundreds of David Shepherd signed, limited edition prints in the UK!
Studio open, 7 days a week!
Viewing by appointment
Sir William Russell
Flint
.
We stock hundreds of this artist's signed limited edition prints and always a fine selection of his original watercolour paintings.
In the heart of Sir William Russell Flint country, deep in south west France, near to the beautiful towns of Brantome
and Perigueux is a House to let in
France
offering complete tranquility and relaxation.
For those who appreciate the wildlife of Africa, India and Britain, prints and paintings by David
Shepherd
The work of L.S. Lowry has become some of the most sought after in British history; his paintings and signed
prints
are achieving record prices in the artworld,
made even more collectable due to the rarity of the work and the relatively few signed limited edition prints that have been published.