Bengal Tiger Cameo
David Shepherd
---
---
Bengal Tiger.
Signed Limited Edition print
Date of publication:- 2001.
Image Size:- 6" x 6"
Last edition in the cameo series
In stock:- price; please call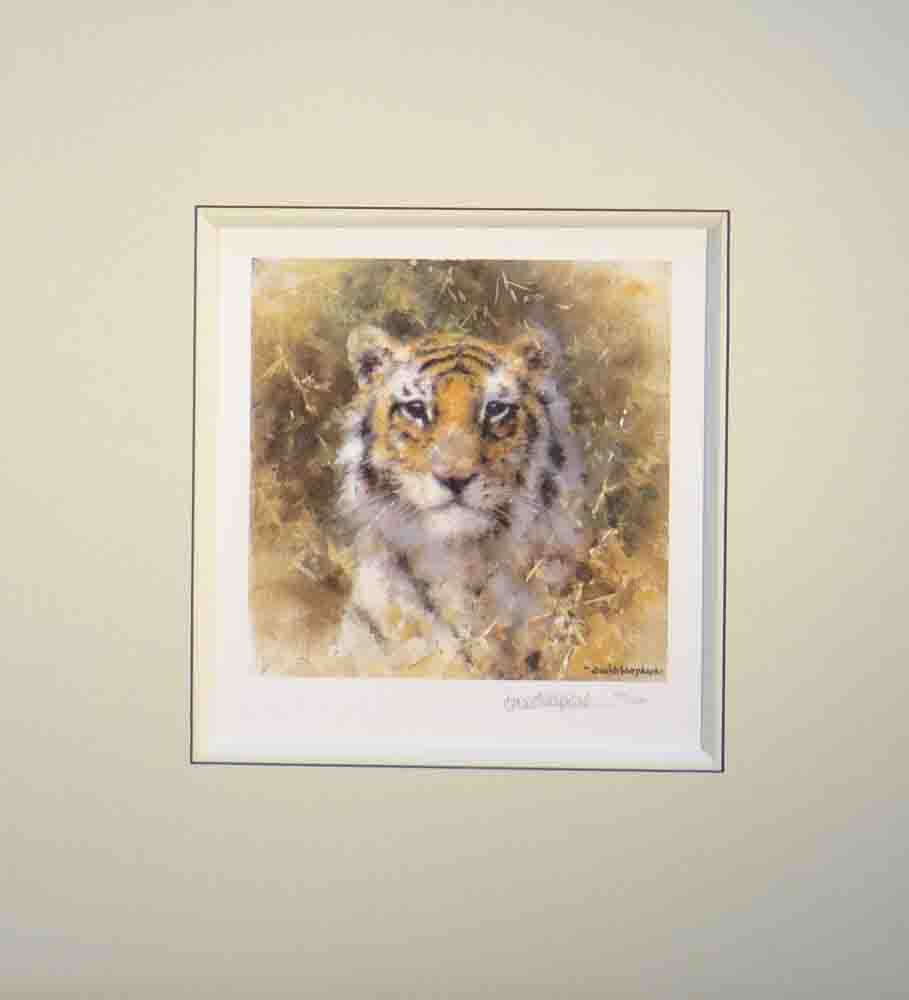 The Bengal tiger, also known as the Royal Bengal tiger, is a tiger from a specific population of the Panthera tigris tigris subspecies that is native to the Indian subcontinent.
It is threatened by poaching, loss, and fragmentation of habitat, and was estimated at comprising fewer than 2,500 wild individuals by 2011.
None of the Tiger Conservation Landscapes within its range is considered large enough to support an effective population of more than 250 adult individuals.
India's tiger population was estimated at 2,603–3,346 individuals by 2018.[5] Around 300–500 tigers are estimated in Bangladesh, 220–274 tigers in Nepal and 103 tigers in Bhutan.
The tiger is estimated to be present in the Indian subcontinent since the Late Pleistocene, for about 12,000 to 16,500 years.
The Bengal tiger ranks among the biggest wild cats alive today.[2][11] It is considered to belong to the world's charismatic megafauna.
30 years experience and a collection of hundreds of David Shepherd signed, limited edition prints in the UK!
Studio open, 7 days a week!
Viewing by appointment.
biography, LS Lowry
africanbullelephant
anartistinafrica
bestspotsonhill
jungleman
bw-cheetah
checkpointatforkhill
cheetahcubcameo
coolcats
Farm
gorillas
grandpasworkshop
grannieskitchen
greaterkudu
horses, equestrian
indiansummer
intheshadowofkilimanjaro
jaguars
indiansummer
Kudu
lastloadofsummer
leopardcubcameo
lioncubcameo
lionmajesty
Lions
luangwa
masai, print
original-blackprince, train
original-train
portraitofatiger
sappi-blackrhinoceros
sappi-cheetah
sappi-pride
scavengers
roosters
signed-limited-edition-prints-elephants
serengetifriends
davidshepherd-sleepy
stormoverafrica
sundaybest
teddy, print
tigercubcameo
tigerhaven
tigershead1983
tigersketch
winterof43
levelcrossingwithtrain
original-threefigures
crimelake
greatancoatsstreet