Sleepy
David Shepherd
---
---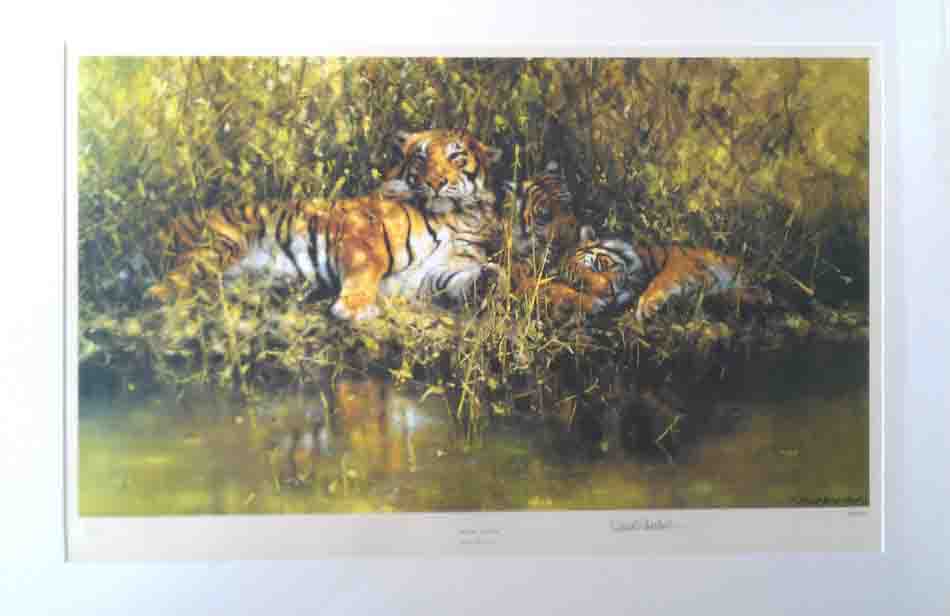 Sleepy Tigers
Signed Limited Edition of 850
Published 1986
Image Size 16" x 28"
Different colouring of Tigers
There are three other colour variants – white, golden and nearly stripeless snow white, that are now virtually non-existent in the wild due to the reduction of wild tiger populations, but continue in captive populations.
The white tiger has white fur and sepia-brown stripes. The golden tiger has a pale golden pelage with a blond tone and reddish-brown stripes.
The snow white tiger is a morph with extremely faint stripes and a pale reddish-brown ringed tail. Both snow white and golden tigers are homozygous for CORIN gene mutations.
A black tiger is a colour variant due to pseudo-melanism. They have thick stripes close together so that the background colour is barely visible between stripes.
30 years experience and a collection of hundreds of David Shepherd signed, limited edition prints!
Studio open, 7 days a week!
Viewing by appointment
Back to David Shepherd signed prints for sale
29 regiment RLC
ahmed
antelope
arabianoryx
bigcats
buffalo1
clock mender
cheetahs
cottagecompanions
donkeytalk
ducks
egretsandfriends
elephantcameo
elephant-drawing475
elephant-pencil1998
elephantsattsavo
highlandmist
rhinoceros
Gorillas
ivoryistheirssketch
justelephants
koalas
leopardcubcameo
lionhead
lionsigned
luangwa
orang-utans
muscovyducks
oilmucksunlight
oldforge
oldmenofetosha
hippos
original-landscape
original-lions-sold
original-painting-tiger
pandas
horses
polarbears
reversethrust
shelties
africanafternoon rhinoslaststand
tigerandcubs
waterhole
workingsketchtiger
cart
history
streetscene2
studio4
studio5
womanwithbeardsketch