Lions
David Shepherd
---
---
We will endeavour to better any quote and give you the finest possible service
99.9% of signed, limited editions shown below are in stock, although we usually have only one print of each title
For prices and information please call us 01623 799 309 or email administrator@davidshepherd.com
Scroll down and Click on image for details & to ENLARGE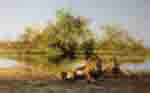 African Evening,
Zambezi Waterhole
Signed limited edition print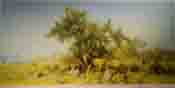 Africa Silkscreen
Signed limited edition print


The Big Five
Signed limited edition print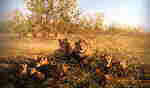 First Light at Savuti
Signed limited edition print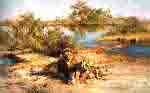 In the Cool of Evening
Signed limited edition silkscreen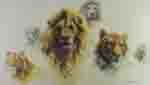 Just Cats
Signed limited edition print


Lion Cameo
Signed limited edition print


Lion Cub Cameo
Signed limited edition print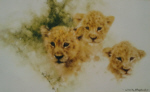 Lion Cubs
Signed limited edition print


Lion Head
Signed limited edition print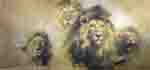 Lion Majesty
Signed limited edition print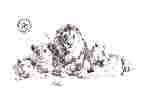 Lions pencil sketch
Signed limited edition print


Lion Sketch 1986
Signed limited edition print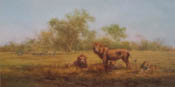 Evening in the Luangwa
Signed limited edition print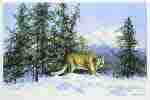 Mountain Lion silkscreen
Signed limited edition print


Quiet Time
Signed limited edition print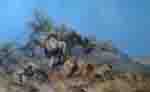 The Pride
Signed limited edition print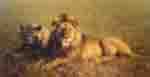 Serengeti Friends
Signed limited edition print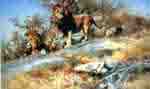 Two Gentlemen of Savuti
Signed limited edition print
The lion is a muscular, deep-chested cat with a short, rounded head, a reduced neck and round ears. Its fur varies in colour from light buff to silvery grey, yellowish red and dark brown.
The colours of the underparts are generally lighter. A new-born lion has dark spots, which fade as the cub reaches adulthood, although faint spots often may still be seen on the legs and underparts.
The lion is the only member of the cat family that displays obvious sexual dimorphism.
Males have broader heads and a prominent mane that grows downwards and backwards covering most of the head, neck, shoulders, and chest.
The mane is typically brownish and tinged with yellow, rust and black hairs.
The tail of all lions ends in a dark, hairy tuft that in some lions conceals an approximately 5 mm (0.20 in)-long, hard "spine" or 'spur' that is formed from the final, fused sections of tail bone.
The functions of the spur are unknown. The tuft is absent at birth and develops at around 5+1/2 months of age. It is readily identifiable by the age of seven months.
Of the living felid species, the lion is rivaled only by the tiger in length, weight, and height at the shoulder.
Its skull is very similar to that of the tiger, although the frontal region is usually more depressed and flattened, and has a slightly shorter postorbital region and broader nasal openings than those of the tiger.
Due to the amount of skull variation in the two species, usually only the structure of the lower jaw can be used as a reliable indicator of species.
If you would like to visit the studio in Nottinghamshire, (Saturdays and Sundays are fine too) Please call 01623 799 309
We have a collection of over 500 David Shepherd signed limited edition prints and original paintings for sale.
30 years experience and a collection of hundreds of David Shepherd signed, limited edition prints in the UK!
Studio open, 7 days a week!
Viewing by appointment
EMAIL:-administrator@davidshepherd.com
signed prints and original paintings and drawings by the world acclaimed artist L.S.Lowry.
Sir William Russell Flint.
Back to David Shepherd prints for sale