Horses
David Shepherd
---
---
Click on image for details & to ENLARGE


Plough Team
Signed limited edition prints

Summertime
Signed limited edition prints


When I grow up
Signed limited edition prints


High Noon
Signed limited edition prints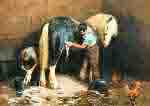 Shampoo Time
Signed limited edition prints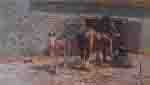 Shoeing Time
Signed limited edition print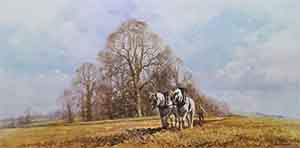 Spring Ploughing
Signed limited edition print


Shelties
Signed limited edition prints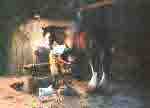 The Old Forge
Signed limited edition print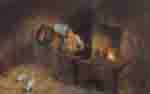 Jimmy's Forge
Signed limited edition prints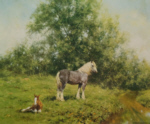 Lazy Hazy Days of Summer
Signed limited edition prints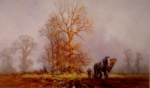 Captain the first furrows of Autumn
Signed limited edition prints
The horse is a domesticated one-toed hoofed mammal.
It belongs to the taxonomic family Equidae and is one of two extant subspecies of Equus ferus.
The horse has evolved over the past 45 to 55 million years from a small multi-toed creature, Eohippus, into the large, single-toed animal of today.