Black Rhinoceros; Sappi
David Shepherd
---
---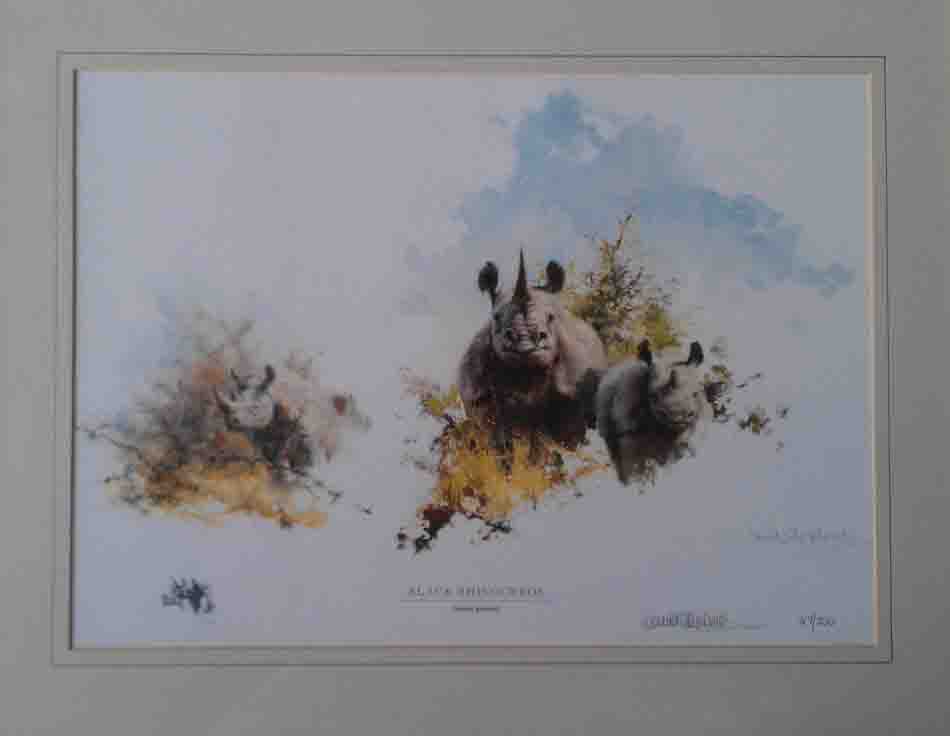 Black Rhinoceros
Signed Limited Edition of 500
Image Size 18" x 13"
One of the SAPPI Collection entitled "David Shepherd in South Africa"
Black rhinoceros are generally thought to be solitary, with the only strong bond between a mother and her calf.
In addition, males and females have a consort relationship during mating, also subadults and young adults frequently form loose associations with older individuals of either sex.
They are not very territorial and often intersect other rhino territories. Home ranges vary depending on season and the availability of food and water.
Generally they have smaller home ranges and larger density in habitats that have plenty of food and water available, and vice versa if resources are not readily available.
Sex and age of an individual black rhino influence home range and size, with ranges of females larger than those of males, especially when accompanied by a calf.
In the Serengeti home ranges are around 70 to 100 km2 (27 to 39 sq mi), while in the Ngorongoro it is between 2.6 to 58.0 km2 (1.0 to 22.4 sq mi).
Black rhinos have also been observed to have a certain area they tend to visit and rest frequently called 'houses' which are usually on a high ground level.
These 'home' ranges can vary from 2.6 km2 to 133 km2 with smaller home ranges having more abundant resources than larger home ranges.
Back to David Shepherd signed prints for sale