An Artist in Africa
David Shepherd
---
---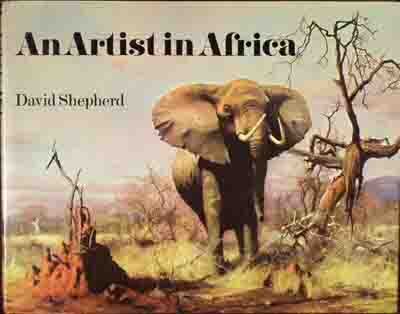 "An Artist in Africa"
A collection of paintings by David Shepherd.
Published in 1969 by Charles Scribner's Sons, New York. Forward by H.R.H. The Duke of Edinburgh;
An early publication of David Shepherd's work.
A lovely example of David's earlier work, some copies can be found personally signed.
Most definately a collector's opiece for anyone interested in David Shepherd's work.

Signed, limited edition, prints and original paintings, drawings for sale.
EMAIL:-administrator@davidshepherd.com
Sir William Russell Flint.
House to let in France more; offering complete tranquility and relaxation.
the wildlife of Africa, India and Britain, prints and paintings by David Shepherd The work of L.S. Lowry has become some of the most sought after in British history;

aftertherain
blackfive, country
gorillas
horses indianrhino
Google
leopards
lions
masaigiraffeandyoung
orang-utan-pencil
original-blackprince
landscapeoak
original-painting-tiger
Train
sappi-blackrhinoceros
roosters
stormoveramboseli
zebra-pencil
castleonthesands
cillablack, paintings
jungleman
footballmatch-unsigned
Google doodle
HowToUnderstandTheImportanceOfArt
investinginthevolatileworldofart
LearnMoreAboutTheIncreasingValueOfArt
levelcrossingwithtrain
maryportharbour
memorabilia
milkman, painting
millscenebw
girlwithredshoes
original-lytham1923
original-manwalking
original-oldhouses
saturdayafternoon
original-thelake