Football painting
---
---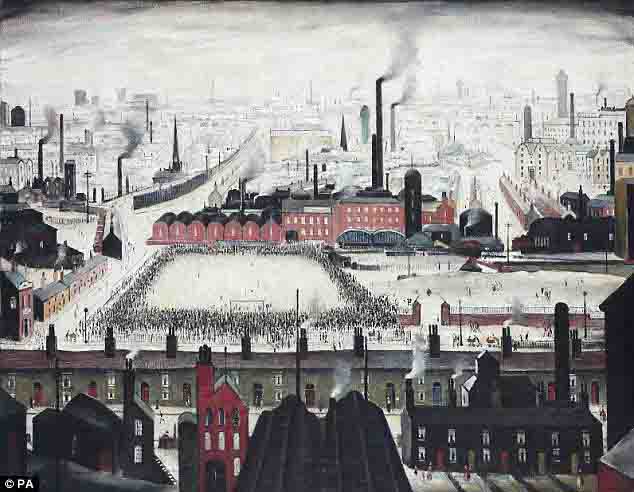 Laurence Stephen Lowry, R.A. (1887-1976)
"The Football Match"
signed and dated 'L S Lowry 1949' (lower right)
oil on canvas
28 x 36 in. (71.1 x 91.4 cm.)
Provenance
Lefevre Gallery, London, 1950.
Acquired by the late Lord Walston
from the above on 10th November 1951, for £250.
Property from the Collection of
the late Right Honourable the Lord Walston, C.V.O.;
Sotheby's, London, 13 May 1992, lot 65.
Acquired by private treaty sale
by the present owner in 2000.
Exhibited
Pittsburgh, Carnegie Institute, Pittsburgh
International Exhibition of Paintings,
October - December 1950, no. 209,
as 'Football Match - Industrial Town'.
London, Lefevre Gallery, The School of Paris,
June - August 1951, not numbered.
Cambridge, Magdalen Street Gallery,
L.S. Lowry, April - May 1967, no. 6.
Hundreds of his signature stick figures can be seen gathered
at a match on a washed-out looking pitch between terraced
houses and factories with billowing chimneys.
The painting has been described as 'a modern masterpiece'.
The Football Match had been estimated too high at £3.5 million to £4.5 million.
The existing record for Lowry was £3.8 million, set at the market peak in 2007.
However, three bidders ran the price up until it sold to an anonymous private European buyer for £5.6 million.
The price, significantly, was greater than those for any Henry Moore sculpture or Damien Hirst painting at auction.
Lowry, who died in 1976 at the age of 88, was known for his simple depictions of working class life.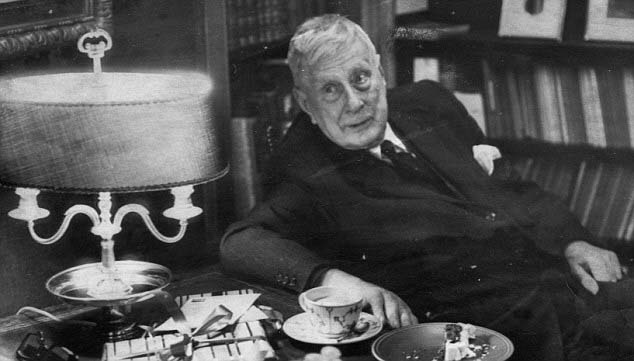 He painted largely in his spare time while working for the
Pall Mall Property Company in Manchester, but still achieved
much recognition during his life.
He was the royal artist at the Queen's coronation in 1953,
the year after he retired, and nine years later became a Royal Academician.
In 1967, his work featured on a stamp.
The money involved in art was a little different then though.
His 1947 work A River Bank was bought by Bury Council for £150 in 1951.
He would likely never have imagined that it would be controversially sold
by the borough in 2006 for £1.25 million, at auction.
The sale of The Football Match could outstrip the previous highest price for a Lowry, when Good Friday, Daisy Nook achieved £3.8 million in 2007.
One auction house has sold 125 of his works since June 2006, together totalling £29.4 million.
The highest price for a Lowry football painting was £1.9 million when Going To The Match was sold in in 1999.
Like the work to be sold on May 26, the canvas was 28 x 36 inches.
'The Football Match by L.S. Lowry is the ultimate work for passionate connoisseurs of Lowry's work and of football.'
Rachel Hidderley, international specialist in 20th century British art, added: 'The large format, panoramic, bird's-eye composite view
of Lowry's own landscape perfectly captures the spirit and drama of a town gripped by the excitement of the Saturday football match.
'The empty streets peopled only with occasional women, prams and shoppers contrast the busy crowd watching the football match.
'The artist warmly captures a Northern town relaxing during a weekend, following a busy working week, which he depicted so often in his revered industrial scenes.'
The painting toured in London, the US and Paris shortly after it was completed before entering a collection in 1950.
Lowry was famously celebrated in the chart-topping hit Matchstalk Men And Matchstalk Cats And Dogs by Brian And Michael in 1978.

27th May, 2011
"The Football Match" by L.S. Lowry was sold for £5,641,250. Another record for the British artist.
"The Football Match", painted by Lowry in 1949, had not been seen for nearly 20 years.
The previous record for a Lowry painting was "Daisy Nook Fair" £3.8m, set in 2007.
The painting was described as a "landscape which perfectly captures the spirit and drama of a town gripped by the excitement of the Saturday football match".
The international appeal of the work was such that it toured London, the US and Paris before entering a private collection in 1950,
where it remained for more than 40 years.
Lowry was a keen follower of football, and supported Manchester City.
wildlife artist David Shepherd,here
William Russell Flint whose paintings and signed prints are regsarded as some of the finest watercolours in the world.
Click here
Famous for his portraits of Cecilia, Flint's greastest works illustrate the architecture and landscape throughout rural France
This holiday house near Brantome, France is ideally situated to enjoy the Dordogne Readmore
The work of Mr L.S. Lowry has become of great artistic and financial importance of recent years. A selection of his prints and paintings
can be viewed here
Our aim is to offer our clients an excellent service at unbeatable prices.
Arctic foxes
at readiness
badgers
bengal tiger
bufallo big five
leopards, big five
rhino, big five
big cats
biscuits
books