Arnhem Bridge-The second day
David Shepherd
---
---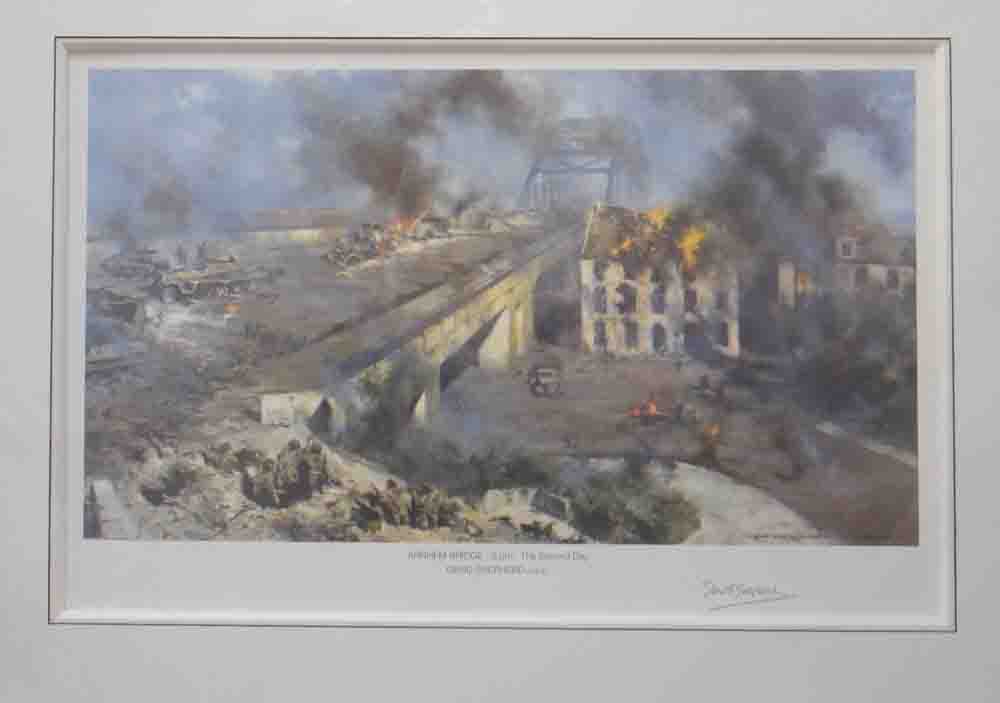 Arnhem Bridge-The second day
Personally signed by David Shepherd
Image Size approx 19.5" x 11"
Overall size complete with french bound mount as shown 27.5" x 20.75"
Signed, limited edition, prints and original paintings, drawings for sale.
30 years experience and a collection of hundreds of David Shepherd signed, limited edition prints in the UK!
One of David's many military paintings.
Studio open, 7 days a week!
Viewing by appointment
John Frost Bridge is the road bridge over the Lower Rhine at Arnhem, in the Netherlands.
The bridge is named after Major-General John Dutton Frost, who commanded the British forces that reached and defended the bridge during the Battle of Arnhem in September 1944.
EMAIL:-
administrator@davidshepherd.com
653 squadron beaver
afternoonflight
Alamein
Alamein
ardoyne
ark turning into wind
ark turning into wind
Arnhem bridge
aviation
babytawny, owl
bestspotsonthehill
Lion; big five
british-wildlife
british-wildlife
Rhino, bronze
brushwithsteam
bw-cheetah
-bw-cheetah
b/w/, lions
bw-tigers
cheetahs1967
cheetahz
Dhala
Dogs
donkeys
donkeys-page
donkeys-page
dormouse
dormouse
drawings
drawings-portfolio
dustyevening-sketch
elephants
glory days
haggis
happyhippo