Amboseli
David Shepherd
---
---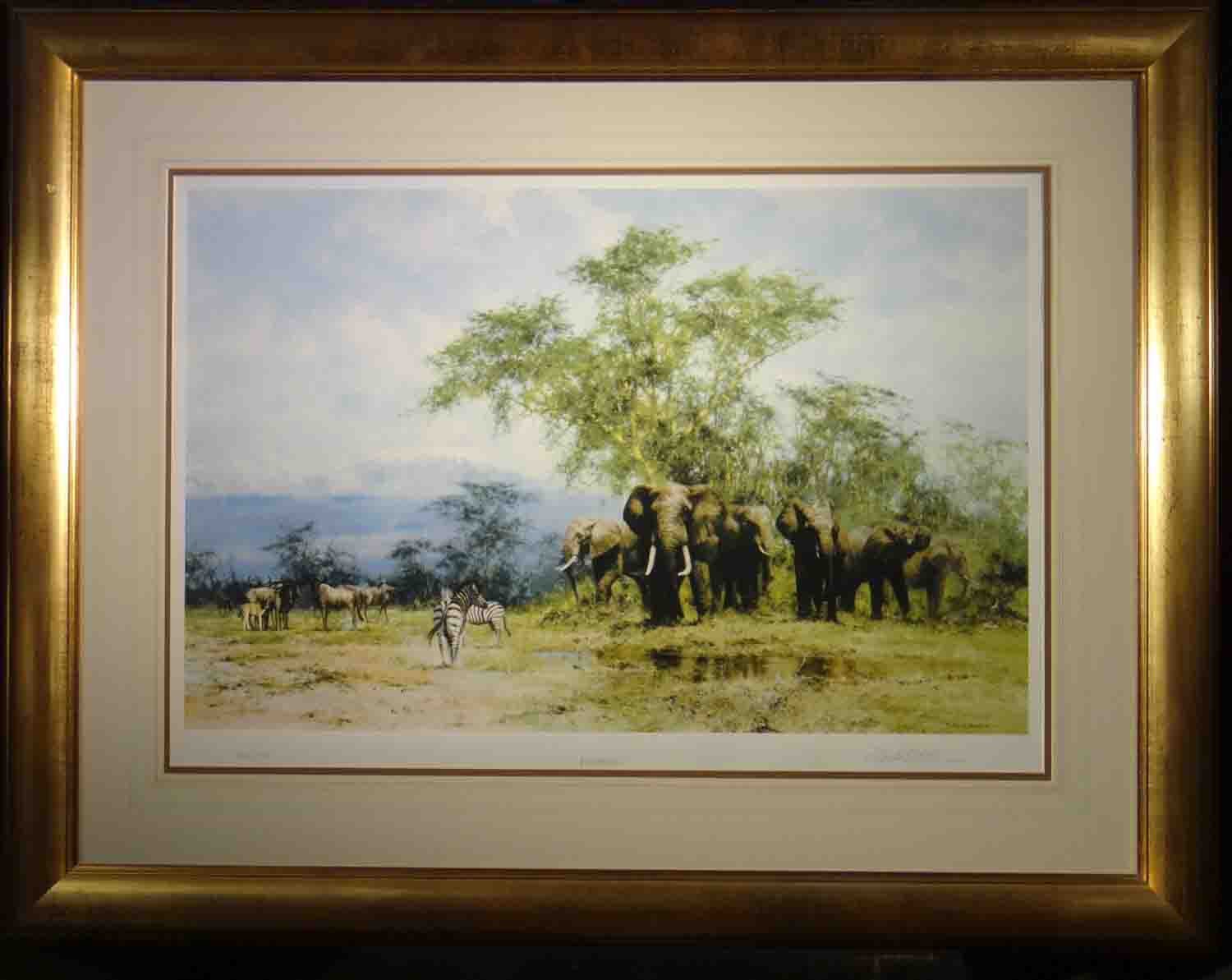 "Amboseli"
Signed Limited Edition
silkscreen print of 350
Published 1994
Image Size:-17" x 26.5"
Mint condition.
Price; please call:- 01623 799 309
Part of David Shepherd's 'Gold Collection' One silkscreen was published each year, begining in 1992 with 'Cheetah'
As with all silkscreens the edition is very low and when this title was released , it was oversubscribed several times more than the edition size.
The colours are much 'richer' than a photo litho print and it is time consuming work to add 36 colours separately onto a high quality watercolour paper
No two silkscreens are identical due to the manual process invloved, and the finished silkscreen is second only to an original painting.
Amboseli National Park is in southern Kenya. It's known for its large elephant herds and views of immense Mount Kilimanjaro, across the border in Tanzania. Observation Hill offers panoramas of the peak and the park's plains and swamps.
Varied wildlife includes giraffes, zebras, cheetahs and hundreds of bird species.
The western section is dominated by vast Lake Amboseli, which is dry outside the rainy season
Signed, limited edition, prints and original paintings, drawings for sale.
30 years experience and a collection of hundreds of David Shepherd signed, limited edition prints in the UK!
Studio open 7 days a week!
Viewing by appointment
russell flint
David Shepherd
Lowry
thelake1951
threefigures
townstepsmaryport painting
original-twosisters
viewofpeelpark
originalviewofstepspeelpark
original-womananddog
original-womaninchair
reclaiminglowry
riverbank
crimelake
Studio 6
thames
winterinbroughton
armysuffield
originalframe
original-thelake