Army Suffield
Roger Dennis
---
---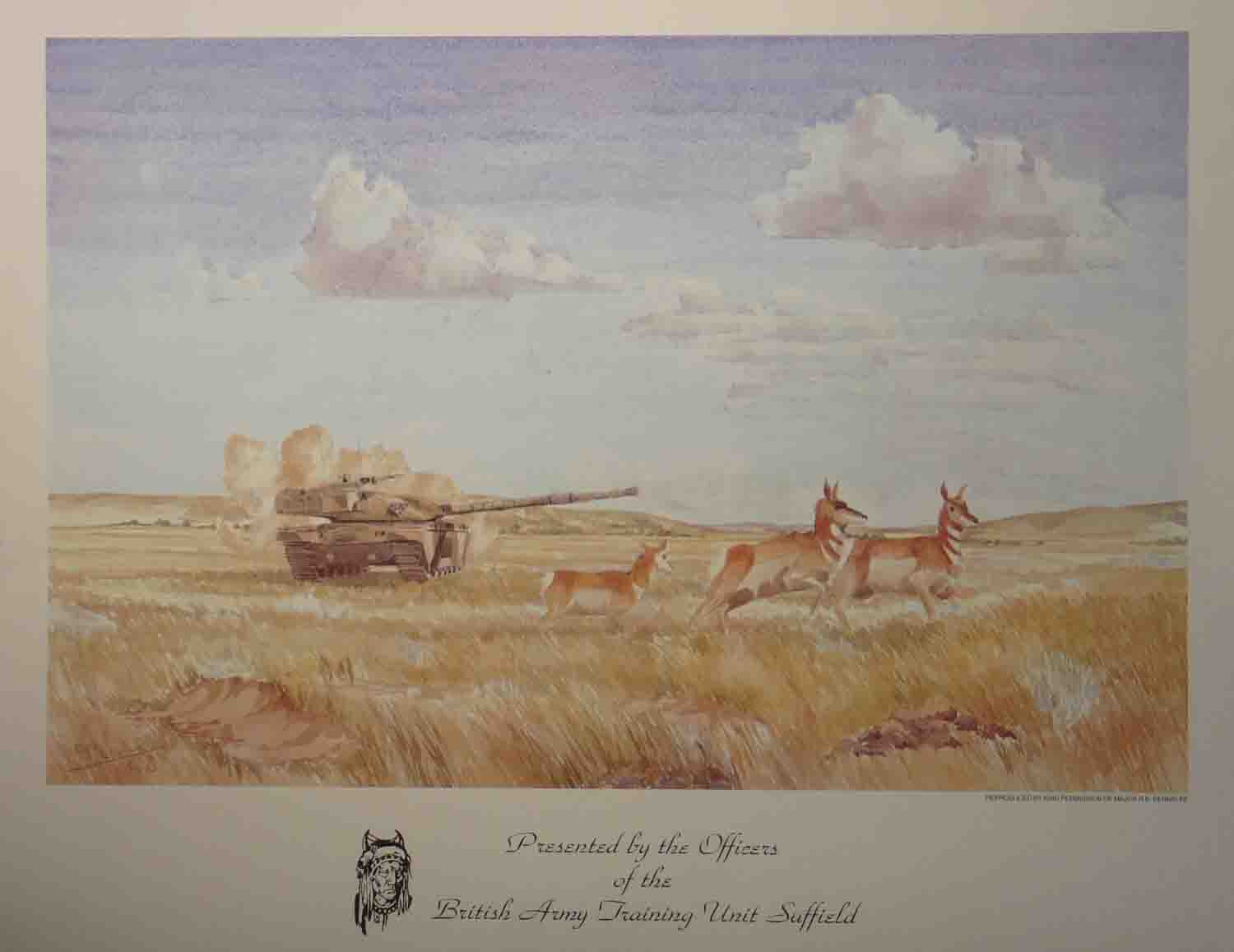 Presented to the Officers of the British Army Training Unit, Suffield
August, 1980
open edition print
by Roger Dennis
Image size 20" x 13"
Due to the hostile winters, BATUS conducts training from May to October each year.
This normally consists of four to six battle groups (BGs) each exercising for around 24 days each,
supported by the BATUS permanent and temporary staff and a dedicated enemy (traditionally provided by a single nominated regiment).
There are relatively few servicemen permanently posted to BATUS (229 as of 2019, along with 250 dependent children, but their numbers are significantly increased by temporary staff
who form the bulk of form the Operations Group (Ops Gp) who design and deliver the most complex live fire and simulated fully instrumented training for Armoured, Infantry and Strike Battlegroups.
This, as well a large proportion of the camp based supporting organisations, including a dedicated logistics squadron and a REME workshop. Permanent postings to BATUS last two years.
French speaking local actors are often hired for exercises, to give soldiers experience of working with non-English speaking civilians.
A 30-day exercise, Prairie Fire, operates four times a year.
It aims to precisely replicate the experience of being transported to a warzone, fighting, and returning to the UK.
During the exercise, soldiers fight fictional "Dovonians" in 'Atropia'.
During the winter months, some specialist Arctic warfare training is conducted on the Suffield Block by the Canadian Forces while the UK vehicle fleet is prepared for the following year.
1,400 soldiers and over 1,000 vehicles, including 22 Challenger 2 tanks, 112 CVR(T)s and 103 Bulldog armoured fighting vehicles (AFVs), are based in BATUS,
alongside an undisclosed number of Warrior infantry fighting vehicles (IFVs), AS-90 self-propelled artillery, Trojan combat engineering vehicles, Titan armoured bridge layers and Gazelle helicopters (of 29 (BATUS) Flight AAC).