Shapes and Sizes
L.S. Lowry
R.B.A., R.A.
---
---
d@art.info
01623 799 309
---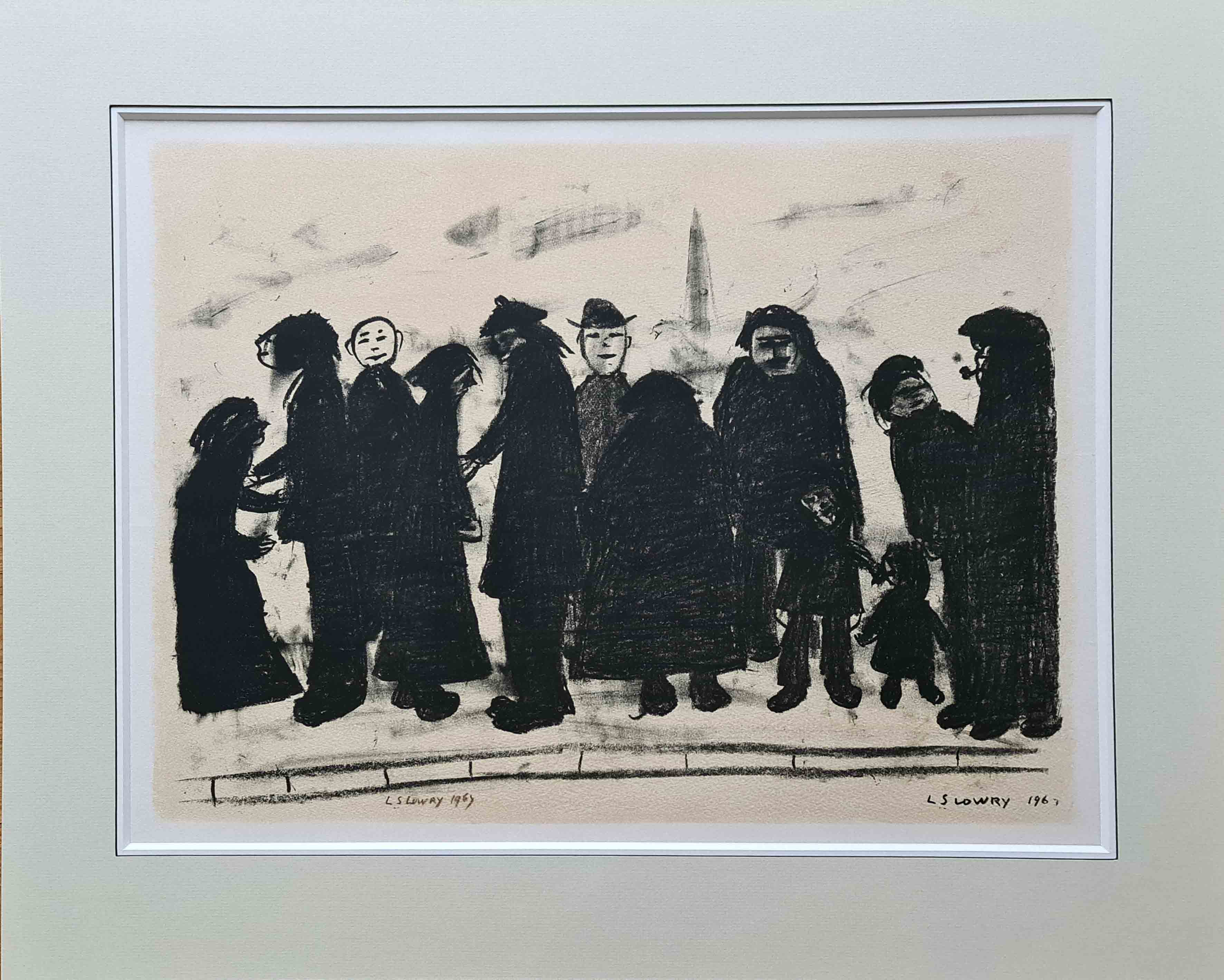 "Shapes and Sizes"
Signed original lithograph edition of 75
Image size 19"x 24"
This particular lithograph is of significant interest as it was given by Lowry to his great friend Monty Bloom
A Certificate of authenticity will be issued with the work and stating that this particular lithograph came from Monty Bloom's estate via his son, Martin.
Extract from A COLLECTOR'S LIFE: Monty Bloom and L.S. Lowry © Martin Bloom, 2020
Chance plays a part in many lives.
For my father, Monty Bloom, there were many random steps leading him to first meet and then become a close friend of L.S. Lowry and a collector of his works.
My father was not at that stage an art collector but found in the images he saw in John Read's 1957 documentary on L.S. Lowry reminiscences of his upbringing in Ebbw Vale. Nostalgia drove him to seek out these works.
His accountant knew Lowry and my father commissioned two works, meeting Lowry by chance at an exhibition of the art of two chimpanzees curated by Roland Penrose.
(His son Tony Penrose had an influence on my own artistic career, curating a joint exhibition of my works and those of his mother, the late Lee Miller.)
From that first meeting, Lowry and my father met regularly, and in time once a week, often coming over to our house for tea.
My mother's apple pie was drowned in a large lake of cream, as this tall jovial man laughed and joked while consuming the last crumb and draining the bowl.
My father was drawn to his personality.
"His low-key humour was a perfect foil for Lowry's hilarity, his ingenuous manner ideally matched to the artist's own" (Shelley Rohde in A Private View of L.S. Lowry, William Collins, 1979).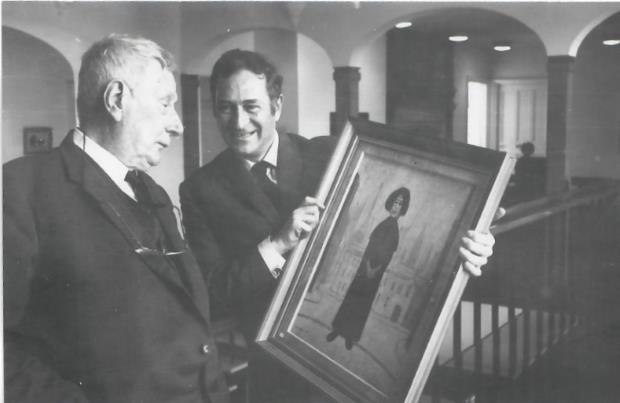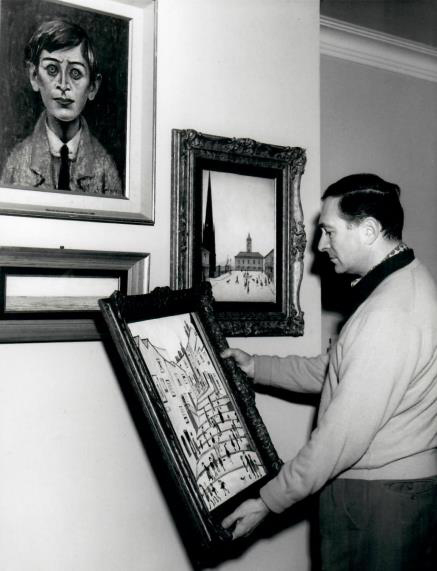 My father met Lowry at a critical period of his life.
Lowry had started moving away from the traditional industrial landscapes for which he is best known and started creating single figures, isolating his characters from their surroundings.
He became obsessed "with the grotesque and the deformed", a subject for which he despaired of finding interest from collectors.
My father was drawn to these and became a major collector. "The Bloom Collection is notable because it covers the whole range of Lowry's art, from its beginnings, about 1906, until today.
It has particular value because it follows the development of Lowry's mood." (Maurice Collis, in L.S. Lowry, Hamet Gallery exhibition catalogue, 1972).
Woman with a Beard was based on a bearded woman Lowry met on a train journey to Paddington.
Mervyn Levy in his book, The Paintings of L.S. Lowry, sees it as "a succinct example of the artist's power to express the terrible isolation of the individual soul, an isolation unquestioned and blithely accepted.
Everything is concentrated in the face itself, the setting from which we can extricate ourselves only by renunciation of self. Lowry's imagery is the measure of a common destiny."
To some extent, the industrial revolution and its aftermath tied Lowry to my father.
Manchester's role in the industrial revolution was based around the textile industry and its mills, driven by the increased use of coal for producing the steam power used for the mills and for transport.
South Wales was a major source of coal and iron, driving on the industrial revolution even faster and transforming society.
In effect, Lowry documented the impact of the industrial revolution on post-industrial Manchester and Salford,
showing the human costs with the isolation of its inhabitants as they were ripped from their original villages and extended families, especially through his later works.
My father moved to Manchester and its surroundings, where I was born. He took over failing businesses and turned them around, giving them new life.
After he started collecting the single figures, my father then took Lowry to visit the sites of his youth in South Wales and the cycle continued.
Lowry painted some of his most unique and important industrial landscapes there. "It was as if (Lowry) had explored every crevice of the industrial panorama.
There were few other combinations, he could develop.
Only the discovery of the mining villages of South Wales with his friend and collector Monty Bloom, reawakened Lowry's interest.
Even there, it was the stunning mix of rugged countryside and industrial towns which excited him." Michael Leber in L.S. Lowry (Phaidon, 1987).
Ganymed Lithographs
These are original lithographs drawn for the purpose, and not existing in any other form.
They are published in limited editions of 75. Each copy is numbered and has been signed by the artist.
All lithographs are printed in black with a tint background.
Due to the lenghty 'hands-on' process and the fact that no two lithographs are identical, they are widely regarded as 'original' prints.
Shapes and Sizes has a dark almost macabre prescence; the characters, all of whom Lowry would have seen, are busy with their daily lives; the black and white images portray an air of desperation and a passive acceptance of their lives.
Lowry became absorbed by these characters and found them of great interest.
Here are some links to work by the world acclaimed wildlife artist, David Shepherd
african babies
Koalas
Scottish scenes
Miltary
Willesden sheds
Muffin the dog
Africa
Lambs
Bongoe antelope
Lions
A donation
Day at the cricket
Trains
Bromton square, London
Terminal 2, Heathrow