Lone wanderers of the Arctic
David Shepherd
---
---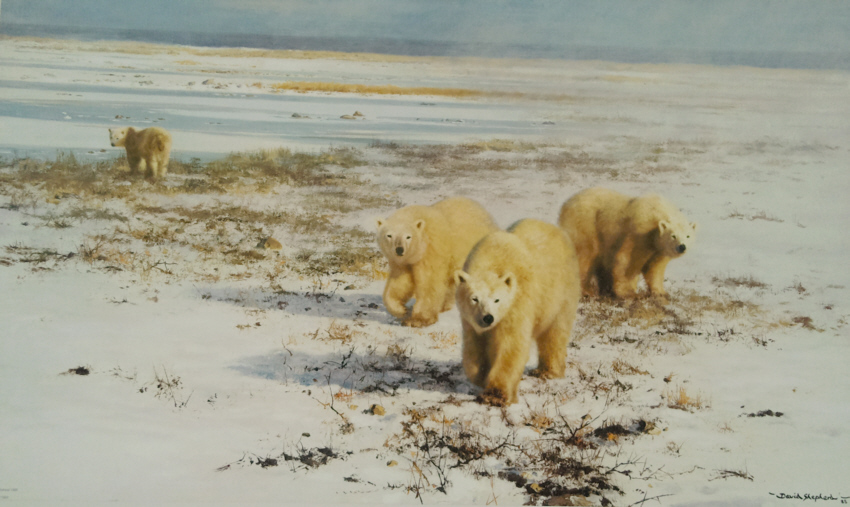 "Lone wanderers of the Artctic"

Signed Limited Edition

Image Size:- 16.25" x 27"

Published:- 1989

In stock:- price; please call

No country owns the geographic North Pole or the region of the Arctic Ocean surrounding it.
The surrounding six Arctic states that border the Arctic Ocean-Canada, Kingdom of Denmark (with Greenland), Iceland, Norway, Russia,
and the United States-are limited to a 200 nautical miles (370 km; 230 mi) exclusive economic zone (EEZ) off their coasts.
Two Arctic states (Finland and Sweden) do not have direct access to the Arctic Ocean.
Upon ratification of the United Nations Convention on the Law of the Sea, a country has ten years to make claims to an extended continental shelf beyond its 200 nautical mile zone.
Due to this, Norway (which ratified the convention in 1996), Russia (ratified in 1997), Canada (ratified in 2003)
and the Kingdom of Denmark (ratified in 2004 launched projects to establish claims that certain sectors of the Arctic seabed should belong to their territories.

Back to David Shepherd signed prints for sale.