Studies of Masai (original)
David Shepherd
---
---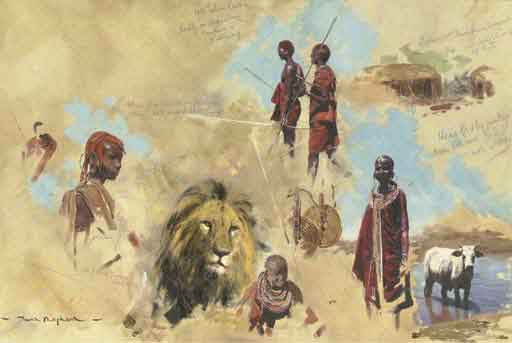 Studies of Masai
24 x 36 inches
Oil painting on canvas
Sold October, 2005
$19,200
The Austrian explorer Oscar Baumann travelled in Maasai lands between 1891 and 1893, and described the old Maasai settlement
in the Ngorongoro Crater in the 1894 book Durch Massailand zur Nilquelle ("Through the lands of the Maasai to the source of the Nile").
By one estimate two-thirds of the Maasai died during this period.
Maasai in Tanganyika (now mainland Tanzania) were displaced from the fertile lands between Mount Meru and Mount Kilimanjaro, and most of the fertile highlands near Ngorongoro in the 1940s.
More land was taken to create wildlife reserves and national parks: Amboseli National Park, Nairobi National Park, Maasai Mara, Samburu National Reserve, Lake Nakuru National Park and Tsavo in Kenya;
and Lake Manyara, Ngorongoro Conservation Area, Tarangire and Serengeti National Park in what is now Tanzania.
Maasai are pastoralist and have resisted the urging of the Tanzanian and Kenyan governments to adopt a more sedentary lifestyle.
The Maasai people stood against slavery and never condoned traffic of human beings; and outsiders looking for people to enslave avoided the Maasai.
administrator@davidshepherd.com
Sir William
Russell
Flint.
wildlife of Africa, India and Britain,
prints
and paintings by David Shepherd