Last leaves of Autumn
David Shepherd
---
---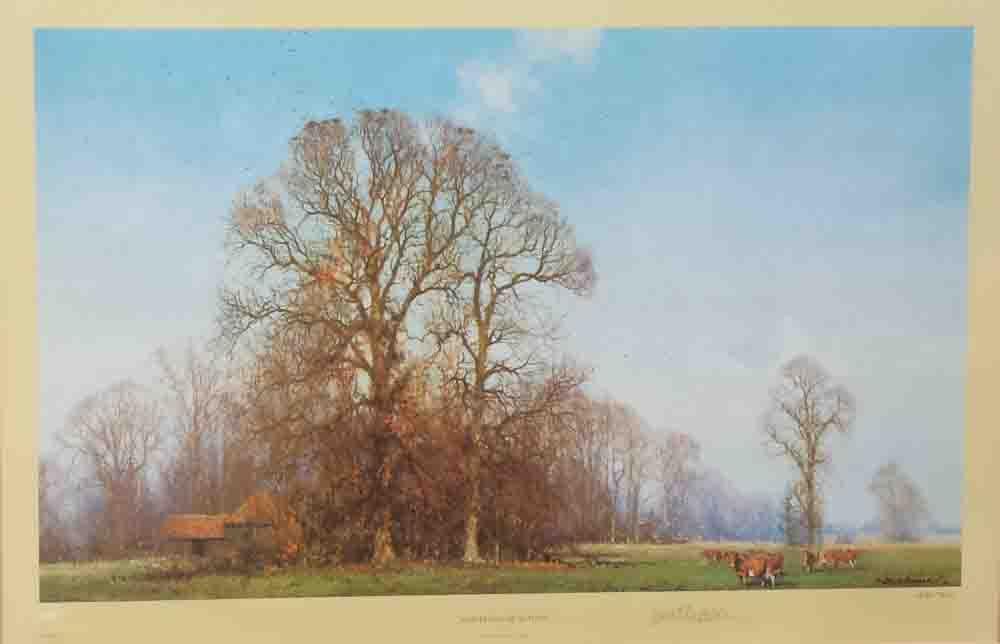 "The Last Leaves of Autumn."
Signed Limited Edition print
Date of publication 1987
Image Size 12" x 20"
Carnival, Easter and the International Workers' Day falls in autumn in the southern hemisphere.
Thanksgiving Day is a national holiday celebrated in Canada, in the United States, in some of the Caribbean islands and in Liberia.
Thanksgiving is celebrated on the second Monday of October in Canada and on the fourth Thursday of November in the United States, and around the same part of the year in other places.
Similarly named festival holidays occur in Germany and Japan.
Television stations and networks, particularly in North America, traditionally begin their regular seasons in their autumn,
with new series and new episodes of existing series debuting mostly during late September or early October (series that debut outside the autumn season are usually known as mid-season replacements).
A sweeps period takes place in November to measure Nielsen Ratings.
American football is played almost exclusively in the autumn months; at the high school level, seasons run from late August through early November,
with some playoff games and holiday rivalry contests being played as late as Thanksgiving.
In many American states, the championship games take place in early December. College football's regular season runs from September through November,
while the main professional circuit, the National Football League, plays from September through to early January.
Summer sports, such as Major League Soccer, Canadian football, stock car racing, tennis, golf, cricket, and professional baseball, wrap up their seasons in early to late autumn;
Major League Baseball's championship World Series is known popularly as the "Fall Classic".
(Amateur baseball is usually finished by August.) Likewise, professional winter sports, such as ice hockey, basketball, and most leagues of association football in Europe, are in the early stages of their seasons during autumn;
American college basketball and college ice hockey play teams outside their athletic conferences during the late autumn before their in-conference schedules begin in winter.
The Christian religious holidays of All Saints' Day and All Souls' Day are observed in autumn in the Northern hemisphere.
Since 1997, Autumn has been one of the top 100 names for girls in the United States.
In Indian mythology, autumn is considered to be the preferred season for the goddess of learning Saraswati, who is also known by the name of 'goddess of autumn' (Sharada).
In Asian mysticism, Autumn is associated with the element of metal, and subsequently with the colour white, the White Tiger of the West, and death and mourning.
Back to David Shepherd signed prints for sale