---
The Hillside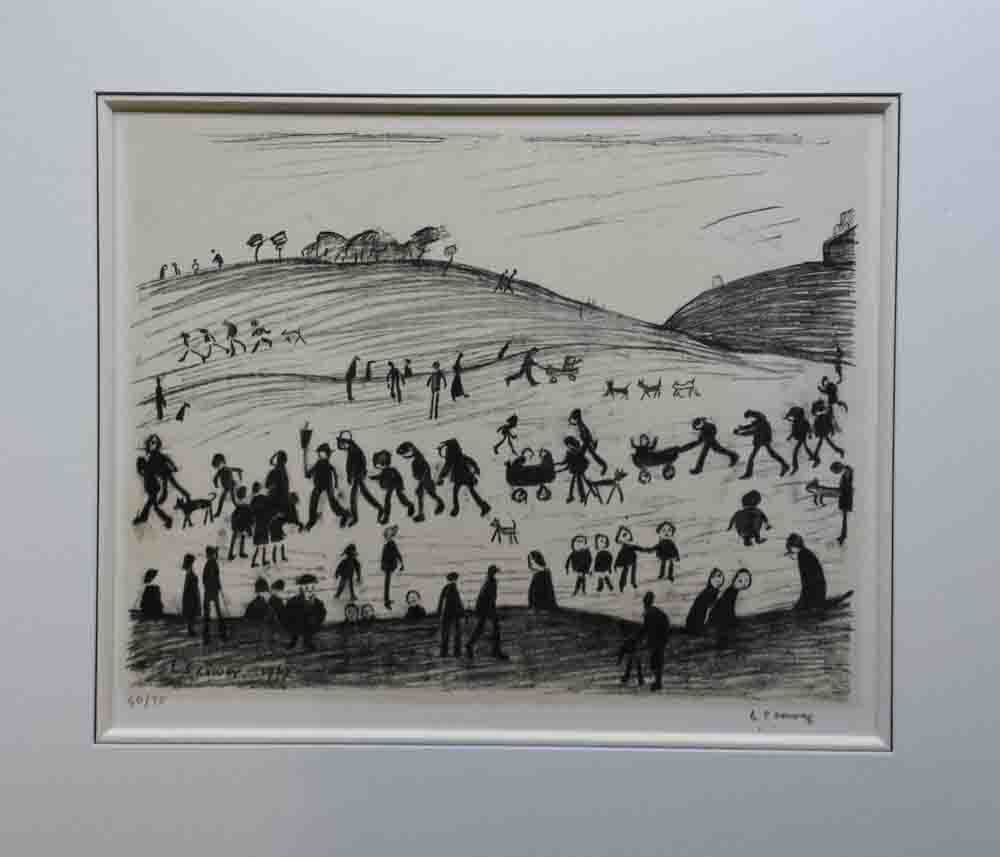 "A Hillside"
Signed, Limited edition lithograph
Image size 24"x 19"
A 'classic' Lowryesque drawing and one the very sought after collection of lithographic prints.
As stated below, there is no original as such, Lowry produced this drawing specifically to be a lithographic print,
and although published years ago, it's character, simplicity, minimalism and two tone colour, works beautifully with today's modern decor
Published by Ganymed
An edition of 75.
Numbered and signed
Price:- Please call 01623 799 309
Ganymed Lithographs
These are original lithographs drawn for the purpose, and not existing in any other form.
They are published in limited editions of 75. Each copy is numbered and has been signed by the artist.
All lithographs are printed in black with a tint background.
Due to the lenghty 'hands-on' process and the fact that no two lithographs are identical, they are widely regarded as 'original' prints.
Lowry enquiries:-
administrator@lowry.co.uk
We hope that you will browse and enjoy Paintings and signed prints by wildlife artist David Shepherd,here
Also the work of William Russell Flint whose paintings and signed prints are regsarded as some of the finest watercolours in the world. Click here
Famous for his portraits of Cecilia, Flint's greastest works illustrate the architecture and landscape throughout rural France
This holiday house near Brantome, Frane is ideally situated to enjoy the Dordogne Readmore
The work of Mr L.S. Lowry has become of great artistic and financial importance of recent years. A selection of his prints and paintings can be viewed here
Our aim is to offer our clients an excellent service at unbeatable prices.
Clock mender
cottage companions
donkey talk
Trawler
Elephants
Guildford steam sheds
Trawler
Savuti sands
Shibam
rhino beware
Rhinos last stand
sunday best
tiger cubs pencil
contraption sketch
Trawler
Northern British artists
Art creations