---
How to market your art
David Tatham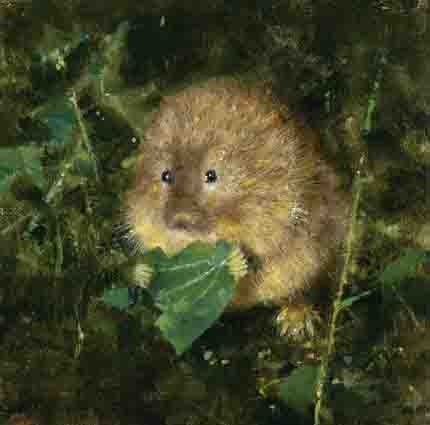 "Water Vole"
Signed Limited Edition print
Published April 2005
Image Size:- 6" x 6"
How To Market Your Art
by David Tatham
Art takes many forms. It can be in forms of the way people decorate their houses, dress, express themselves, paint and how someone talks. All these factors help to create the whole concept. A keen eye will definitely notice something unique. People interpret it differently and this brings about beauty and uniqueness.
For a very long period of time, it has given people a platform to make investments. Paintings and portraits that people acquired in the past have now gained a lot of value. It is a good idea to invest in these commodities since their value keep rising.
Exhibitions are good places to sell expensive art works. Their prices can even exceed a hundred million dollars. Sometimes the money acquired through their sale is donated to the needy in the community. Various organizations stage exhibitions in order to create awareness and for specialists to showcase their products. These are good opportunities for upcoming artists and also for those who have been in the business for a long period of time to meet potential customers. For example British Art works are widely recognized as the most influential exhibitions in the world.
Most artists prefer to specialize in a particular style. Some prefer to collect different artworks over a long period of time, and keep them until the market can offer better prices. Demand and supply keeps on changing, so are the prices of these products. Many clients prefer pieces that communicate certain messages and have not been very common in the market.
There are various categories of paintings. Are categorized by the period that they were made, the style of making, the artist and the kind of message being portrayed.
To produce a painting one can use different media. The most commonly used media involve acrylics, watercolor and oil. The style depends on the type of media the artist decides to use. Expressions include color, lines and dots that are not easy to identify. Sometimes they are real life forms.
Limited editions made by well known artists are very marketable. Mostly they include signed prints from an artist who made the piece. This gives a form of authenticity making them very special. They are usually more expensive than limited edition prints that do not have signatures. This is a good way for them to authenticate their work and at the same time approve the reproduction.
To succeed in this business you need to come up with good marketing strategies that will attract more business opportunities. These specialists incorporate new ideas every now and then. They ensure market survival, by making their products more competitive.
Some people do it for leisure while others do it as a business. Whichever the case, for one to do a desirable job one has to be visionary and optimistic. Most importantly, creativity has to be integrated in all aspects. Immersing yourself in the world of art brings you closer your talent, passion and your target market. This is one industry that you can market yourself even in a recession.
Biography of wildlife artist, David Shepherd, CBE, FRSA, FRGS, OBE.
Known as possibly the world's finest wildlife artist. David Shepherd having worked for many years as an artist across the world, His role as a conservationist is passionately believed, and he has always felt that he had a obligation to help conserve the world and the animals that we live amongst.
During his lifetime, David Shepherd has painted and drawn hundreds, if not thousands of images, and loves to talk to people of the many experiences he has had whilst travelling and painting throughout the world, often talking at charity dinners and other prestigeous social events. His personality is beautifully suited to this cause, as his easy going and straight forward attitude comes across well to express the love of art and his feelings for the ever decreasing wildlife in the world. As a young man, luck often deals its hand, and this was no exception, he wasn't particularly keen about other college activities.
David Shepherd is often heard explaining that during his ealier years his life was anything but successful, his main ambition was to be an African game warden. When his studying was done, David Shepherd left England with the hope of a life within the national parks of Africa. Sadly, these hopes were dashed in the first instance, and he was informed by the head game warden that there were no vacancies, his dreams were in tatters. Throughout school days, his foremost curiosity in art had been as a substitute for the compulsary games of rugby which left him with a fear of dread.
Unable to understand what would possibly possess people to roll around a muddy rugby pitch and endure horrible injury, he took refuge in the faculty artwork department where he produced a hideous picture of some birds, which he brings along with him to this present day when public speaking.
After his dissappointment at not been given the chance to be part of Kenya's game warden neighborhood, he managed to find a job in a neighborhood resort on the coast working within the reception for one pound per week. He painted some images of birds, and luckily sold a few, to save enough money to return home on the only suitable form of transport at that time, a steam ship.
On arrival in England there appeared to be two choices for his career. 1) He could possibly become an artist, or more likely, he could be a bus driver. Careful decision seemed to make the bus driving by far the less risky choice, as everyone knew that most artists had little money and even less prospects. It was at this time David Shepherd's father helped him, by encouraging him to seek some formal traing for his artistic leanings.
David Shepherd went for an interview to Slade school of fine art in London with his bird picture, and was promptly told that he had little artistic ability and that any lessons would be of little use. The bus driver idea was staring to look like the other option, then by shere chance, he met the highly skilled marine artist, Robin Goodwin. Unfortunately, Robin did not take on apprentices, but somehow David Shepherd became an exception to the rule, and he agreed to see some of David's work. Within twenty four hours, he arrived at Robin Goodwin's home in Chelsea with his 'bird' painting, and to his absolute delight Robin Goodwin agreed to teach him. It is because due to the teachings of this artist that David was able to show his true talent, and has at all times a feeling of deep gratitude for the help he was given by from Robin Goodwin.
Books
David Shepherd's first autobiographical book 'The Man Who Loves Giants' was published in 1976 which very quickly became a best seller. This was revised and updated in 1989 as subsequent editions were published. A second book illustrating his love for steam trains was published in 1984 'A Brush With Steam' and in 1985 'The Man and his Paintings' was the first comprehensive book showing a complete spectrum of David's work. 'An Artist in Conservation' was released in 1992 which illustrated some of Mr Shepherd's finest paintings. 'My Painting Life' and 'Only One World' were published in 1995 'Painting with David Shepherd, Unique Studio Secrets Revealed' was published in 2004
TV Documentaries
'The Man Who Loved Giants' was the title for this film of David Shepherd's life story produced in 1972 by the late James Stewart.
The documentary was shown worldwide.
'The Last Train to Mulobezi' tells an exciting story of the survival of an ancient locomotive and railway coach from the Zambezi
Sawmills Railway and their 12,000 mile journey back to England.
The train was given as a gift by Dr Kenneth Kaunda, the President of Zambia, and after raising enough money
through the sale of paintings in USA. A helicopter was bought and given to Zambia to help prevent poaching.
Thames TV produced a series of six half hour programmes titled 'In Search of Wildlife'
Illustrating the plight of endangered mammals throughout the world. These were later broadcast in the USA.
'Nature Watch' with Julian Pettifer began in 1990 and David Shepherd produced the first programme in the series.
Last but not least, David Shepherd has been the subject of the programme 'This is Your Life'.
Awards.

1971 Honorary Degree in Fine Arts by the Pratt Institute in New York.
1973 The Order of the Golden Ark by HRH The Prince of The Netherlands for his services to conservation.
1979 Member of Honour of the World Wide Fund for Nature
The Order of the British Empire for his services to wildlife conservation. O.B.E.
1986 Fellow of the Royal Society of Arts.
1988 President Kenneth Kaunda of Zambia awarded him with the Order of Distinguished Service.
was made a Fellow of the Royal Geographical Society
Honorary Doctorate of Science of Hatfield Polytechnic (now the University of Hertfordshire) in 1990.
1996 Officer (Brother) of the Order of St. John.
2004 Granted the Freedom of the City of London.
2008 Awarded a C.B.E. for services to charity and wildlife
If you would like to visit the studio in Nottinghamshire, (Saturdays and Sundays are fine too) Please call 01623 799 309
We have a collection of over 500 signed limited edition prints and original paintings for sale.
A watercolourist, whose work needs little introduction in the world of art is Sir William
Russell
Flint.
We stock hundreds of this artist's signed limited edition prints and always a fine selection of his original watercolour paintings.
In the heart of Sir William Russell Flint country, deep in south west France, near to the beautiful towns of Brantome
and Perigueux is a
House
to let in France offering complete tranquility and relaxation.
For those who appreciate the wildlife of Africa, India and Britain,
prints
and paintings by David Shepherd The work of L.S.
Lowry
has become some of the most sought after in British history; his paintings and signed prints are achieving record prices in the artworld,
made even more collectable due to the rarity of the work and the relatively few signed limited edition prints that have been published. We shall do our utmost to provide you with a first class service at the best possible price